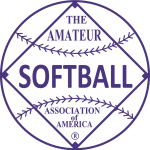 1985 held at Gadsden, Alabama on August 30-September 2.
---
Champion – Grumman Aerospace, Bayshore, New York
Runner Up – Sikorsky Aircraft, Stratford, Connecticut
---
Grumman went undefeated (7-0) to win their second Major Industrial National Championship, their first one was in 1967. Grumman took a commanding 10-5 lead into the fourth inning as Bob Beattie and Karl Komyathy each had RBI hits. After Al Carfora hit a monster home run and the legendary Bob Hurd played another run, it was 10-7.  Beattie and Komyathy came through once again with RBI singles to give Grumman a 12-7 lead. This went back and forth until Grumman emerged as the Champion in 19-17 final. Sikorsky's Al Carfora was selected as tournament MVP.
---
MVP – Al Carfora, Sikorsky Aircraft (8 HR)
HR Leaders – Al Carfora, Sikorsky Aircraft  – 8
HR Leaders – Robert Heath, West Point Peppermill – 8
Batting Leader – Stan Likens, Phillips 66 – .682
---
FIRST TEAM ALL-AMERICANS
1B – Lou Volpe, Grumman Aerospace
2B – Christopher Dunne, Sikorsky Aircraft
3B – Ken Rzwmieniewski, Grumman Aerospace
SS – Karl Komyathy, Grumman Aerospace
OF – Mark Tremblay, Sikorsky Aircraft
OF – Mike Gallo, Grumman Aerospace
OF – Bob Beattie, Grumman Aerospace
OF – Allan Morazes, Sikorsky Aircraft
UTIL – Rex Rietfors, Phillips 66
UTIL – Tim Burns, Russell Athletics
UTIL – Barry Hudson, Amtrak
UTIL – Albert Carfora, Sikorsky Aircraft
C – Jim Veteramo, Grumman Aerospace
P – Tom Marion, Grumman Aerospace
SECOND TEAM ALL-AMERICANS
1B – Thomas Folio, Sikorsky Aircraft
2B – David Bedford, Phillips 66
3B – Thomas Norko, Sikorsky Aircraft
SS – Robert Kownack, Sikorsky Aircraft
OF – Robert Turner, General Dynamics
OF – Victor Berger, General Dynamics
OF – Russell Smith, West Point Pepperell
OF – Nick Catania, Grumman Aerospace
UTIL – Mark Hudman, West Point Pepperell
UTIL – Robert Bonner, West Point Pepperell
UTIL – Dave Edwards, Bendix No. 1
UTIL – Jimmy Hardesty, G.E. Wacos
C – Stan Likens, Phillips 66
P – Joe Magdon, Sikorsky Aircraft
---
FINAL STANDINGS
1. Grumman Aerospace, Bayshore, NY (7-0)
2. Sikorsky Aircraft, Stratford, CT (7-2)
3. West Point Pepperell, Fairfax, AL (5-2)
4. General Dynamics, Sterling, MI (5-2)
5t. Amtrak, New Castle, DE (5-2)
5t. G.E. Wacos, Louisville, KY (4-2)
7t. Bendix No. 1, Olathe, KS (5-2)
7t. Phillips 66, Bartlesville, OK (6-2)
9t. Atlas UAW 425, Lorain, OH (5-2)
9t. G.E. Aces, Middletown, OH (4-2)
9t. Russell Athletics, Alexander City, AL (4-2)
9t. Cameron Iron Works, Berwick, LA (3-2)
13t. Champion Paper, Hamilton, OH (3-2)
13t. Jones Tree Service, Fayetteville, GA (3-2)
13t. Southwire, Carrollton, GA (3-2)
13t. W.W. Beech Flyers, Benton, KS (3-2)
17t. Local 969 UAW, Columbus, OH (3-2)
17t. Monsanto, Miamisburg, OH (3-2)
17t. Alcoa, Maryville, TN (2-2)
17t. Caterpillar/Stephens & Schramm, Mossville, TN (2-2)
17t. Hardwick Stove Company, Cleveland, TN (2-2)
17t. Minneapolis Post Office, Blaine, MN (2-2)
17t. Rio Grande Foods, McAllen, TX (2-2)
17t. Lincoln Electric, East Lake, OH (1-2)
25t. Allison's Gas Turbine, Indianapolis, IN (2-2)
25t. CPS Live Wire, San Antonio, TX (2-2)
25t. Union Carbide, Ashville, NC (2-2)
25t. Albany Marines, Albany, GA (1-2)
25t. G.E. Best Design, Franklin, OH (1-2)
25t. Mead Johnson, Evansville, IN (1-2)
25t. Ortho Pharmaceutical, Pittstown, NY (1-2)
25t. Parametrics, Branford, CT (1-2)
33t. AMC Jeep, Toledo, OH (1-2)
33t. Central Ohio Coal Company, Malta, OH (1-2)
33t. CIBA/GEIGY, Greensboro, NC (1-2)
33t. Crosby Value, Woonsocket, RI (1-2)
33t. Diebold, Hamilton, OH (1-2)
33t. Economics Laboratory, St. Paul, MN (1-2)
33t. Fingerhut Red, St. Cloud, MN (1-2)
33t. Goodyear, Gadsden, AL (1-2)
33t. Home & Leisure Products, Warner Robbins, GA (1-2)
33t. Kollsman, Merrimack, NH (1-2)
33t. NSP/52 Club, Minneapolis, MN (1-2)
33t. Kimball International, Huntingburg, IN (0-2)
33t. New Haven Railroad, Oxford, CT (0-2)
33t. Ralston Purina, Davenport, IA (0-2)
33t. Stockham Valve, Birmingham, AL (0-2)
49t. Armco, Ashland, KY (0-2)
49t. Blue Cross Blue Shield, Jacksonville, FL (0-2)
49t. G.E. New Yorkers, Colchester, VT (0-2)
49t. Guld Power Company, Pensacola, FL (0-2)
49t. Hitchcock Industries, Bloomington, MN (0-2)
49t. Scott Paper Company, Chickasaw, AL (0-2)
49t. Southwestern Bell, McAllen, TX (0-2)