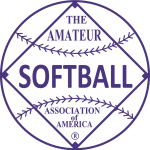 1981 held at Reaves Park in Norman, Oklahoma on May 21-24.
---
Champion – Utah State Aggies (34-12)
Runner Up – Cal State Fullerton
---
Yo Arvizu's defensive play in the top of the seventh killed a California State-Fullerton rally and gave Utah State a 4-3 win in the finals of the AIAW Division I Women's College World Series in Norman, Oklahoma on Sunday.
With runners on first and third and no outs, Arvizu fielded a ground ball and tagged a runner going to second. She then tossed the ball to first for the double play. One run was scored on the play.
The Aggies scored what proved to be the winning run in the fourth when Janet Lelsing reached second on a throwing error by Cal-Fullerton third baseman Jan Tierrini and scored on a double by Jackie Weigand.
The Bears rallied for one run in the seventh to make the final margin 4-3.
Cal-Fullerton forced the second game with a 6-1 win over Utah State on Sunday afternoon. The Titans had moved into the finals with a 5-4 win over UCLA on Sunday morning.
---
MVP – N/A
Leading Hitter – Sue Lewis, Cal-State Fullerton (14-22, .636, 3 HR)
HR Champion – Sue Lewis, Cal-State Fullerton – 3
---
1981 ALL TOURNAMENT TEAM
N/A
---
SCORES
Oklahoma 1 New Mexico 0
California 3 Illinois State 0
Western Michigan 2 Creighton 0
Cal St-Fullerton 7 New Mexico State 6
Utah State 2 Texas A&M 1
UCLA 3 South Carolina 0
Missouri 3 Rutgers 0
Oklahoma State 5 Michigan State 1
New Mexico 1 Illinois State 0 (Illinois State eliminated)
Creighton 4 New Mexico State 2 (New Mexico State eliminated)
Texas A&M 4 South Carolina 0 (South Carolina eliminated)
Michigan State 6 Rutgers 2 (Rutgers eliminated)
California 4 Oklahoma 1
Cal St-Fullerton 2 Western Michigan 0
Utah State 1 UCLA 0
Missouri 5 Oklahoma State 1
Michigan State 8 Oklahoma 1 (Oklahoma eliminated)
Texas A&M 1 Western Michigan 0 (Western Michigan eliminated)
UCLA 2 Creighton 1 (Creighton eliminated)
Oklahoma State 5 New Mexico 2 (New Mexico eliminated)
Cal St-Fullerton 1 California 0
Utah State 4 Missouri 2
UCLA 5 Oklahoma State 0 (Oklahoma State eliminated)
Texas A&M 3 Michigan State 2 (Michigan State eliminated)
UCLA 2 California 0 (California eliminated)
Texas A&M 1 Missouri 0 (Missouri eliminated)
Utah State 2 Cal St-Fullerton 0
UCLA 1 Texas A&M 0 (Texas A&M eliminated)
Cal St-Fullerton 5 UCLA 4 (UCLA eliminated)
Cal St-Fullerton 6 Utah State 1
Utah State 4 Cal St-Fullerton 3 (Cal State-Fullerton eliminated)
---
FINAL STANDINGS
1 Utah State Aggies (5-1)
2 Cal St-Fullerton Titans (5-2)
3 UCLA Bruins (5-2)
4 Texas A&M Aggies (4-2)
5t. California Bears (2-2)
5t. Michigan State Spartans (2-2)
7t. Oklahoma State Cowgirls (2-2)
7t. Missouri Tigers (2-2)
9t. Oklahoma Sooners (1-2)
9t. Western Michigan Broncos (1-2)
9t. New Mexico Aggies (1-2)
9t. Creighton Blue Jays (1-2)
13t. South Carolina Gamecocks (0-2)
13t. Rutgers Scarlet Knights (0-2)
13t. New Mexico State Aggies (0-2)
13t. Illinois State Redbirds (0-2)