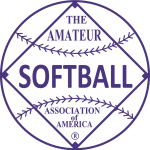 1979 held at Midland, Michigan.
---
Champion – McArdle Pontiac-Cadillac, Midland, Michigan
Runner Up – Bob Hoffman's Barbell Sunners, Reading, Pennsylvania
---
McArdle came through the losers bracket to defeat Bob Hoffman's Barbell Sunners two straight times to capture the championship. Owen "The Fog" Walford of McArdle beat Ty Stofflett in a 10 inning 1-0 game in the first final, despite Stofflett's 19 K. Then McArdle's Bob Ryan beat York's Larry Bergh 3-1 in final championship game). Stofflett finished the tournament with 76 K in 45.2 innings and surrendered only 13 hits and 3 earned runs. Stofflet's streak of 14 consecutive wins in ASA National Championship play was broken by in this tournament as he went 5-1.
---
Co-MVP – Jeff Peck, McArdle Pontiac/Cadillac
Co-MVP – Ted Hicks, CMI (12-19, .632)
Batting Leader – Jim Brackin, Wilson Powell – .533
Home Run Leader – N/A
Most Outstanding Pitcher Award – Ty Stofflet, Bob Hoffman's Barbell Sunners
---
FIRST TEAM ALL-AMERICANS
P – Ty Stofflet, Bob Hoffman's Barbell Sunners (5-1, 46 IP, 76 K, won 5 straight until the final game, 2 one-hit shutouts. Beat McArdle Pontiac-Cadillac earlier in the tournament to win his 14th consecutive ASA National Tournament game.)
P – Owen "The Fog" Walford, McArdle Pontiac-Cadillac (4-1, pitched a 10 inning 1-0 victory to get Midland to the championship)
P – Bob Ryan, McArdle Pontiac-Cadillac (3-0), pitched the 3-1 finale.
C – Jim March, Guanella Brothers (7-21, .333)
C – Nels Cronkright, McArdle Pontiac-Cadillac
1B – George Nokes, Peterbilt
2B – Jack Starling, McArdle Pontiac-Cadillac
3B – Jeff Peck, McArdle Pontiac-Cadillac (10-22, .455, 2 RBI), keyed all three rallies to give Midland the 3-1 championship final victory.
SS – Jim Brackin, Wilson Powell (8-15, 4 RBI)
OF – Ray Allena, Guanella Brothers (11-27, .407)
OF – Larry Potts, Wilson Powell (8-16, .500, 3 RBI)
OF – Bill Stewart, Peterbilt
OF – Scott Keener, Bob Hoffman's Barbell Sunners
DH – Paul Custred, Wilson Powell
UTIL – Mike Parnow, Guanella Brothers (9-27, .333, 9 RBI)
SECOND TEAM ALL-AMERICANS
P – Graham Arnold, Peterbilt (3-2)
P – Rick Balswick, Guanella Brothers
P – Roy Burlison, O'Byrne Electric (3-1)
C – Butch Batt, Peterbilt
C – Jim Nichols, O'Byrne Electric
1B – Jeff Seip, Bob Hoffman's Barbell Sunners
2B – Hank Stocks, Wilson Powell
3B – Dennis Christopherson, Southern Truck Raiders
SS – Terry Brenner, Southern Truck Raiders
OF – Dale Lagow, Home Savings and Loan
OF – Bonus Frost, O'Byrne Electric
OF – Jim Nokes, Peterbilt
OF – Les Crandall, Guanella Brothers
DH – Evans Telegades, McArdle Pontiac-Cadillac
UTIL – John Anquillare, Raybestos Cardinals
---
FINAL STANDINGS
1. McArdle Pontiac-Cadillac, Midland, MI (7-1) (Host)
2. Bob Hoffman's Barbell Sunners, Reading, PA (5-2) (Defending Champ)
3. Guanella Brothers, Santa Rosa, CA (6-2) (Pacific Coast)
4. Lakewood Jets, Lakewood, CA (1-2) (Pacific Coast At-Large)
5t. Southern Truck Raiders, Phoenix, AZ (3-2) (Rocky Mountain-Cactus)
5t. O'Byrne Electric, Springfield, MO (3-2) (Mid-America At-Large)
7t. Home Savings and Loan, Aurora, IL (3-2) (Midwest)
7t. Wilson Powell, Marlow Heights, MD (3-2) (Central Atlantic)
9t. Raybestos Cardinals, Stratford, CT (2-2) (New England)
9t. Peter's Bombers, Des Moines, IA (1-2) (Mid-America)
9t. Zeniths, Rochester, NY (2-2) (Mid-Atlantic)
9t. Peterbilt, Seattle, WA (1-2) (Northwestern)
13t. Steve's Exporters, San Antonio, TX (1-2) (Texas)
13t. Alabama Auto Auction, Montgomery, AL (0-2) (Southern)
13t. Charlie's Trading Post, Atlanta, GA (1-2) (South Atlantic)
13t. Made-Rite Chips, Bay City, MI (1-2) (Great Lakes At-Large)
17t. Franklin Enterprises, Memphis, TN (0-2) (Southwestern)
17t. Ohio Caverns, West Liberty, OH (0-2) (East Central)
17t. Page Brake, Salt Lake City, UT (0-2) (Rocky Mountain-Alpine)
17t. Bandbox, St. James, MN (0-2) (Northern)
17t. Wolverine Supply, Ann Arbor, MI (0-2) (Great Lakes)
17t. York Barbell, Lancaster, PA (1-2) (Central Atlantic At-Large)