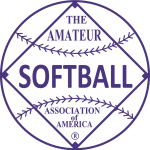 1977 held at Graham, North Carolina.
---
Champion: Fox Valley Lassies, St Charles, Illinois
Runner Up: Columbus Roadrunners, Columbus, Ohio
---
The Lassies beat the Roadrunners 8-6 in the winners bracket final. After the Columbus squad eliminated defending champ Sorrento's Pizza in the losers bracket final, they were set to take on the Fox Valley Lassies once again in the final championship game. The win over Sorrento's was big, because Sorrento pitcher Shirley Patterson had just twirled back to back shutouts. as both teams had 1 loss, this game went into the bottom of the 11th inning. Marylyss Runestead came through with a bases loaded single to win the title 8-7. It was her 4th hit of the game.
---
MVP – Marlyss Runestead, Fox Valley Lassies (17-25, .680, 6 RBI, 6 Runs)
Batting Leader – Marlyss Runestead, Fox Valley – .680
Home Run Leaders – Crystal Thompson, Roadrunners 16-32, (.500, 9 RBI, 15 Runs) – 4
Home Run Leaders – Terri Sheridan, Bernwood Hall 10-21, (.480, 14 RBI, 8 Runs) – 4
---
1977 FIRST TEAM ALL AMERICANS
P – Judy Hedgecock, Miami Dots
P – Marcia Ford, Fox Valley Lassies
C – Linda Ares, Miami Dots
C – Deb Pince, Americs
1B – Helen Biddle, Fox Valley Lassies
2B – Debbie Wohlers, Gremlins
3B – Deborah Jurca, Fox Valley Lassies
SS – Diane Hochrein, Bernward Hall
OF – Chrystal Thompson, Roadrunners
OF – Marlyss Runestad, Fox Valley Lassies
OF – Irene Dill, Roadrunners
OF – Christi Winter, Sorrento's Pizza
UT – Mary Jane Snyder, York Barbellets
UT – Marsha Replogle-Ehlers, Sorrento's Pizza
1977 SECOND TEAM ALL AMERICANS
P – Judy Rose, Bernward Hal
P – Shirley Patterson, Sorrento's Pizza
C – Valerie D. Seldon, Fox Valley Lassies
C – Bonnie Jo Rogers, KFC
1B – Linda Hargrove, Cowley County
2B – Eileen Rudoplh, Roadrunners
3B – Cathy Jean Robinson, KFC
SS – Tomi Lee Burns, Gremlins
OF – Kimbra Ellen Buchanan, KFC
OF – Kathy Cooper, Sorrento's Pizza
OF – Debra Mihalka, Fox Valley Lassies
OF – Evelyn Hayes, Miami Dots
UT – Brenda Mueller, Bernward Hall
UT – Julie Middlebrooks, Roadrunners
---
FINAL STANDINGS (Incomplete)
1. Fox Valley Lassies – St. Charles, IL
2. Columbus Roadrunners – Columbus, OH
TBD – on paper 40 teams