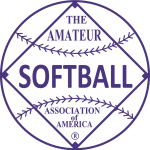 1981 held at Burlington, North Carolina.
---
Champion – Howard's/Western Steer, Denver, North Carolina (160-15)
Runner Up – Steele's Sports, Lima, Ohio
---
Surprise team, B&S Construction from Rome, GA made it to the winners bracket final where they lost to Howard's 30-10.
Steele's Sports, already in the loser's bracket, eliminated Jerry's Caterers of Miami 31-16 and then eliminated B&S 11-6 in the loser's bracket final to get a shot at Howard's in the Championship.  The North Carolina club was just too strong as they  beat Steele's 30-13 in final, Scherr 4-4, 3 HR, 6 RBI in final.
Dick Bartel (5 hits, including a home run), Tom Beall (4 hits, including 2 HR) and Don Arndt (4 hits and also 2 HR). Ed Roth and Bill Ferguson also hit dingers for Howard's. Howard's broke the game open with a big 13-run third inning as Rick Scherr hit 2 of his home runs in that inning. Scherr swept most of the awards winning the MVP and Batting title. He also tied for the Home Run Lead with teammate Don Arndt and Henry McBeth of Steele's, all three had 8.
For the entire tournament, Howard's players had some crazy numbers: Dick Bartel (15-19, .789, 6 HR, 11 RBI, 13 Runs), Bill Ferguson (12-17, .706, 3 HR, 6 RBI, 9 Runs), Russell Bradley (13-21, .619, 5 RBI, 11 Runs) and Tom Beall (9-18, .500, 5 HR, 10 RBI, 10 Runs).
For Steeles, Chic Downing (16-25, .640, 6 HR, 21 RBI, 14 Runs), Jerry King (13-21, .619, 7 HR, 16 RBI, 14 Runs), John Brenner (17-28, .607, 11 Runs), Al White (12-20, .600, 14 Runs). Rick Hollingsworth (14-17, .824) and Warren Scarborough (11-15, .733, 7 HR, 13 RBI) were the top 2 hitters for B&S. Harold Kelly and Mighty Joe Young were both 13-21 (.619) and combined for 13 HR and 24 RBI to lead Jerry's. Bruce Meade chipped in with a (12-20, .600, 4 HR, 11 RBI, 13 Runs) performance.
York Barbell/Ken Sanders was led by the trio of Craig Elliott (9-12, .750, 6 HR, 15 RBI), James Boyette (9-14, .643) and Mike Nye (10-16, .625). This Howard's team has been voted upon over the years to be one of the greatest teams of all time. They finished the season as the Triple Crown Champs, also winning the NSPC Regular Season and Playoff Championship and USSSA World Series Championships as well to finish the season 160-15.
---
MVP – Rick Scherr, Howard's/Western Steer
HR Leader – Rick Scherr, Howard's/Western Steer  – 8
HR Leader – Don Arndt, Howard's/Western Steer – 8
HR Leader – Henry McBeth, Steele's Sports – 8
Batting Leader – Rick Scherr, Howard's/Western Steer – .842
---
FIRST TEAM ALL-AMERICANS
P – Don Arndt, Howard's/Western Steer (11-18, .611, 8 HR, 17 RBI, 11 Runs)
C – Harold Kelley, Jerry's Catering (13-21, .619, 6 HR, 14 RBI, 12 Runs)
1B – Rick Scherr, Howard's/Western Steer (16-19, .842, 8 HR, 23 RBI, 14 Runs)
2B – Jerry King, Steele's Sports (13-21, .619, 7 HR, 16 RBI, 14 Runs)
3B – Bill Ferguson, Howard's/Western Steer (12-17, .706, 3 HR, 6 RBI, 8 Runs)
SS – Russell Bradley, Howard's/Western Steer (13-21, .619, 5 RBI, 11 Runs)
OF – Dick Bartel, Howard's/Western Steer (15-19, .789, 6 HR, 11 RBI, 13 Runs)
OF – Henry McBeth, Steels's Sports (14-21, .667, 8 HR, 12 RBI, 10 Runs)
OF – Chic Downing, Steele's Sports (16-25, .640, 6 HR, 21 RBI, 15 Runs)
OF – Rick Hollingsworth, B&S Construction (14-17, .824, 4 HR, 6 RBI, 13 Runs)
UTIL – Mighty Joe Young, Jerry's Catering (13-21, .619, 7 HR, 10 RBI, 8 Runs)
UTIL – Craig Elliott, York Barbell/Ken Sanders (9-12, .750, 6 HR, 15 RBI, 9 Runs)
UTIL – Warren Scarborough, B&S Construction (11-15, .733, 7 HR, 13 RBI, 9 Runs)
UTIL – Al White, Steele's Sports (12-20, .600, 2 HR, 8 RBI, 14 Runs)
SECOND TEAM ALL-AMERICANS
P – Larry Garrard, Steele's Sports (12-22, .545, 4 RBI, 2 Runs)
C – Herman Rathman, Steele's Sports (9-19, .473, 6 HR, 11 RBI, 10 Runs)
C – Ed Roth, Howard's (7-14, .500, 2 HR, 3 RBI, 10 Runs)
1B – James Washington, Jerry's Catering (10-21, .476, 3 HR, 6 RBI, 6 Runs)
2B – James Boyett, York Barbell/Ken Sanders (9-14, .643, 3 HR, 6 RBI, 7 Runs)
SS – John Brenner, Steele's Sports (17-28, .607, 2 RBI, 11 Runs)
OF – Mike Nye, York Barbell/Ken Sanders (10-16, .625, 2 RBI, 4 Runs)
OF – Tom Beall, Howard's/Western Steer (9-18, .500, 5 HR, 10 RBI, 10 Runs)
OF – Bruce Meade, Jerry's Catering (12-20, .600, 4 HR, 11 RBI, 13 Runs)
OF – Denny Jones, Steele's Sports (13-26, .500, 2 HR, 8 RBI, 10 Runs)
UTIL – Myles Schexnayder, Jerry's Catering (9-19, .473, 5 HR, 5 RBI, 7 Runs)
UTIL – Buck Hall, B&S Construction (7-15, .467, 1 HR, 2 RBI, 4 Runs)
UTIL – Sidney Cooper, B&S Construction (7-16, .438, 5 HR, 10 RBI, 6 Runs)
UTIL – Curtis Williams, York Barbell/Ken Sanders (8-15, .533, 1 HR, 2 RBI, 6 Runs)
---
OTHERS
Mike Parrott, Jerry's Caterers (10-20, .500, 4 HR, 12 RBI, 9 Runs)
Greg Fuhrman, Jerry's Caterers (9-20, .450, 2 HR, 9 RBI, 6 Runs)
Freddie Trice, Jerry's Caterers (5-12, .417, 2 HR, 4 RBI, 4 Runs)
Ron Ford, Yor Barbell/Ken Sanders (7-17, .412, 1 HR, 5 RBI, 7 Runs)
John Geckle, Steele's Sports (10-25, .400, 1 HR, 7 RBI, 6 Runs)
---
FINAL STANDINGS
1. Howard's/Western Steer, Denver, NC (4-0)
2. Steele's Sports, Lima, OH (4-2)
3. B&S Construction Company, Rome, GA (2-2)
4. Jerry's Caterers, Miami, FL (3-2)
5t. York Barbell/Ken Sanders, York, PA (2-2)
5t. Skoal Bandits, Sherrills Ford, NC (1-2)
7t. Kelly's, Waco, TX (1-2)
7t. Nationwide Advertising, Cleveland, OH (1-2)
9t. Capitol Insulation, North Hollywood, CA (0-2)
9t. LeAlCo, Lebanon, TN (0-2)
---