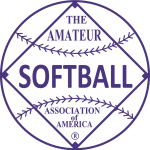 1976 held at Chattanooga, Tennessee.
---
Champion: Sorrento's Pizza, Cincinnati, Ohio (92-8)
Runner Up: Rubi-Otts, Graham, North Carolina (72-8)
---
Sorrentos lost their very first game of the tournament to the Jacksonville Raiders, then came back through the loser's bracket and won 10 straight, beating Rubi-Otts twice, 8-3 and 5-2 in the final championship games. Pitcher Shirley Patterson won all 10 games and had an amazing 1.76 ERA. Sorrentos was led by the hot bat of Sue Malcolm who had 18 hits (.545 average). Martha Kidd, Marsha Replogle Ehler and Vicki Stambaugh also contributed big hits and outstanding defensive plays to lead Sorrento's.
---
MVP – Marylyn Busse, Rubi-Otts (9-22, .409, 2 RBI, 8 Runs)
Batting Leader – Sue Malcolm, Sorrento's (18-33, 10 RBI) – .545
Home Run Leader – Karen Krause, Warehouse Tapes & Records (5-14, .357) – 2
Most Outstanding Pitcher – Shirley Patterson, Sorrento's (had a 1.76 ERA and led Sorrento's through the losers bracket after losing their first game and then to the title winning 10 straight games)
---
1976 FIRST TEAM ALL AMERICANS
P – Shirley Patterson, Sorrento's Pizza
P – Judy Hedgecock, Dots
C – Linda Ares, Dots
C – Martha Kidd, Sorrento's Pizza
1B – Marsha Replogle Ehler, Sorrento's
2B – Linda Arford, Spooks
3B – Sue Malcolm, Sorrento's Pizza
SS – Sheryl Chubb, Rubi-Otts
OF – Vicki Stambaugh, Sorrento's Pizza
OF – Carol Smith, Dots
OF – JoAnn Avedisian, Sessions TV
OF – Marilyn Busse, Rubi-Otts
UT – Laura Roundtree, Blazers
UT – Beverly Shue, Rubi-Otts
1976 SECOND TEAM ALL AMERICANS
P – Wanda Thomas, Spirits
P – Pam Clark, Rubi-Otts
C – Marlen Brice, Gremlins
C – Judy Lockhart, Rubi-Otts
1B – Sandy Patton, Dots
2B – Camille Talley, Warehouse Tape & Record
3B – Linda Wiemers, Spirits
SS – Sherri Amos, Playmates
OF – Nancy Brown, Gremlins
OF – Patti Green, Barbelettes
OF – Elaine Honig, Gremlins
OF – Marlene Gordon, Rubi-Otts
UT – Karren Newman, Dots
UT – Sue Bupp, York Barbelletes
---
NOTE: Pat Green, Barbellettes (11-19) – .579 (missed by one at bat at winning the batting crown)
---
FINAL STANDINGS
1. Sorrento's Pizza, Cincinnati, OH (10-1)
2. Rubi-Otts, Graham, NC (5-2)
3. Dots, North Miami, FL (5-2)
4. Gremlins, Tampa, FL (5-2)
5t. Blazers, Jacksonville, FL (3-2)
5t. Spooks, Anoka, MN (3-2)
7t. Spirits, Oklahoma City, OK (3-2)
7t. Barbelletes, York, PA (4-2)
9t. Botkins Trophies, Muncie, IN (2-2)
9t. Donnettes, Cleveland, OH (2-2)
9t. Sessions TV, Rhode Island, RI (3-2)
9t. Budweiser, Cookeville, TN (3-2)
13t. Hadisco, Hutchinson, KE (4-2)
13t. BYMC Debs, Pittsburgh, PA (1-2)
13t. Unpredictables, Las Vegas, NV (1-2)
13t. Playmates, Sacramento, CA (2-2)
17t. Ami-Co Travel, Copiague, NY (2-2)
17t. Progressive Printers, Dayton, OH (1-2)
17t. Warehouse Tapes & Records, Houston, TX (1-2)
17t. Robinettes, Springfield, OH (1-2)
17t. Reeder Sinco GMC, Fort Smith, AR (1-2)
17t. CP Dean, Richmond, VA (1-2)
17t. WFLI, Chattanooga, TN (2-2)
17t. Pavers, Lexington, KY (1-2)
25t. Stars, Rome, GA (0-2)
25t. Spirit of 76, Cleveland, OH (0-2)
25t. Avantis, Minneapolis, MN (0-2)
25t. BJs All Stars, Tacoma, WA (0-2)
25t. Auto Parts, Coeur d'Alene, ID (0-2)
25t. Brown's Tire shop, Manchester, CT (0-2)
25t. Scott Rwuipment, Chattanooga, TN (0-2)
25t. Fairway, Blair, NE (0-2)
33t. Fox Valley Lassies, St. Charles, IL (0-2)