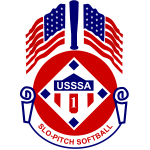 1975 held at Southgate, Michigan.
---
Champion – Real Estate One Stingers, Redford, Michigan
Runner Up – Enrico's, Cincinnati, Ohio
---
Marilyn Cech held off the Enrico's in the championship game and pitched the Real Estate Stingers to an 9-1 victory and the World Championship. Shirley Patterson pitched for Enrico's. Cech surrendered 12 hits, but only 1 run. Sherry Crane was 4-4 in the Championship game. Cech helped her own cause with a 2-3 game. Six different players had at least 2 hits for the Stingers in the game.
---
MVP – Sherry Crane, Stingers (.619)
Batting Leader – Connie Carlson, Heales' Mfg. – .667
HR Leader – Kimba Cornell, Washington Plastic – 3
---
1975 ALL WORLD TEAM
P – Marilyn Cech, Real Estate One
C – Martha Kidd, Enrico's (.563)
1B – Sherry Crane, Real Estate One (.619)
2B – Bev Beck, Enrico's (.600)
3B – Ginny Belavia, Pace (.467)
SS – Supe Reidel, Real Estate One (.350)
OF – Pat Bryan, Kolesar, Ins. (.500)
OF – Kris Thompson, Enrico's (.438)
OF – Bennie Jones, Kelly Tavern (.545)
OF – Connie Carlson, Heales Mfg. (.667)
UT – Evelyn Abell, Loungettes (.500)
---
FINAL STANDINGS (Incomplete – 35 total teams)
1. Real Estate One Stingers, Redford, MI
2. Enrico's, Cincinnati, OH
3. Pace Electronics, Rochester, NY
4. Kolesar Insurance, Louisville, KY
5t. Kelley Tavern, Rochester, NY
5t. Stan's Auto Sales, New Castle, PA (68-6)