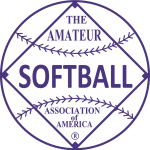 1974 held at Dill Softball Center, UNO Football Stadium, and Churchich Field in Omaha, Nebraska on May 16-19.
---
Champion – Southwest Missouri State Bears (28-4)
Runner Up – Northern Colorado Bears (19-2)
---
Sharon Williams pitched Northern Colorado to two victories in the Women's Softball College World Series Sunday but Southwest Missouri got to her for eight runs in the first inning to take the championship, 14-7.
The Greeley, Colo., team won a late Saturday night contest 1-0 over Indiana, then defeated Kansas 18-0 and Wayne State 9-8 in eight innings to meet undefeated Southwest Missouri State in the double elimination tourney.
Southwest Missouri State succeeds last year's champion Arizona State which did not qualify for the sixth annual tournament this year.
---
MVP – N/A
Batting Leader – Gail Gault, Arizona (.444, 8-18)
HR Champion – N/A
---
OTHERS
Cindy Henderson, SW Missouri St. (5-0)
---
ALL TOURNAMENT TEAM
N/A
---
SCORES
Luther 4 North Dakota State 1
Kansas 10 Winona State 0
Luther 2 Nassau CC 0
Southwest Missouri State 11 Massachusetts 1
Eastern Illinois 10 South Carolina 0
Indiana State 10 South Dakota State 0
Wayne State 4 Michigan State 3
Arizona 16 West Georgia 0
Northern Colorado 7 Weber State 2
Kansas 2 Golden West 1
Michigan State 1 North Dakota State 0 (North Dakota State eliminated)
South Dakota State 5 Winona State 1 (Winona State eliminated)
Weber State 5 Golden West 0 (Golden West eliminated)
Massachusetts 7 Nassau CC 0 (Nassau CC eliminated)
Michigan State 6 West Georgia 2 (West Georgia eliminated)
South Dakota State 2 South Carolina 1 (South Carolina eliminated)
Southwest Missouri State 1 Luther 0
Eastern Illinois 9 Indiana State 0
Wayne State 2 Arizona 0
Northern Colorado 1 Kansas 0
Indiana State 4 Michigan State 2 (Michigan State eliminated)
Luther 5 Weber State 2 (Weber State eliminated)
Arizona 18 South Dakota State 0 (South Dakota State eliminated)
Kansas 13 Massachusetts 3 (Massachusetts eliminated)
Southwest Missouri State 9 Eastern Illinois 8
Wayne State 23 Northern Colorado 7
Indiana State 3 Luther 2 (Luther eliminated)
Kansas 8 Arizona 1 (Arizona eliminated)
Northern Colorado 1 Indiana State 0 (Indiana State eliminated)
Kansas 2 Eastern Illinois (Eastern Illinois eliminated)
Southwest Missouri State 8 Wayne State 5
Northern Colorado 18 Kansas 0 (Kansas eliminated)
Northern Colorado 9 Wayne State 8 (Wayne State eliminated)
Southwest Missouri State 14 Northern Colorado 7 (Northern Colorado eliminated)
---
FINAL STANDINGS
1. Southwest Missouri State Bears (5-0)
2. Northern Colorado Bears (5-2)
3. Wayne State Wildcats (3-2)
4. Kansas Jayhawks (5-2)
5t. Eastern Illinois Panthers (2-2)
5t. Indiana State Sycamores (3-2)
7t. Arizona Wildcats (2-2)
7t. Luther Norse (3-2)
9t. Michigan State Spartans (2-2)
9t. South Dakota State Jackrabbits (2-2)
9t. Massachusetts Minutemen (1-2)
9t. Weber State Wildcats (1-2)
13t. West Georgia Wolves (0-2)
13t. South Carolina Gamecocks (0-2)
13t. Golden West Rustlers (0-2)
13t. North Dakota State Bison (0-2)
17t. Winona State Warriors (0-2)
17t. Nassau Community College Lions (0-2)