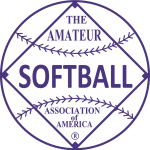 1973 held at Chattanooga, Tennessee.
---
Champion: Sweeney Chevrolet, Cincinnati, Ohio (70-3)
Runner Up: Hialeah Fotochrome Dots, Hialeah, Florida
---
The Cincinnati Girls of Sweeney's defeated the Hialeah Dots 9-0 in the final. In 7 games, Sweeney's outscored their opponents 82-19. The Dots did not have one player hit over .500 during the tournament, which shows how impressive Princess Carpenter's stats were. Ruth Michal of the Independence Rockettes of Cleveland finished second in batting with a .733 mark (11-15). The closest after that was over .150 points away.
---
MVP – Princess Carpenter, Sweeney Chevrolet (18-21, .857, 2 HRs, 20 RBIs)
Batting Leader – Princess Carpenter, Sweeney Chevrolet – .857
Home Run Leader – Princess Carpenter, Sweeney Chevrolet – 2
---
1973 FIRST TEAM ALL AMERICANS
P – Marsha Replogle-Ehler, Sweeney Chevrolet
P – Sadie Nelson, Avantis
C – Sharon Tice, Sweeney Chevrole
C – Bonnie Hensley, Raney Tire
1B – Princess Carpenter, Sweeney Chevrolet
2B – Donna Wolfe, Sweeney Chevrolet
3B – Ruth Michal, Rockettes
SS – Jenny Johnson, Sweeney Chevrolet
OF – Jan DuBois, Avantis
OF – Marilyn Busse, Rubi-Otts
OF – Marty Gordon, Rubi-Otts
OF – Linda Ares, Hialeah Dots
UT – Chris Padgett, Hialeah Dots
UT – Carol Smith, Hialeah Dots
1973 SECOND TEAM ALL AMERICANS
P – Kay Yow, Rubi-Otts
P – Millie Medina, Hialeah Dots
C – Judy Lockhart, Rubi-Otts
C – Diane Hinkle, Rutemschroer
1B – Sandy Patton, Hialeah Dots
2B – Lewannee Fenty, Hialeah Dots
3B – Anita Rieskamp Gardner, Sweeney Chevrolet
SS – Ruth Patterson, Boatmart
OF – Mildred Lovelace, Boarmart
OF – Bonnie McVey, Raney Tire
OF – Sue Stoddard, Stretch Motel
OF – Irene Dill, Sweeney Chevrolet
UT – Charmon Odle, Hamiltons
UT – Janet Childress, Hi Landers
---
FINAL STANDINGS
1. Sweeney Chevrolet, Cincinnati, OH (7-0)
2. Hialeah Dots, Miami, FL (5-2)
3. Avantis, Minneapolis, MN (7-2)
4. Raney Tire, Cleveland, OH (5-2)
5t. Rubi-Otts, High Point, NC (3-2)
5t. Cleveland Rockets, Cleveland, OH (3-2)
7t. Rutenschorer, Cincinnati, OH 4-2
7t. Hi-Landers, Louisville, KY (3-2)
9t. Boat Mart, Chattanooga, TX (4-2)
9t. Hamilton's, Bellingham, WA (3-2)
9t. York Barbellettes, York, PA (2-2)
9t. Stretch Motel, Fond Du Lac, WI (2-2)
13t. Bob Paul's, St. Louis, MO (2-2)
13t. Progrssive Printers, Dayton, OH (2-2)
13t. Waymire Motors, North Little Rock, AR (2-2)
13t. Vaughn's Electric, Murfreesboro, TN (2-2)
17t. Oxford Sports Center, Oxford, OH (1-2)
17t. Motown Soul Sisters, Detroit, MI (1-2)
17t. South Park Saints, Santa Rosa, CA (1-2)
17t. Westwood Concrete, Bloomington, MN (1-2)
17t. Browne's, Hays, KS (1-2)
17t. Groman's Sports Shop, Manchester, CT (1-2)
17t. Aristocrats, Portsmouth, VA (1-2)
17t. Hounds and Foxes, Brookhaven, NY (1-2)
25t. Alamo National Bank, San Antonio, TX (1-2)
25t. Dixie Demons, Richmond, VA (1-2)
25t. American Legion Post #90, Los Alamos, NM (0-2)
25t. Lucky Boy, Chattanooga, TN (0-2)
25t. Allain's Gems, Lafeyette, LA (0-2)
25t. Little Big Men, Billings, MT (0-2)
25t. Tucker Road Community Center, Oxen Hill, MD (0-2)
25t. PAL All-Stars, Lynn, MA (0-2)
33t. St. Augustine Volunteers, St. Augustine, FL (0-2)
33t. Montgomery Generals, Montgomery, AL (0-2)