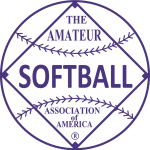 1993 held at Stratford, Connecticut.
---
Champion – Redding Rebels, Redding, California (37-4)
Runner Up – Raybestos Brakettes, Stratford, Connecticut (72-5)
---
Lori Harrigan 2-0, Lisa Fernandez 2-1, Cheri Kempf 1-1 with a no hitter. In the Final two championship games, The Rebels beat the Brakettes 3-0 and 3-2. Redding's Lori Sippel, who struck out seven and gave up four hits. With one out and the bases loaded in the sixth, Michele Smith came on in relief and struck put the final two batters to preserve the 3-0 win. Lisa Fernandez was the losing pitcher. In the second game, Jennifer Brundage's RBI single was the big blow to back Smith as she struck out 11 and gave the Brakettes Cheri Kempf her first loss of the year. The Rebels beat the Commotion in an epic 28 inning game 3-2 on a passed ball. Debbie Doom pitched 21 innings in relief and was the losing pitcher. The Rebels went 8-1 to capture the title.
---
MVP – Michele Smith, Redding Rebels
HR Leader – N/A
Batting Leader – Kathy Kreischer, Topton VIPs – .456
Bertha Tickey Pitching Award – Michele Smith, Redding Rebels
Erv Lind Defensive Award – Julie Smith, Redding Rebels
---
FIRST TEAM ALL-AMERICANS
P – Michelle Collins, VIP's
P – Michele Smith, Redding Rebels (got the save and the win in the final two games 3-0 and 3-2, with 11 K)
P – Lori Sippel, Redding Rebels
C – Eileen Smith, VIP's
C – Shelly Stokes, Fresno Force
1B – Sheila Cornell Douty, Raybestos Brakettes
2B – Julie Smith, Redding Rebels
3B – Sharon Sodano, Phoenix Sunbirds
SS – Dot Richardson, Raybestos Brakettes
OF – Jennifer Brundage, Redding Rebels
OF – Jill Justin-Coffel, Raybestos Brakettes
OF – Suzie Gaw, Phoenix Sunbirds
OF – Pat Dufficy, Raybestos Brakettes
DP – Denise Davis, VIP's
UTIL – Lisa Fernandez, Raybestos Brakettes
SECOND TEAM ALL-AMERICANS
P – Susie Parra, Phoenix Sunbirds
P – Cheri Kempf, Raybestos Brakettes
P – Lori Harrigan, Raybestos Brakettes
C – Michelle Gromacki, Redding Rebels
C – Julie Sexton, Bloomington Lady Hearts
1B – Kim Anderson, Phoenix Sunbirds
2B – Michelle Bento, Fresno Force
3B – Cindy Cooper, Phoenix Sunbirds
SS – Shari Johnson, California Commotion
OF – Priscilla Rouse, California Commotion
OF – Janna Venice, Seahawks
OF – RaeAnn Pifferini, Fresno Force
OF – Julie Follard, Michigan Cruise
DP – Ginny Alder, Seahawks
---
FINAL STANDINGS
1. Redding Rebels, Redding, CA 8-1
2. Raybestos Brakettes, Stratford, CT (5-2)
3. Phoenix Sunbirds, Phoenix, AZ (4-2)
4. Fresno Force, Fresno, CA (5-2)
5t. Bloomington Lady Hearts, Bloomington, IL (4-2)
5t. Topton VIPs, Blandon, PA (3-2)
7t. California Commotion, Diamond Bar, CA (3-2)
7t. Avanits, East Peoria, IL (2-2)
9t. Decatur Sting, Decatur, IL (1-2)
9t. Michigan Cruise, Ann Arbor, MI (2-2)
9t. Stratford Seahawks, Stratford, CT (3-2)
9t. St. Louis Classics, St. Louis, MO (2-2)
13t. Allentown Pates, Allentown, PA (1-2)
13t. Celina Suns, Celina, OH (0-2)
13t. First Page Metros, Washington, DC (1-2)
13t. Montclair Majesties, Montclair, NJ (1-2)
17t. Ballwin Saints, Ballwin, MO (0-2)
17t. Danbury Debs, Danbury, CT (0-2)
17t. MCM Sports, Richfield, MN (0-2)
17t. Orange County Majesties, Orange, CA (0-2)
17t. OTB Capitals, Albany, NY (0-2)
17t. Team Triple Crown, Fort Collins, CO (0-2)
17t. Tonawanda Shamrocks, Tonawanda, NY (0-2)
---