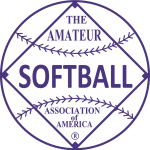 1970 held at Jones Beach, New York, on August 1-9.
---
Champion – Pharr Yarn, McAdenville, North Carolina
Runner Up – Sikorsky Aircraft, Stratford, Connecticut
---
Pharr Yarn collected 27 hits while defeating defending champ Lycoming, 20-6 in the semifinal. Ken Mitchem, Mac Richardson and Joe Brown all had 2 HR each. They clinched the Championship with a 12-5 win over Sikorsky.  Mac Richardson (14-26, .538, 5 HR, 15 RBI) led the Pharr Yarn offense, while Jody Brockman was named the tournament's Most Outstanding Pitcher Award and did bang out 3 hits in the title game. Pitcher Ken Clark of Sikorsky kept the team in each game with his fine pitching and fielding. Joe Brown (14-26, .538, 5 HR), JD McDonald (15-30, .500) and Ken Mitchem (3 HR) also helped out in the Pharr Yarn offense.
---
MVP – Bob Hurd, Sikorsky (27-40, .625, 7 HR)
HR Leader – Bob Hurd, Sikorsky – 7
Batting Leader – Bob Cookie Stemmer, Trenton City Employees – .714 (15-21)
---
ASA MAJOR INDUSTRIAL ALL AMERICANS FIRST TEAM
P – Ken Clark, Sikorsky Aircraft (.355)
P – Jody Brockman, Pharr Yarn (.440)
C – Willie Carter, Louisville, KY Gas and Electric
C – Joe Wilking,  Ford Motors, Cincinnati, OH
1B – Dick Thompson, Avco Lycoming
2B – Nelson Bradshaw, Pharr Yarn (.467, 1 HR)
3B – Joe Arszyla, Sikorsky Aircraft (.555, 6 HR)
SS – Bob Hurd, Sikorsky Aircraft   (MVP)
OF – James Meeks, DuPont Fibers (.667, 6 HR)
OF – Cookie Stemmer, Trenton City Employees (.714)
OF – Frank Guillenetti, Sikorsky Aircraft (.550)
OF – Gary Smith, Sikorsky Aircraft (.487, 2 HR)
UTIL – Robert Davis, Allen Bradley
UTIL – Mac Richardson, Pharr Yarn (.535, 5 HR)
ASA MAJOR INDUSTRIAL ALL AMERICANS SECOND TEAM
P – Petey Dunson, Riegel Textiles (.703, 2 HR)
P – John Weber, Louisville Gas & Electric
C – Ray Day, Louisville Gas & Electric
C – Carl Chianers, City Employees
1B – Herman Thomas, Union Carbide (.478, 5 HR)
2B – Charles Heckel, Louisville Gas & Electric (.636)
3B – Gary Schoen, Louisville Gas & Electric (.550)
SS – Nelson Young, DuPont Fibers (.618, 1 HR)
OF – Bob Edmuindson, Ford Motors, Ypsilanti
OF – Ronald Pette, Long Island Lighting Company
OF – Charles Gouvia, Avco-Lycoming (.476)
OF – Matt Verton, Long Island Lighting
UTIL – Doug Hommel, Nassau County Police Dept
UTIL – Joe Brown, Pharr Yarn, NC (.535, 3 HR)
---
OTHERS
Ed Finnegan, Avco-Lycoming (13-23, .565)
JD McDonald, Pharr Yarn (15-30, .500)
---
FINAL STANDINGS
1. Pharr Yarn, McAdenville, NC (6-1)
2. Sikorsky Aircraft, Stratford, CT (8-2)
3. Louisville Gas & Electric, Louisville, KY (4-2)
4. DuPont Fibers, Waynesboro, VA (6-2)
5t. Avco-Lycoming, Stratford, CT (3-2)
5t. City Employees, Trenton, NJ (3-2)
7t. Riegel Textiles, Trion, GA (5-2)
7t. McLouth Steel, Wyandotte, MI (4-2)
9t. Union Carbide, Oak Ridge, TN (4-2)
9t. Pepsico, New York, NY (3-2)
9t. Ford Motors, Ypsilanti, MI (2-2)
9t. Long Island Lighting Co., Long Island, NY (2-2)
13t. Sears Local 149, Minneapolis, MN (3-2)
13t. Ford Motors, Cincinnati, OH (3-2)
13t. Nassau County Police Dept, Mineola, NY (3-2)
13t. Pabst International Harvester, Springfield, OH (3-2)
17t. Norfolk Fire Department, Norfolk, VA (2-2)
17t. Wilson & Co., Oklahoma City, OK (2-2)
17t. Allen Bradley, Milwaukee, WI (1-2)
17t. Clinton Mills, Clinton, SC (1-2)
17t. Delaware Association of Police, Wilmington, DE (1-2)
17t. Golf Coast Petroleum, Corpus Christi, TX (1-2)
17t. Link, Binghamton, NY (1-2)
17t. Xerox Corp., Rochester, NY (1-2)
25t. Anoka-Hennepin School District, Anoka, MN (1-2)
25t. State Highway Department, Richmond, VA (1-2)
25t. Whirlpool Corporation, Evansville, IN (1-2)
25t. Auto Union 1005, Cleveland, OH (0-2)
25t. Edgcomb Steel, Nashua, NH (0-2)
25t. Northeast Carbon and Wire, Millbury, MA (0-2)
25t. Main Post Office, St. Paul, MN (0-2)
25t. American Chain & Cable, York, PA (0-2)
33t. Champion Spark Plugs, Toledo, OH (0-2)
33t. Monsanto, Pensacola, FL (0-2)
33t. Owens-Illinois, Atlanta, GA (0-2)
33t. City Workers, Providence, RI (0-2)
33t. RTE Corporation, Waukesha, WI (0-2)
33t. Westinghouse, East Pittsburgh, PA (0-2)