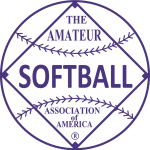 1968 held at Jones Beach, New York.
---
Champion – County Sports, Levittown, NY
Runner Up – Jo's Pizza House, Milton, FL
---
Jo's Beat County Sports 7-5 in winners bracket final , County Sports then came back and beat Jo's twice 11-7, 17-12 to win the crown. Bert Smith hit HRs in his first two at bats to ignite County Sports in the Final championship game. Smith came up big the Long Island team every game getting 23 hits and 24 RBIs in the teams 8 games.  County Sports' Jim Galloway chipped in with 11 HRs and 17 RBIs, and along with Bill Malloy (9 HRs, 19 RBIs), Lou Russo (5 HRs, 13 RBIs) and Pitcher Bill Brown's 5 HRs, led an explosive offense. HT Waller was a one man machine for Jo's Pizza as he led them going 13-21 (.619) with 9 HRs and 17 RBIs. Jo's Pitcher Gerry Martello and Outfielder Luther Ates played outstanding defense for Jo's.
---
MVP – Bert Smith, County Sports (23-37, .622, 11 HRs, 24 RBIs, 19 Runs)
HR Leader Bert Smith, County Sports – 11
Batting Leader – Bill Goedde, Dick Luken Volkswagon (13-16, 9 RBIs, 3 Runs) – .813
---
1968 ASA MEN'S OPEN SLOW PITCH ALL-AMERICAN FIRST TEAM
P- Jerry Martello, Jo's (4-2 Pitching and 5-19, .263, 2 RBIs, 4 Runs)
C- Bill Malloy, County Sports (21-33, .638, 9 HRs, 19 RBIs, 14 Runs)
1B- Lou Russo, County Sports (20-35, .571, 5 HRs, 13 RBIs, 15 Runs, 10 Doubles)
2B- HT Waller, Jo's (13-21, .619, 9 HRs, 17 RBIs, 11 Runs)
3B- Bill Goedde, Dick Luken (13-16, .813, 9 RBIs, 3 Runs)
SS- Tom DeLanzo, Hudepohl Beer (12-21, .571, 2 RBIs, 7 Runs)
OF- Bob Schugman, County Sports (19-38, .500, 2 RBIs, 12 Runs)
OF- Jerry Booher, Wilsman Trucking (16-26, .615, 2 HRs, 5 RBIs, 13 Runs)
OF- Bert Smith, County Sports (23-37, .622, 11 HRs, 24 RBIs, 19 Runs)
OF- Luther Ates, Jo's (10-22, .455, 1 HR, 3 RBIs, 8 Runs)
---
1968 ASA MEN'S OPEN SLOW PITCH ALL-AMERICAN SECOND TEAM
P- Ron Ritter, Jiffy Club (3-2 Pitching and 10-16, .625, 3 HRs, 10 RBIs, 6 Runs)
C- Mark Chandler, Erie Sheet Metal (10-16, .625, 4 HRs,11 RBIs, 8 Runs)
1B- Cal Bodenstein, Jo's Pizza (9-19, .476, 3 HRs, 2 RBIs, 3 Runs)
2B- Jim Galloway, County Sports (19-35, .543, 6 HRs, 11 RBIs, 17 Runs)
3B- Mac Stalcup, Kobax Corporation (9-13, .692, 2 HRs, 7 RBIs, 6 Runs)
SS- Roy Hill, Kobax Corporation (8-17, .471, 3 RBIs, 5 Runs)
OF- Larry Harbin, Anderson Shell (13-22, .591, 11 RBIs, 7 Runs)
OF- Gordon Pfeiffer, Heidelberg Beer (10-12, .833, 3 HRs, 10 RBIs, 6 Runs)
OF- Junior Riggs, Jiffy Club (8-13, .615, 1 HR, 5 RBIs, 3 Runs)
OF- Otto Knowles, Jo's (10-18, .556, 5 RBIs, 5 Runs)
---
OTHERS
Jim Sibert, Gene Angelos (10-13, .769, 2 RBIs, 9 Runs)
Jack Goodrich, Gene Angelos (8-12, .667, 2 HRs, 4 RBIs, 5 Runs)
Steve Loya, Gene's Sunoco (6-10, .600, 2 HRs, 6 RBIs, 4 Runs)
Preston Powell, Erie Sheet Metal (10-17, .588, 4 HRs, 14 RBIs, 10 Runs)
Bill Brown, County Sports (12-21, .572, 5 HRs, 9 RBIs, 10 Runs)
Rocky Salice, County Sports (15-30, .500, 1 HR, 7 RBIs, 12 Runs)
Chester Dungan, Jo's Pizza (10-21, .476, 3 HRs, 9 RBIs, 7 Runs)
Andy Loya, Gene's Sunoco (5-11, .455, 1 HR. 7 RBIs, 3 Runs)
Ron Annotico, Gene's Sunoco (5-11, .455, 1 HR, 6 RBIs, 4 Runs)
Steve Shurina, County Sports (13-33, .394, 3 HRs, 12 RBIs, 10 Runs)
Stan Harvey, Kobax (5-14, .357, 1 HR, 5 RBIs, 4 Runs)
Howie Krause, Erie Steel (6-20, .300, 2 HRs, 8 RBIs, 6 Runs)
---
FINAL STANDINGS
1 – County Sports, Levittown, NY 7-1
2 – Jo's House of Pizza, Milton, FL 4-2
3 – Dick Luken Volkswagon, Cincinnati, OH 5-2
4 – Wilsman Truckers, Hamilton, OH 5-2
5t – Erie Sheet Metal, Cleveland, OH 3-2
5t – Heidleberg Beer, Tacoma, WA 2-2
7t – Anderson Shell Misfits, Anderson, SC 4-2
7t – Hudepohl Beer, Springfield, OH 3-2
9t – Jiffy Club, Louisville, KY 3-2
9t – Twin Cities Construction, Meridan, CT 3-2
9t – Kobax Corporation, Chattanooga, TN 2-2
9t – Ragu Foods, Rochester, NY 2-2
13t – Climatic Air Rams, Maspeth, NY 2-2
13t – Bayer & Mingola, Millbury, MA 2-2
13t – Kutis Funeral Hone, St. Louis, MO 2-2
13t – Playboy Tavern, Kennewick, WA 2-2
17t – Central Brevard Merchants, Cocoa, FL 1-2
17t – Shakey's, Rockville, MD 1-2
17t – Colonial Inn, Richmond, VA 0-2
17t – Mahan Ford, Columbus, IN 0-2
17t – Gene's Sunoco, Cleveland, OH 1-2
17t – Countryside Realty, Hopkins, MN 0-2
17t – S.M. Pisut, Joliet, IL 1-2
17t – Buck Moore's Service Station, Macon, GA 0-2
25t – Wamble Realty, Virginia Beach, VA 0-2
25t – Del Campo Baking, Wilmington, DE 0-2
25t – Coast Wholesalers Supply, Long Beach, MS 0-2
25t – Kilberg-Grochran, San Carlos, CA 0-2