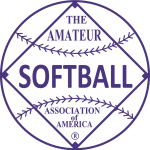 1968 held at Stratford, Connecticut on August 1-9.
---
Champion – Avco-Lycoming, Stratford, Connecticut
Runner Up – E.L. Weigand Company, Pittsburgh, Pennsylvania
---
Avco-Lycoming won the loser's bracket final beating Long Island Lighting 16-1 behind Don Hanson's 6 RBI, then beat undefeated E.L. Wiegand Company 3-2 in the first final on Ray Day's sac fly. They won the final game 11-4 behind Don Hansen's 2 HR and 5 RBI. Frank DeLuca only gave up 10 runs in final 4 games and 31 runs total in the 9 games he pitched, he was 8-1 overall and gave up an average of less than 3 runs and 10 hits a game. Eddie Finnegan was lights out both at the plate and in the field the whole tournament.
---
MVP – Ed Finnegan, Avco-Lycoming (24-35, .686, 8 RBI, 17 Runs)
HR Leader – Don Hanson, Avco-Lycoming (17-27, .630, 8 RBI, 21 RBI, 17 Runs) – 7
---
ASA MAJOR INDUSTRIAL ALL AMERICANS FIRST TEAM
P – Frank DeLuca, Avco-Lycoming (8-1, gave up 31 runs in 9 games, less than 3 a game)
P – Duke Martin, E.L. Weigand Company
P – Ken Clark, Sikorsky Aircraft
C – Bob Gordon, E.L. Weigand Company
C – Joe Battaglia, Sikorsky Aircraft
1B – Ray Shearer, York AMF
2B – Denny Grim, York AMF
3B – George Spsara, E.L. Weigand Company
SS – Ed Finnegan, Avco-Lycoming (24-35, .686, 8 RBI, 17 Runs)
OF – Charlie Gouvia, Avco-Lycoming
OF – Don Hansen, Avco-Lycoming (17-27, .630, 7 HR, 8 RBI, 21 RBI, 17 Runs)
OF – Bob Emenheiser, York AMF
UT – Pete Gallagher, Avco-Lycoming
ASA MAJOR INDUSTRIAL ALL AMERICANS SECOND TEAM
P – Chris Waldren, Post Office
P – Ed Showalter, AMF
P – Levon Holsonback, Combustion Engineers
C – Paul McKinney, Combustion Engineers
C – Jack Ryan, Grumman Aircraft
1B – Jerry Jakubczyk, Bausch and Lomb
2B – Larry Brunce, Delta Airlines
3B – Ray Day, Avco-Lycoming
SS – Bob Hurd, Sikorsky Aircraft
OF – George Hangos, Avco-Lycoming
OF – Bob Moore, Louisville Gas and Electric
OF – Wayne Jackson, Combustion Engineers
OF – Jerry Camfield, Louisville Gas and Electric
---
FINAL STANDINGS
1. Avco-Lycoming, Stratford, CT (8-1)
2. E.L. Weigand Company, Pittsburgh, PA (5-2)
3. Long Island Lighting Co., Hicksville, NY (4-2)
4. Sikorsky Aircraft, Stratford, CT (5-2)
5t. Combustion Engineers, Chattanooga, TN (6-2)
5t. Louisville Gas and Electric, Louisville, KY (4-2)
7t. AMF, York, PA (6-2)
7t. Bausch & Lomb, Rochester, NY (4-2)
9t. Beattie Plant, Fountain Inn, SC (2-2)
9t. Dupont Fibers, Waynesboro, VA (3-2)
9t. Pharr Yarn, McAdenville, NC (2-2)
9t. Grumman Aircraft, Bethpage, NY (2-2)
13t. Volunteer Fire Department, Ewing Township, NY (2-2)
13t. Local 808 IUE, Evansville, IN (2-2)
13t. Postal Employees, St. Louis, MO (2-2)
13t. Delta Airlines, Miami, FL (3-2)
17t. Moore Drop Forging Co., Springfield, MA (1-2)
17t. IBM, Atlanta, GA (1-2)
17t. Local 149, Minneapolis, MN (1-2)
17t. Procter & Gamble, Cincinnati, OH (2-2)
17t. Link Blues, Binghamton, NY (1-2)
17t. IBM, Lexington, KY (1-2)
17t. Lindsey Co., St. Paul, MN (1-2)
17t. Folk Corp, Milwaukee, WI (1-2)
25t. Banco Credito, San Juan, PR (1-2)
25t. Armco Triangles, Middletown, PA (1-2)
25t. Delaware Association of Police, Wilmington, DE (0-2)
25t. Ford Motor Co. Monroe, MI (0-2)
25t. Pepsi-Cola, Detroit, MI (1-2)
25t. Local 1050, Cleveland, OH (1-2)
25t. Riegel Rifles, Trion, GA (0-2)
25t. Pepsi-Cola, New York, NY (0-2)
33t. Kaiser Jeep, Toledo, OH (0-2)
33t. General Mills, Minnapolis, MN (0-2)
33t. State Employees, Providence, RI (0-2)
33t. Monsanto, Pensacola, FL (0-2)
33t. Bradley Wash Fountain, Menomonie, WI (0-2)