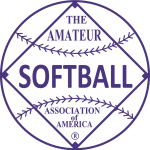 1965 held at Omaha, Nebraska.
---
Champion: Art's Aces, Omaha, Nebraska
Runner Up: Fieldcrest Hornets, Worthville, North Carolina
---
In the first final game, Hornets Peggy Andrews pitched 6 2/3 inning of a perfect game before giving up consecutive singles to Omaha's Marcia Lynk, Sid Sindt and Jan McCunn to tie the score at 1-1.
The Hornets won the game in the 9th inning on Barbara Thacker's single and eventually scored on Peggy Andrews fielder's choice to win the game 2-1. The Hornets eliminated last year's champ (Dana Gardens 8-5) and runner-up (Rutenschrorer 6-1) along the way to the final.
In the Final game, Joy Driever's double plated 2 runs that gave Art's the 3-1 lead they would never relinquish.
MVP Barbara Kelley of Art's Aces showed her pitching dominance by hurling 3 shutouts and giving up only 6 runs in 7 games, including a victory over defending champ Dana Gardens 2-1, this after Dana Gardens just scored 65 runs in its previous two games in 45-0 and 20-7 victories.
Peggy Andrews threw a 3-hitter in the championship game but still lost 3-1, as Hornets got 11 hits, but only 1 run as they left too many players on base.. Due to rain, they played 5 games straight with only 10 minute breaks.
---
MVP – Barbara Kelley, Art's Aces (pitching record of 6-1 with 3 shutouts and giving up only 6 runs in 7 games)
Outstanding Pitcher – Peggy Andrews, Hornets, (pitched 8 of 9 games, winning 7, giving up only 22 runs total in 8 games with a shutout and 3-one run games)
Batting Leader – Nancy Oldham, Fieldcrest Hornets (16-31) –  .516
Home Run Leader – Bev Shue, Steel Concrete – 2
---
1965 FIRST TEAM ALL AMERICANS
P – Barbara Kelley, Art's Aces
P – Peggy Andrews, Fieldcrest Hornets
P – Dot Bailey, Dana Gardens
C – Jayne McCabe, Rutenschroer Florist
1B – Signa Wheeler, Sarge's Harper
2B – Marcia Lynk, Art's Aces
2B – Patricia Dixon, WFLI
3B – Sid Sindt, Art's Aces
3B – Ida Hopkins, Ohio Furniture
SS – Jan McCunn, Art's Aces
SS – Betty Yurkovich, Ohio Furniture
OF – Carol Smith, Rutenschroer Florist
OF – Jean Lenzer, Rutenschroer Florist
OF – Sis Huett, St. Louis Browns
OF – Lee Sullivan, St. Louis Browns
OF – Mary Ellen Kelley, St. Louis Browns
OF – Donna Wolfe, Dana Gardens
UT – Pete Brown, Fieldcrest Hornets
UT – Gloria Hill, Dana Gardens
UT – Nancy Oldham, Fieldcrest Hornets
MGR – Jock Tysinger, Fieldcrest Hornets
---
FINALS STANDINGS
1. Art's Aces, Omaha, NE (6-1)
2. Fieldcrest Hornets, Worthville, NC (7-2)
3. J.C. Rutenschroer, Cincinnati, OH (4-2)
4. Dana Gardens, Cincinnati, OH (3-2)
5t. St. Louis Brown, St. Louis, MO (4-2)
5t. Point Avanti, Minneapolis, MN (2-2)
7t. Suburban Pharmacy, Portsmouth, VA (3-2)
7t. Hough Phil-Queens, Council Bluffs, IA (3-2)
9t. Labelle Realty, Oconomowac, WI (5-2)
9t. Ohio Furniture, Cleveland, OH (3-2)
9t. Sarg Harper's Sport Shop, Detroit, MI (3-2)
9t. WFLI Radio, Chattanooga, TN (3-2)
13t. Bart's Bar, Columbus, OH (2-2)
13t. BPW Hoosiers, New Albany, IN (2-2)
13t. Eldorado All-Stars, Eldorado, AR (1-2)
13t. Longliners, Atlanta, GA (1-2)
17t. Windy Tap, Milwaukee, WI (2-2)
17t. Strong's Crab Pot Shop, Biloxi, MS (1-2)
17t. Jacksonville, Jacksonville, FL (1-2)
17t. Monroe-Royals, Monroe, MI (1-2)
17t. Mutual-United, Omaha, NE (1-2)
17t. Sparks, Jefferson Parish, LA (1-2)
17t. Milton Bar, St. Paul, MN (1-2)
17t. Omaha Rockets, Omaha, NE (1-2)
25t. Blue Devils, McDonough, GA (0-2)
25t. Lanettes, Dighton, KS (0-2)
25t. Luck Lagers, Butte, MT (0-2)
25t. Tacoma, Tacoma, WA (0-2)
25t. Hill Billies, Clay, WV (0-2)
25t. Nelson's Grill, Austin, TX (0-2)
25t. Mac's Girls, Biloxi, MS (0-2)