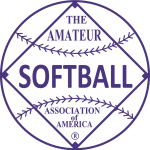 1959 held at Cleveland, Ohio.
---
Champion – Jake Sweeney Turbine Jets, Cincinnati, Ohio
Runner Up – St. Bernard Proctor & Gamble, Cincinnati, Ohio
---
The Turbine Jets defeated Proctor & Gamble 7-6 in the championship game behind the clutch hitting of Dick Luken, who had two clutch doubles  to lead the Jets to the title. Chuck Knothe, Pete Kennedy and Don Meeker also had two hits each for the Jets. Don Sawyer hit 2 home runs for  the P&G squad.  Luken ended up batting .500 (6-12), with 2 home runs in the tournament. Turbine's Ray Hein relieved starter Jack Youngbluth in the 4th of the final game and blanked P&G the rest of the way. The Jets finished the season with  24-2 record.
---
MVP – Thomas Rizzo, P&G (3-10, .300, 4 RBIs, 2 Runs)
HR Leader – Fred Cieslik, Allen-Bradley – 4 (7-14, .500, 6 RBI, 9 Runs)
Batting Leader – Bernie Kennetz, Pittsburgh Firemen – .692 (9-13, 2 RBI, 5 Runs)
---
ASA MAJOR INDUSTRIAL ALL AMERICANS FIRST TEAM
P – Ray Hein, Turbine Jets, Cincinnati, OH (1-5, .200, RBI, Run)
C – Dick Luken, Turbine Jets, Cincinnati, OH (6-12, .500, 2 HR, 5 RBI, 4 Runs)
1B – Charles Payne, Proctor & Gamble, Cincinnati, OH (7-24, .292, HR, 4 RBI, 6 Runs)
2B – Harold Allen, Medussa Eagles, Wampum, PA (10-26, .385, 2 HR, 12 RBI, 6 Runs)
SS – Blair Walker, Wix Corporation, North Carolina (8-24, .333, 5 Runs)
3B – Milton Kress, Turbine Jets, Cincinnati, OH (3-12, .250, 2 RBI, 2 Runs)
SF – Thomas Rizzo, Proctor & Gamble, Cincinnati, OH (MVP)
LF – Larry Engelbrink, Proctor & Gamble, Cincinnati, OH (8-25, .320, 2 HR, 8 RBI, 6 Runs)
CF – Leon Terry, Wix Corp. (9-23, .391, HR, 8 RBI, 6 Runs)
RF – Walt Kunz, Turbine Jets, Cincinnati, OH (3-12, RBI, 2 Runs)
---
BATTING LEADERS
Don Meeker, Jake Sweeney Turbine Jets (8-11, 1 RBI, 3 Runs) – .727
Bernie Kennetz, Pittsburgh Firemen (9-13, 2 RBI, 5 Runs) – .692
Howard Hetterich, Hamilton Bendix (9-15, 1 HR, 4 RBI, 6 Runs) – .600
Earl Swartz, Milwaukee Allen-Bradley (7-12, 1 HR, 5 RBI, 6 Runs) – .583
Bill Mauney, Gastonia Wix (11-20, 6 RBI, 5 Runs) – .550
Doyle Huey, Little Rock US Time (7-13, 3 RBI, 6 Runs) – .538
Dewey Browning, Hamilton Bendix (9-18, 1 HR, 5 RBI, 8 Runs) – .500
Fred Cieslik, Allen-Bradley (7-14, 4 HR, 6 RBI, 9 Runs) – .500
Dick Luken, Jake Sweeney Turbine Jets (6-12, 2 HR, 5 RBI, 4 Runs) – .500
O. Sirlouis, Cleveland East Ohio Gas (7-14, 2 RBI, 5 Runs) – .500
Ralph Mitchell, Cleveland East Ohio Gas (6-12, 3 RBI, 3 Runs) – .500
J. Liberatore, Cleveland East Ohio Gas (6-12, 3 RBI, 2 Runs) – .500
---
OTHERS
Kenny Tilla, Chewton Medusa Eagles (10-25, .400, 3 HR, 5 RBI)
Mario Bonofiglio, Tirabassi (3-8, .375, 1 HR, 4 RBI, 3 Runs)
Hal Wiggins, Proctor & Gamble (6-19, .316, 2 RBI, 5 Runs)
Frank Deluca, Lycoming (0-3, .000, 1 Run)
---
FINAL STANDINGS
1. Jake Sweeney Turbine Jets, Cincinnati, OH (5-0)
2. St. Bernard Proctor & Gamble, Cincinnati., OH (5-2)
3. Wix Corporation, Gastonia, NC (6-2)
4. Chewton Eagles-Medusa Cement Co., Wampum, PA (6-2)
5t. Pneumatic Tool, Cleveland, OH (3-2)
5t. Pittsburgh Firemen, Pittsburgh, PA (2-2)
7t. Bendix Corporation, Hamilton, OH (3-2)
7t. Allen-Bradley, Milwaukee, WI (3-2)
9t. U.S. Time Corporation, Little Rock, AR (3-2)
9t. East Ohio Gas Company, Cleveland, OH (2-2)
9t. Westinghouse Atomic Fuel, Cheswick, PA (2-2)
9t. U.A.W. Local #1336, Louisville, KY (2-2)
13t. Tirabassi & Sons, Kenosha, WI (1-2)
13t. Lockheed Jet Stars, Marietta, GA (1-2)
13t. Reese's, Syracuse-Rochester, NY (1-2)
13t. Police AA, Columbus, OH (1-2)
17t. Local #717, Warren, OH (1-2)
17t. Ohio Fuel Gas, Mich-Lucas City, Toledo, OH (1-2)
17t. Combustion Engineers, Chattanooga, TN (1-2)
17t. Mayrose Meats, St. Louis, MO (1-2)
17t. Meadowbrook National Bank, New York, NY (0-2)
17t. York City Police, York, PA (0-2)
17t. Lycoming, Stratford, CT (0-2)
17t. Parks and Recreation, Detroit, MI (0-2)
25t. U.S. Gypsum, Staten Island, NY (0-2)
25t. Lockheed Saber Jets, Mobile, AL (0-2)