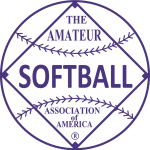 1952 held at Stratford, Connecticut.
---
Champion – Briggs Beautyware, Detroit, Michigan
Runner Up – American Industrial Sales Flyers, Miami, Florida (113-11)
---
John Spring of Briggs Beautyware was 5-0, 35 IP, 57 Ks, the 22 year old Spring pitched a perfect game in the winners bracket-finals to defeat Buck Miller and his Memphis squad and then came back with a 2-1 three-hitter in the finals.
Buck Miller of Memphis Corbitt Motors Independents went 3-2, 44 IP, 55 K.
Al Linde of Dow AC was 5-14, .357, 1 RBI, 4 Runs.
George Adam, Briggs went 7-17, .412, 3 RBI, 1 Run.
Miami Flyers Eddie Feigner went 3-1, 30 IP, 47 Ks, 3 shutouts and Arno Lamb 2-1, shutout, lost final game 2-1. Eddie King also pitched for the Flyers in relief.
Eddie Feigner and the Miami Flyers shutout Memphis 3-0 in the semi-finals. The win allowed Miami to play Briggs in the Championship game. Miami started the scoring as Mike Meilecke doubled into left center and scored when Joe Lewis ripped a sharp single to left field to lead 1-0. Raybestos came back as Dave Sayre (2 hits in the game) beat out an infield single. Roy Palmieri hit a sharp grounder that Miami's second basemen let go off his leg into the outfield, allowing Sayre to score. Palmieri, who went to third on the error, then scored when Miami catcher Jack Sweeting let a pitch go through him for a passed ball in what proved to be the winning run in the 2-1 championship game. Johnny Spring struck out 6 and gave up 4 hits to get the win. Losing Pitcher Arno Lamb struck out 5 and surrendered only 3 hits.
---
MVP – John Spring, Briggs Beautyware
Batting Leader – Joe Overfield, Lackland AFB (6-11, 2 Runs) – .545
Home Run Leader – Johnny Marsden, Lackland AFB – 2
---
FIRST TEAM ALL AMERICANS
P – John Spring, Briggs Beautyware
P – Clarence "Buck" Miller, Independents
P – Harvey Sterkel, Denver Public Service
C – Ernie Bertolini, Trenton Democratic Club
1B – George Adam, Briggs Beautyware
2B – Whitey Campbell, American Industrial Flyers
3B – Dick Duzik, Dow Chemical
SS – Albert Gaub, Mt. Carmel Guild
OF – Dave Sayyae, Briggs Beautyware
OF – Loren Dinkle, Dow Chemical
OF – John "Buster" Ziegler, American Industrial Flyers
UTIL – John Marsden, Warhawks (5-13, 5 RBI, 5 Runs – also went 1-0 pitching 11 IP, 12 K)
---
FINAL STANDINGS
1. Briggs Beautyware, Detroit, MI (6-0) (East Central)
2. American Industrial Sales (AIS), Miami, FL (5-2) (Southern)
3. Corbett Motors Independents, Memphis, TN (3-2) (Southwestern)
4. Trenton Democrats, Baltimore, MD (4-2) (Central Atlantic)
5t. Dow Chemical AC, Midland, MI (4-2) (Defending Champ)
5t. Mt. Carmel Guild, Jersey City, NY (3-2) (Mid-Atlantic)
7t. Goss ON Ross, Dallas, TX (2-2) (Texas)
7t. Steinberg's, Montreal, QC (2-2) (Canada)
9t. Lackland AFB, San Antonio, TX (2-2) (US Air Force)
9t. Public Service, Denver, CO (1-2) (Rocky Mountain)
9t. Sterling Beer, Louisville, KY (1-2) (West Central)
9t. Jersey Ice Cream, Minneapolis, MN (1-2) (Northern)
13t. Napa Merchants, Napa, CA (1-2) (North Pacific Coast)
13t. Irwin-Jones Dodgers, Tacoma, WA (1-2) (Northwestern)
13t. Jones Ranchers, Eloy, AZ (0-2) (Cactus)
13t. Casino Espanol, Havana (0-2) (Cuba)
17t. Columbus Auto Body, New Haven, CT (0-2) (North Atlantic)
17t. Blue Bunny Ice Cream, Sioux City, IA (0-2) (Western)
17t. Raybestos Cardinals, Stratford, CT (0-2) (Host)
---
NOTES
South Pacific Coast Champ – Plymouth Mo-Parts, San Ysidro, CA did not attend.