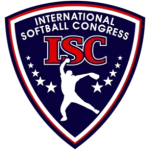 1951 held at Phoenix, Arizona on September 7-19.
---
Champion – Softball Club, Calvert, California
Runner Up – Fike Plumbers, Phoenix, Arizona
---
This was the first NSC tournament held after Carrol Forbes left the NSC and formed the ISL. There was certainly a battle for the big-name teams between the two
organizations. The Hanford Kings stayed with the NSC in 1951 while the Hoak Packers from Fresno went to the ISL tournament in Greeley, CO.
The Calvert club breezed throught the winner's bracket, outscoring their opponents 21-4 in their first three games. Meanwhile, Fike Plumbers of Phoenix were in a dog fight for their first three games, winning each one by a 3-2 score, including an eight inning win over Sapulpa. However in the winner's bracket final, Fike cut loose and clobbered Calvert, 7-2 to remain in the driver's seat.
Hanford, who had lost their first game, 5-1 to Calvert went into the loser's bracket and built momentum with each game they played, winning 5 games and outscoring their
opposition, 30-7 including 3 shutout games. This set them up for a rematch with Calvert in the loser's bracket final. Calvert knocked them out of the tournament with a 4-3 win and then met the Plumber boys from Phoenix in a rematch.
Calvert were victorious, 1-0 in a 10-inning match and won the final and the 1951 NSC championship with a 5-0 shutout in the 9-inning game. George Walker with Salt Lake City got into a 15-inning match with Paul Woods of the OS Stapley team from Phoenix. The Street Department swept them up, 2-1.
---
Cleo Goyette Memorial MVP Award – Bill Deloach, Softball Club
Leroy Zimmerman Memorial Pitching Award – Weldon Haney, Softball Club
Leading Hitter – Larue Savage, Colonials – .462
Most RBI – N/A
---
1951 ISC FIRST TEAM ALL WORLD
P – Kenny Law, Fike Plumbers
P – Weldon Haney, Softball Club
P – Les Haney, Kings
C – Charles Morris, Kings
C – George North, Street Department
IF – Dick Gonzales, Softball Club
IF – Bill Deloach, Softball Club
IF – Lyle Glenn, Kings
IF – Larue Savage, Colonials
OF – Lou Ferrero, Kings
OF – Bob Neeley, Fike Plumbers
OF – Buddy Storer, Softball Club
UTIL – Clyde Woods, Stanford Home Builders
UTIL – Bill Heard, Kings
---
FINAL STANDINGS
1. Softball Club, Calvert, CA
2. Fike Plumbers, Phoenix, AZ
3. Kings, Hanford, CA
4. Colonials, Springfield, MO
5t. Street Department, Salt Lake City, UT
5t. Fisher-Hess Pontiac, Ogden, UT
7t. Double Seven Corp., Phoenix, AZ
7t. Stanford Home Builders, Oklahoma City, OK
9t. Bartlett-Collins Glass, Sapulpa, OK
9t. Cassidy Chevrolet, Kentland, IN
9t. Holloman AFB, Los Cruces, NM
9t. Merchants, Tampico, IL
13t. O.S. Stapley, Phoenix, AZ
13t. Tony's Famous Foods, Fort Dodge, IA
13t. General Depot, Ogden, UT