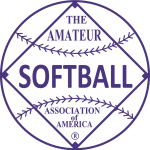 1951 held at Portland, Oregon.
---
Champion – Orange Lionettes, Orange, California
Runner Up – Betsy Ross Rockets, Fresno, California
---
Pat Collins, Lionettes (with only one hit in 8 at bats in the game, she made it count as she drove in winning run with a hit in the 20th inning to win the Championship). The Lionettes scored their first run on an error in the second inning. Then in the 4th inning, Kay Rich smacked a double and then tied the score on Irene Huber's hit. The score stayed that way until the 20th inning when Collins clutch hit scored Joann McLachlin with the winning run. Ruth Sears of the Lionettes was 3-8 in the final game
Jo Nelson (2-1) and Florence Root (2-1) pitched the Dieselettes to a 4-2 record and third place.
Hazel Lane, American Lithofolders (3-0, 22 IP, 17 Ks)
Bertha Ragan-Tickey of Orange Lionettes hurled 143 consecutive scoreless innings during the season. in the 12 years she has been pitching, she has 205 shutouts of which 96 have been no-hitters. Three of those were perfect games.  She also had accumulated 4320 Strikeouts. That is an average of 360 per year.
---
MVP – Bertha Ragan-Tickey, Orange Lionettes
HR Leader – 13 players tied with 1 HR
Batting Leader – Mary Gilpin, Schrader Company – .545
---
FIRST TEAM ALL-AMERICANS
P – Bertha Ragan-Tickey, Orange Lionettes (5-0, including the 20 inning 2-1 championship game clincher, had 22 K in the game, total of 60 K in 48 IP)
P – Virginia "Ginny" Busick, Fresno Rockets (4-1, 51 IP, 55 K, started the final game, went 14 innings giving up only the one unearned run, before exiting the game.)
P – Margie Law, Phoenix Ramblers (3-1, 29 IP, 51 K)
C – Betty Schlegel, Fresno Rockets
1B – Ruth Sears, Orange Lionettes (7-20, .350)
2B – Shirley Coney, Caterpillar Dieselettes
3B – Dorothy Naples, Schrader Company
SS – Kay Rich, Fresno Rockets
OF – Carolyn Thome, Caterpillar Dieselettes
OF – Mary Gilpen, Schrader Company (6-11, 1 HR, 3 RBI, 2 Runs)
OF – JoAnn McLachlan, Orange Lionettes
---
FINAL STANDINGS
1. Orange Lionettes, Orange, CA (5-0) (Defending Champ)
2. Betsy Ross Rockets, Fresno, CA (4-2) (North Pacific Coast)
3. Caterpillar Dieselettes, Peoria, IL (4-2) (West Central)
4. PBSW Ramblers, Phoenix, AZ (4-2) (Rocky Mountain)
5t. American Lithofolders, Detroit, MI (4-2) (Host)
5t. Wooten Motors Motorettes, Fort Worth, TX (2-2) (Texas)
7t. Hall-Maytag Girls, St. Petersburg, FL (2-2) (Southern)
7t. Schrader's Company Lamos, Cleveland, OH (2-2) (East Central)
9t. Goetz Girls, St. Joseph's, MO (2-2) (Western)
9t. Ace Bowlers, Toronto, ON (1-2) (Canada)
9t. Lynx, Buena Park, CA (1-2) (South Pacific Coast)
9t. Victor's Market, Minneapolis, MN (1-2) (Northern)
13t. Building Trades Council, Baton Rouge, LA (0-2) (Southwestern)
13t. Cardinalettes, Pottstown, PA (0-2) (Central Atlantic)
13t. Holling Debs, Buffalo, NY (0-2) (Mid-Atlantic)
13t. Hartford Laurelettes, Hartford, CT (0-2) (North Atlantic)
17. Green Jackets, Bremerton, WA (0-2) (Northwestern)