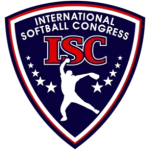 1947 held at Phoenix, Arizona.
---
Champion – Phoenix A-1 Queens, Phoenix, Arizona (105-15)
Runner Up – Downtown Chevy Sooner Queens, Oklahoma City, Oklahoma
---
The NSC was created by Larry Walker of Phoenix as an alternative place to play where the rules were a little more relaxed than the ASA was.  Some looked at it as a semi-pro league, and it was at first scorned by the ASA.
ASA teams came to play in the NSC Worlds. The Jax Brewer Maids of New Orleans who won 5 ASA Nationals in 7 years joined the NSC in 1948, after ASA accused them of professionalism.
The A-1 Queens from Phoenix was to the NSC as the Phoenix Ramblers were to the ASA. Both teams were great and engaged in many contests against each other.  They even billed an event in 1948 as the Women's World Championship series between the 1947 ASA Champ Jax Maids and the 1947 NSC Champ A-1 Queens. They were very evenly matched.
Soon, more ASA teams came over to play like the Erin Brews of Cleveland, OH and the Lorelei Ladies of Atlanta.
As tensions between the ASA and NSC lessoned, even more teams came to play. Erv Lind Florists of Portland, OR and Shamrocks of Salt Lake City, UT played in the NSC Nationals. Even the Canadian Champs, Crowhurst Motors of Vancouver, British Columbia played. Many more played. And when the NSC had their last National Championship in 1954, all the NSC teams were welcomed back to ASA.
Eleanor Anderson collected 3 hits in the final game to lead the Queens. Charlotte Armstrong doubled in the Queens first run to start a big 3 run rally. she finished 2-0 in the tournament and 57-3 on the season. Margie Yetman of the Sooners led her team through the losers bracket to the finals, She was 11-22 (.500) and named MVP. With Armstrong and Morris hurling for the A-1 Queens, they were practically unbeatable. Both were 2-0 and together they allowed only 5 runs in the 4 games. For the Sooner Queens, Pitchers Eleanor 'Big Red' Purkey was 3-2 and Gladys Haywood was 2-0. Armstrong finished out the year 57-3.
---
MVP Award – Margie Yetman, Sooner Queens (11-22, .500, played flawless 2B)
Outstanding Pitcher – Charlotte Armstrong, A-1 Queens – (2-0, pitched a 6-1, 3-hitter with 11 K to win championship game)
Leading Hitter – Margie Yetman, Sooner Queens (11-22) – .500
Miss Softball Award – Carolyn Morris, A-1 Queens (Pitcher, 2-0, including 2-hit shutout with 13 K)
---
1947 NSC ALL WORLD TEAM
P – Charlotte Armstrong, Phoenix A-1 Queens (2-0)
P – Mary Hicks, Dallas Bell Comets (2-2)
P – Carolyn Morris, Phoenix A-1 Queens (2-0)
P – Lois Williams, Phoenix A-1 Queens
C – Jody Gebron, Dallas Bell Comets
1B – Babe Massa, Chicago Rival Dog Food
2B – Margie Yetman, Chevy Sooner Queens
3B – Mildred Dixon, Phoenix Holsum Bakery
SS – Eleanor Anderson, Phoenix A-1 Queens
LF – Dodie Nelson, Santa Monica Ramblers
CF – Merle Keagle, Phoenix A-1 Queens
RF – Jackie Anderson, Chevy Sooner Queens
UTIL – Louise Curtis, Phoenix Holsum Bakery
UTIL – Nonie Hoehn, Santa Monica Ramblers (1-2)
---
FINAL STANDINGS
1. Phoenix A-1 Queens, Phoenix, AZ (4-0)
2. Downtown Chevy Sooner Queens, Oklahoma City, OK (5-2)
3. Bell Comets, Dallas, TX (2-2)
4. Holsum Bakery Maids, Phoenix, AZ (3-2)
5t. Santa Monica Ramblers, Santa Monica, CA (1-2)
5t. Lorelei Ladies, Atlanta, GA (1-2)
7t. Rival Dog Food, Chicago, IL (1-2)
7t. Dorst Sweethearts, Toronto, ON (1-2)
9t. Takoma Decorators, Washington DC (0-2)
9t. New Bridger Cafe, Billings, MT (0-2)
---
The 1947 ASA Champion New Orleans Jax Brewer Maids vs the 1947 NSC Champion Phoenix A-1 Queens Series
Over in the Amateur Softball Association (ASA) National Championships, The Jax Brewer Maids won their third straight National Championship and fifth in the last six years. The Jax were rumored to have "professional" players and were scrutinized a lot by the ASA, so they decided to leave and join the NSC for the 1948 season.
Jax pitcher Nina Korgan was one of the greatest pitchers in softball history. She had one of the most amazing streaks in Softball History. In ASA National Championship play from 1941 through and including the 1947 National, Her team won the Championship 6 of the 7 years. She pitched and won every final championship game victory – (6 final game victories, 4 of them being shutouts, one a no hitter).  In that span between 1941-1947, Korgan racked up a Championship Tournament record of 21-0 with 18 Shutouts, 5 No-Hitters, one being a perfect game. She had two shutout streaks of 7 from 1941-42 and then 8 from 1945-47. She twirled 168 innings in that span, striking out 254 batters and surrendering only 6 runs on 35 hits. Teammate Lottie Jackson was the "other" pitcher and she only went 8-2 in the same period of time with 4 being by shutout, including a no-hitter. The only two games she last were in relief and both by 1-0 scores. Both pitchers always played when they weren't pitching as both were great hitters as well.  The last three years the Jax played ASA, their total record was 143-20, incredible, especially considering that 11 of the losses were to Men's teams.
It was only natural that the best ASA team who became part of the NSC set up a season series with the Best NSC team. So, during the 1948 season, a 30-game schedule was set up between the two squads. The games were all close and in the end with Lottie Jackson doing much of the pitching for the Jax (Korgan did her share as well) and Charlotte Armstrong hurling for the Phoenix A-1 Queens along with Carolyn Morris. The teams played 30 games and from newspaper accounts, the final tallies were 16-13-1 in favor of the New Orleans Jax. But from all accounts, both teams were considered the two best teams in the country.