In Loving Memory of
Bill Plummer III
September 3, 1944 – April 9, 2016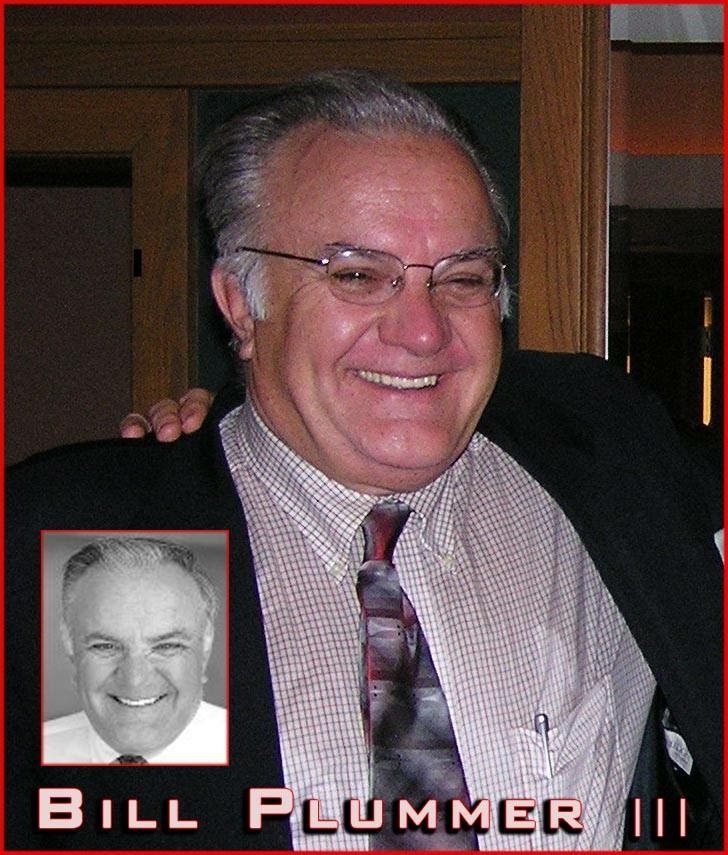 William (Bill) Hamilton Plummer, III, 71, died unexpectedly of a heart attack while driving on April 9, 2016 in Oklahoma City, OK. Bill was involved in softball for more than 4 decades. A native of Syracuse, NY, Bill was a 1962 graduate of Liverpool High School and worked for the Syracuse Herald Journal prior to enlistment in the Air Force. Following his honorable discharge, he pursued his love of sports writing. Bill graduated from the University of Indiana/ Bloomington in 1973 and moved to Oklahoma City in 1979. During his career, he served as a sports writer and baseball scout, and for over 30 years was employed by the Amateur Softball Association National Office in Oklahoma City (1979-2009) as the communications coordinator, manager of the ASA National Softball Hall of Fame and ASA Historian. Bill wrote widely about the sport and contributed to 14 books, including writing one and co-authoring two, plus contributing to the Berkshire Encyclopedia of World Sport. In 2008, he authored "The Game America Plays: Celebrating 75 Years of the Amateur Softball Association," and was a major contributor to the book, "Softball's Lefty Legend: Ty Stofflet" by Dr. Steve Clarfield in 2004. He and Clarfield were co-authors of a new book on fast pitch softball, "Best of the Best-Women's Fast Pitch Softball" which came out in January 2012. And in May of 2013, Plummer and Larry C. Floyd of Oklahoma City coauthored "A Series of Their Own…The History of the Women's College World Series," the first book ever done tracing the history of the Women's College World Series. The book was named Oklahoma Sports Historian of the Year for 2014. Bill has been elected to five Halls of Fame, including the ASA National Softball Hall of Fame plus state Halls of Fame in Oklahoma, Indiana, Tidewater and New York State. In 1996, he served as the Information Manager for ACOG for the debut of softball in the Olympics plus the 1987 and 1995 Pan American Games. Although he retired from the ASA in 2009, Plummer was very involved in the sport, serving on the selection committee for the Lowe's CLASS softball winner each year, a contributing editor to Fast Pitch Magazine, an online fast pitch magazine, as well as writing for CollegeSportsMadness.com. In the past, he's been a stringer for the AP covering the NCAA Women's College World Series. He also worked for Anaconda Trump, Lake Katrine, N.Y in outside sales. Bill is survived by his sister, Eileen Orth-Sokolowski Flatt (Dan) of Chandler, Arizona, sister, Lori Plummer Howard (Robert), brother Eric L. Plummer (Amy) of Peachtree Corners, GA, as well as brother Robert K. Plummer of Liverpool, New York and several nieces and nephews. Donations in Bill's memory can be forwarded to the Amateur Softball Association, 2801 NE 50th St., Oklahoma City, OK 73111.

Bill Plummer III, Amateur Softball Association (ASA) Hall of Fame Manager announced his Retirement effective as of December 31, 2009 and will be stepping down from the ASA National Office. He is the greatest softball historian of all time.  He has written a couple of books on the great history of this game. The first one is the "Softball's Hall of Famer" book and it chronicles the history of the ASA National Softball of Fame in Oklahoma City and has a bio on all the inductees. The second book is called "The Game America Plays: Celebrating 75 years of the Amateur Softball Association" Bill worked on this book for a long time and it commemorates the ASA's 75th Anniversary through historical photographs and personal stories. Relive the greatest moments in softball history with this engaging narrative of America's favorite participation sport. With never-before-published photographs and vignettes from players, umpires, and coaches, this is a must-read for every player, coach and fan of softball. Bill was most deservingly inducted into the ASA Hall of Fame in 1999. His last book is titled "Women's Fast Pitch Softball, The Best of the Best".

Bill Plummer retires from the National ASA Office on December 31, 2009
Bill Plummer retires from ASA after 30 years.  A pioneer for the ASA, Plummer's legacy to the nation's top softball association will forever be remembered as he has been a pillar to the sport and the membership. "I am concluding my career with ASA with 30 ½ years and it has been really enjoyable," said the 1999 ASA Hall of Famer for meritorious service. "I've traveled to the far corners of the world plus visited many of the U.S. cities in the best interest of the ASA. Along the way I've worked with some of the best and most dedicated people of this organization who have spent countless hours and effort to move the ASA forward." Plummer joined the ASA National Office in May of 1979. From 1979 to 1996 he served as the Director of Public and Media Relations for the ASA. Most recently he served as the Hall of Fame manager, a duty that assistant director of marketing and communications. Holly Krivokapich will take over. He was also the editor of the Inside Pitch newsletter and the trade show, which will now be done by coordinator of marketing and communications Jamie Blanchard.  "I have some great memories," added Plummer. "I'll never forget the pageantry and excitement of the debut of softball in the Olympics in 1996. That will be a memory that I will always cherish. I've been fortunate to travel to different countries to help promote softball. My trip to the Czech Republic a couple years ago with our USA National Men's Team will always be No. 1 on my list of trip memories. And celebrating the 75th anniversary last year will always hold a soft spot in my heart. It was a gala celebration and having the book (THE GAME AMERICA PLAYS: CELEBRATING 75 YEARS OF THE AMATEUR SOFTBALL ASSOCIATION) there was an added benefit."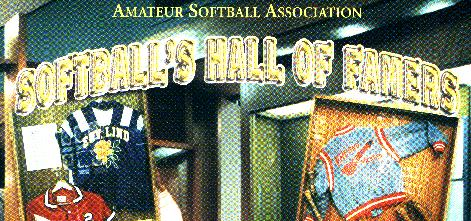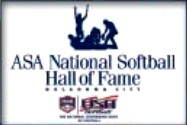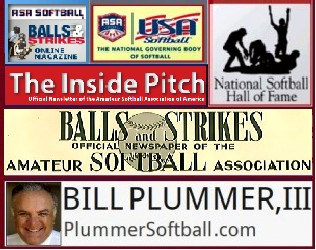 This man knows more about Softball History than any man alive in the United States today. He has helped me many times over with information on this site and I want to take the time to thank him for all he's done for me. I still miss talking to him to this day. The link above is an article he wrote many years ago on the origins of softball. Anybody that must do a research project on the History of Softball need not look any further than that page.

Click here for his ASA Hall of Fame Bio Page – Bill Plummer ASA Hall of Fame Bio
I will put his ASA Hall of Fame Bio here to read. But please click on the page to see the actual one. Sometimes if you click on the link, it will just take you to the USA Softball Site and then you have to click on Resources and then National Hall of Fame and then Members and then Search Meritorious Service and then click on his name. In case you don't have time, here it is.
Bill Plummer III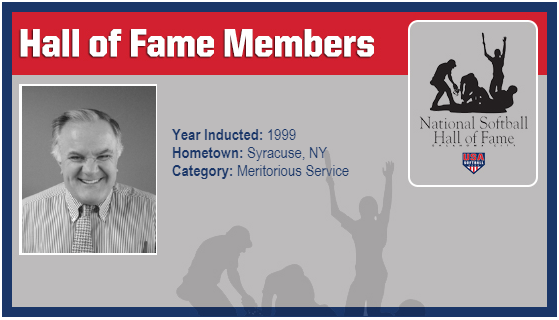 Bio
Was employed at the ASA National Office for 30 ½ years (May 6 1979 to Dec. 31, 2009) and served as communications coordinator and Hall of Fame Services Manager/Historian. He was instrumental in softball attaining world-wide media coverage and recognition through his efforts as press officer at two Pan American Games, 13 U.S. Olympic Festivals, six ISF World Championships and the 1996 Olympic Games where he was the information manager. A 1973 graduate of Indiana University, Plummer has written widely about the sport for almost five decades. He authored the book; "The Game America Plays: Celebrating 75 years of the Amateur Softball Association," in 2008 and co-authored another book in 2012 and co-authored another one in 2013, which won the Oklahoma Sports Historian Award in 2014. He has also contributed to 11 other books about softball. Besides the National Softball Hall of Fame, Plummer is a member of four other ASA Halls of Fame: New York State, Tidewater, Oklahoma and Indiana. He writes for the website: CollegeSportsMadness.com and for Fast Pitch Magazine, an online publication. Plummer, a native of Syracuse, NY, passed away on April 9, 2016.