Ritch's/Superior/TPS compiled a 7-year won-lost record of 508-81, winning 68 of 103 tournaments, including 16 of a possible 28 Grand Slam championships. The won-lost record the first three years — 1991-93 — was a gaudy 241-22, including 10 of 12 Grand Slam titles. The R/S Express went 80-7, 80-9 and 81-6.
The first three seasons saw 31 championships out of 40 tournaments. There were four seconds, two thirds, and a tie for fifth, seventh and ninth.
The 1992 team is one of only two (2) teams to claim the Grand Slam (the ISA, NSA, ASA and USSSA). The 1993 team won the first three legs, then finished a stunning ninth in the USSSA World Series, going 1-2 (losing in shocking upsets to DJ's 17-15 and Herb's 22-21). Bell Corp. was the winner of the USSSA crown that year.
Frank LaTeano, the Superior half of the co-sponsorship, called the 1993 team the best. "We just seemed to do everything right," he said. . . . until the final tournament. The '93 team won its first nine tournaments, then placed third in the last regular-season tournament (Sterling Heights, Mich.) The final count that year: 12 championships in 14 tournaments. The '93 team, which was undefeated in Grand Slam play until the USSSA, included Charles Wright, Cecil Whitehead, Doug Roberson, Ron Parnell, Darrell Beeler, Britt Hightower, Dirk Androff, Dave Steffen, Jimmy and Tot Powers, Paul Drilling, Rick Weiterman and Dennis Graser. Roberson, Parnell, Beeler, Androff and Weiterman played for R/S from 1991 through 1997.
Androff died on an exercise bike the fall of 1997. Louisville Slugger had elected to merge R-S and Shen Valley into Team TPS for the 1998 season.
Composite stats for the first three seasons saw Androff compile a .751 average with 449 home runs compared to .727 and 469 HRs for Wright. Beeler and Hightower each had 381 homers, Steffen and Parnell 366 each and Roberson 351. For the three seasons, Steffen batted .689, Beeler .685 and Hightower 684. That's what you call a balanced attack.
The Powers brothers had played for Steele's/Sunbelt the year before. Tot batted .679 with 146 homers, Jimmy .688 with 117 HRs. That was the only season the Powers brothers played for Ritch's/Superior.
Big Jim Fuller played for the first two R/S teams, and he set a record with a .774 batting average in 1992. That topped the record of .769 by Mike Nye for Warren Motors of Jacksonville, Fla., that had stood since 1976. Fuller, a former major league baseballer, made a bid for Nye's record in 1990. He was batting .776 after a hot start in the USSSA World Series, but faltered and finished at .767. Fuller's 2-year totals for R/S: .751 with 269 home runs.
Over seven seasons, the R/S Express, in addition to winning 68 tournaments, finished second 14 times, including five times in the Grand Slam championship play. The first five years saw a 376-48 record, with 50 championships and seven runners-up out of 71 tournaments.
There were some low points. In 1996, R-S went 0-2 in the NSA; then in 1997, R-S went 0-2 in the ISA. The 1994 season saw R-S go into June (five outings) before winning a tournament.
Coy Honeycutt, out of North Carolina, was the other original co-sponsor. Then came Bill Copeland, Andy Beloli and Gothrie Short. Honeycutt once made this comment: "I'd be a millionaire if I had back all the money I've spent on softball and women." His Ritch's team, with Whitehead, Hightower, Drilling and Wright, beat LaTeano's Superior club, with Roberson, Parnell, Beeler, Graser and Steffen, in the finals of the 1990 USSSA World Series at Greensboro, N.C. Steele's Silver Bullets won the first three legs of the Grand Slam that year, but was upset by Sports Hero's of Minnesota and Bell Corp. in the USSSA World Series.
Steele's did not field a team in 1991, and Androff and Weiterman hooked on with Ritch's/Superior. But they didn't exactly have to beg to get on the team. Counting two years with Steele's and five with R-S, Androff and Weiterman played on seven consecutive ISA and and seven consecutive NSA championship teams.
Wright (ISA 1991, ISA 1992 and ASA 1993) and Androff (USSSA 1991, ASA 1992 and NSA 1995) were national tournament MVPs three times each, Steffen (USSSA 1992, ISA 1993), Drilling (NSA 1992, NSA 1993), Parnell (NSA 1994, ISA 1994) and Beeler (NSA 1991, ASA 1996) twice each, and Roberson (ISA 1995) and Dewayne Nevitt (ASA 1997) once each.
The R-S Express tied a record by winning three consecutive Smoky Mountain Classic crowns (1993-95). Beeler, Hightower and Androff were the MVPs. Hightower was the MVP of three consecutive tournaments, starting with that MVP award in the 1994 Smoky. That's quite an accomplishment this day and time in the major ranks. R-S won the Smoky again in 1997, with Nevitt earning co-MVP honors. That was the year that Rusty Bumgardner set a record with 30 HRs for runner-up Shen Valley.
Elite won three straight Smoky titles in 1983-85. Howard's won four altogether and was runner-up five times. Steele's also won three.
In 1989, Ritch's won the ASA Super and Major titles, while Superior won the USSSA World Series. That was the year that Steffen hit a record nine home runs in one game. The last one was an inside-the-park job.
Honeycutt, who has been out of the game since 1993, accumulated 13 championships, topping the record of 12 by Richard Howard's teams. LaTeano's title total has climbed to 19. "Frank's obsessed," Honeycutt once remarked. LaTeano will be with the Easton-backed Chase powerhouse in 1999. Both LaTeano and Honeycutt think that the 1993 R/S team was the best of all time. "Howard's had a great team in 1981, but this team is the best," Honeycutt said at the time." LaTeano echoed the statement: "The best team ever." Not too many people will argue that fact, especially if you are talking about the best team over three years (1991-93), or five years (1991-95), or seven years (1991-97).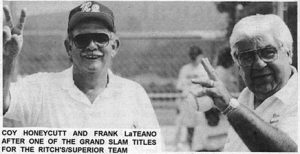 Ritch's/Superior's Coy Honeycutt (left) and Frank LaTeano after one of the team's championships in 1993.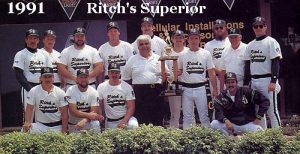 Left to right, front row: Cecil Whitehead, Doug Roberson, Britt Hightower, coach Randy Gorrell; Back row: Ron Parnell, Darrell Beeler, Dave Steffen, Charles Wright, Dirk Androff, Paul Drilling, Rick Scherr, co-sponsor Bill Copeland, Dennis Graser; Holding the trophy: co-sponsor Frank LaTeano and manager Buddy Slater; Not pictured: Rick Weiterman and co-sponsor Coy Honeycutt.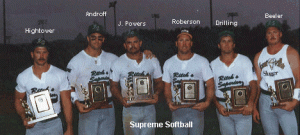 Ritch's/Superior players display awards after winning 1993 ISA World Series at Gainesville, Ga.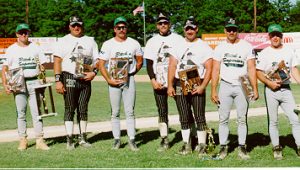 Award winners at the 1993 NSA World Series in Burlington, N.C. — MVP Paul Drilling of champion Ritch's/Superior; Mike Macenko of runner-up Steele's/Sunbelt Hit Men; Ron Parnell of R/S, Randy Kortokrax and Steve Craven of S/S; Britt Hightower and manager Buddy Slater of R/S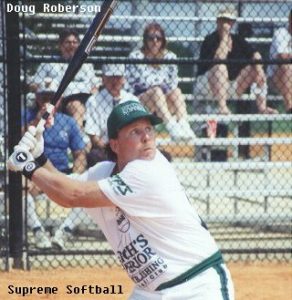 Doug Roberson . . . the Ritch's/Superior MVP in the 1996 ISA World Series. Also earned MVP honors for Steele's Silver Bullets in the 1988 NSA World Series.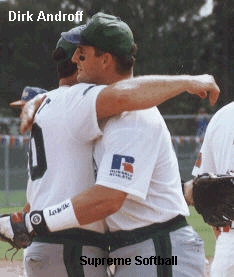 The late Dirk Androff has been voted into the NSA Hall of Fame; He gets a Ritch's/Superior/TPS hug from Charles Wright, who will be inducted into the ISA Hall of Fame in December.
Androff was 3-time MVP in national tournament competition with Ritch's/Superior; Wright is a four-time MVP selection, one with Ritch's/Kirk's in 1990 and three times with the R/S Express.
Androff, a product of the St. Louis area, ran up big numbers for Steele's Silver Bullets in 1988-90 and Ritch's/Superior in 1991-97 before passing away a few days shy of his 35th birthday in October 1997; Androff posted 10 consecutive .700-plus seasons, topping Bruce Meade's eight. The guy they called The Blaster, batted .705, .705 and .729 for Steele's Silver Bullets in 1988-90, then reeled off these figures for Ritch's/Superior: .747, .756, .749, .733, .779 (on-base percentage in 1995), .732 and .739.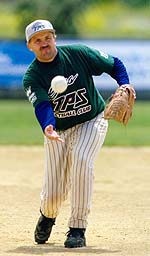 Paul Drilling . . . MVP as the pitcher for Ritch's/Superior/TPS in 1992 and 1993 NSA World Series . . . pitched Sierra/TPS to the Class AA Triple Crown in 1997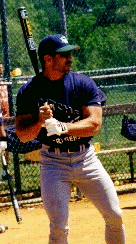 Britt Hightower . . . a most valuable player who has never been the MVP in a national tournament . . . he was, however, the MVP for Ritch's/Superior in the 1994 Smoky Mountain Classic . . . and he earned four season All-Star honors in a row.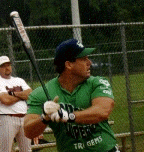 Hank Garris . . . home run leader in 1998 with 196 . . . MVP in 1994 ASA Super Nationals . . . tri-Player of the Year in 1998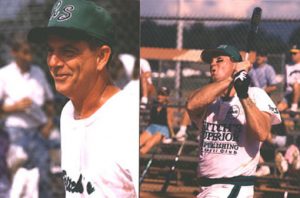 Buddy Slater, R-S manager, smiles after a dip from the cooler after a tournament championship; Charles Wright follows through on another home run.
Ron Parnell . . . has over 200 hits for a record in USSSA World Series play; Two-time MVP for Ritch's/Superior in 1994 (ISA and NSA)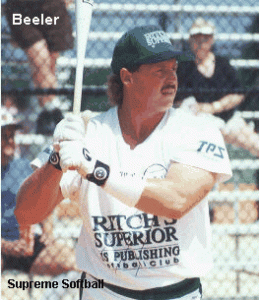 Darrell Beeler . . . MVP for Ritch's/Superior in 1991 NSA and 1995 ASA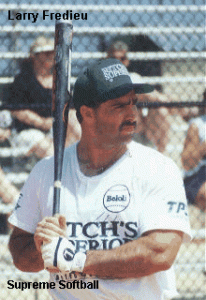 Larry Fredieu . . . home run leader in 1995 with 179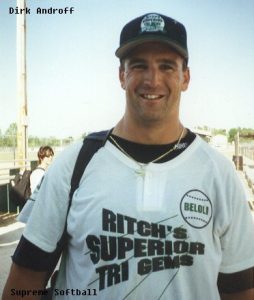 The late Dirk Androff with Ritch's/Superior/Tri-Gems in 1997 . . . Player of the Year in 1995 . . . six season All-Star selections in six years . . . posted .749 composite batting average from 1990-1997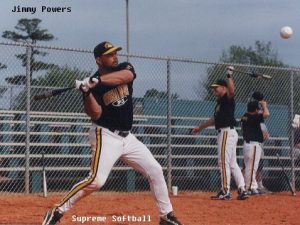 Jimmy Powers (shown in a Shen Valley uniform) and his brother, Tot, played for Ritch's/Superior in 1993. Frank LaTeano calls the '93 team the best for the R/S Express.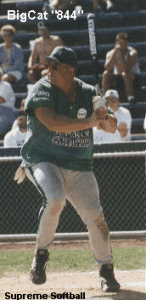 Big Mike Macenko played for the R/S Express in 1994-95, joining some of his old Steele's teammates — Dirk Androff, Rick Weiterman, Doug Roberson, Ron Parnell and Charles Wright.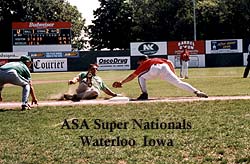 Big Mike not only hit, he could run and slide. This photo was in the 1995 ASA Super Nationals at Waterloo, Iowa.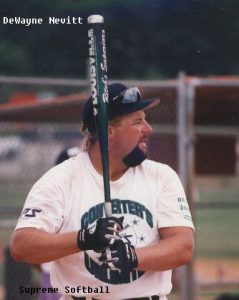 Dewayne Nevitt . . . Kentucky product was the MVP for Ritch's/Superior in the 1997 ASA Super Nationals.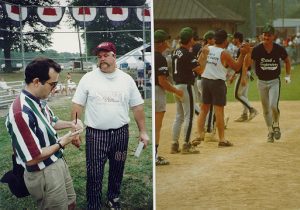 Dave Steffen, being interviewed after Sunbelt/Easton won the 1996 Smoky Mountain Classic, was a two-time national tournament MVP for Ritch's/Superior — 1992 USSSA and 1993 ISA; Cecil Whitehead goes down the handslapping line with his Ritch's/Superior/TPS teammates. That's co-sponsor Coy Honeycutt in the tank top and shorts, in the line with coach John Imlay and manager Buddy Slater.