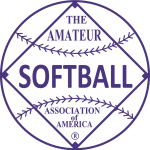 2018 held at Freedom Park in Ridgeland, Mississippi on September 28.
---
Champion – H. Auto/RDD/All In/Sprizzi/Easton, Cicero, New York
Runner Up – Team Racks/Yahhh!, Phoenix, Arizona
---
The 2018 USA Softball Super Nationals featured 5 star studded teams and ended up being played all in one day (Friday, September 28th) because of rain during the week that swamped the beautiful fields at Freedom Ridge park in Ridgeland, Mississippi. So the tournament began Friday morning at 9 AM Central time and used 2 fields the entire day. The weather was in the mid to high 70's and humid but nice and it was overcast. Each game used 3 umpires and the 52 core Dudley ZN ball with a 16 home runs per team limit. Rosters were not restricted since this is USA Softballs top classification. The defending champions WC Monsta and H. Auto a team that has won multiple Super titles were the favorites.
As the day turned to night the "if" game began with a frustrated H. Auto team taking some angry swings and jumping on Team Racks to the tune of 20 runs in the top of the 1st inning.
In the bottom of the inning with 2 on and 2 out for Racks Daniel Cayton was caught stealing by H. Auto catcher Bryson Baker on a straight steal of 2nd base. You don't see that too often. Racks did score 8 runs in the inning but can only wonder what could have been! In the top of the 2nd the Racks infield nearly turned a triple play with a hard grounder to AJ Montano at middle infield who tagged the runner on 2nd, stepped on 2nd, and then threw it too high to first base. But the umpires only gave them one out.
The next batter grounded into a double play so it didn't matter and it looked like Racks was back in the game. But in the bottom of the 2nd Bubba Mack at 3rd base for H. Auto made an incredible scoop of a hard shot and got an out then they turned a double play to hold Racks scoreless. In the 3rd and 4th innings Racks outscored H. Auto 17-13 highlighted by a Ben Dunn assist from center field to 2nd base to get a batter trying to stretch a single into a double, AJ Montano hit a towering home run that went over the lights in left center, and only a great diving play by H. Auto shortstop Jeff Keske halted the Racks rally with Racks trailing 36-28.
H. Auto added 3 runs in the top of the 7th but their inning was cut short by a phenomenal running catch by Ben Dunn in left center field. So the Super title came down to the bottom of the 7th inning and Racks trailed by 12 with 4 homers to hit. They batted around the lineup and used 3 homers to score 9 runs but came up 3 runs short and H. Auto won the Super Nationals.
Brian Wegman and Steele Lewis each had 6 hits in the win, Bryson Baker collected 10 RBI, and Sam Christensen went 6 for 6 (all base hits) in the loss.
---
MVP – Bryson Baker, H. Auto/RDD/All In/Sprizzi/Easton (15-21, .714, 10 HR, 25 RBI, 21 Runs)
HR Champion – Jason Martel, Team Racks/Yahhh (20-29, .690, 21 RBI, 21 Runs) – 11
Batting Champion – Donnie Hammonds, T's 13/Monsta (18-20, 9 HR, 17 RBI, 15 Runs) – .900
---
ASA ALL AMERICANS FIRST TEAM
P – Travis Clark, H.Auto/RDD/All In/Sprizzi/Easton (12-21, .571, 4 HR, 12 RBI, 9 Runs)
P – Bill Pinkham, Team Racks/Yahhh! (21-29, .729, 5 HR, 15 RBI, 15 Runs)
IF – Jeff Keske, H.Auto/RDD/All In/Sprizzi/Easton (12-17, .706, 2 HR, 7 RBI, 10 Runs)
IF – Adam Ussery, Team Racks/Yahhh! (23-29, .793, 10 HR, 29 RBI, 23 Runs)
IF – Greg Connell, H.Auto/RDD/All In/Sprizzi/Easton (14-19, .737, 4 HR, 10 RBI, 13 Runs)
IF – Daniel Cayton, Team Racks/Yahhh! (17-27, .630, 9 HR, 15 RBI, 20 Runs)
IF – AJ Montano, Team Racks/Yahhh! (23-32, .719, 10 HR, 22 RBI, 20 Runs)
OF – Jeremy Yates, H.Auto/RDD/All In/Sprizzi/Easton (14-18, .778, 6 HR, 17 RBI, 13 Runs)
OF – Brandon Dillon, Team Racks/Yahhh! (17-29, .586, 9 HR, 19 RBI, 17 Runs)
OF – Brian Wegman, H.Auto/RDD/All In/Sprizzi/Easton (15-20, .750, 4 HR, 9 RBI, 14 Runs)
UT – Donnie Hammonds, Ts 13/Monsta/Ductech (18-20, .900, 9 HR, 17 RBI, 15 Runs)
UT – Bryson Baker, H.Auto/RDD/All In/Sprizzi/Easton (15-21, .714, 10 HR, 25 RBI, 14 Runs)
UT – Jason Martel, Team Racks/Yahhh! (20-29, .690, 11 HR, 21 RBI, 21 Runs)
UT – Joey Bulens, Ts 13/Monsta/Ductech (14-18, .778, 6 HR, 19 RBI, 11 Runs)
UT – Bubba Mack, H.Auto/RDD/All In/Sprizzi/Easton (14-20, .700, 7 HR, 14 RBI, 14 Runs)
---
OTHER PLAYERS
Shannon Smith, Team Racks/Yahhh! (23-31, .742, 9 HR, 23 RBI, 18 Runs)
Orlando Castillo, T's 13/Monsta (13-19, .684, 7 HR, 13 RBI, 15 Runs)
Tyler Marshburn, T's 13/Monsta (13-19, .684, 6 HR, 14 RBI, 12 Runs)
Dale Brungardt, Team Racks/Yahhh! (18-30, .600, 9 HR, 22 RBI, 16 Runs)
Ben Dunn, Team Racks/Yahhh! (18-30, .600, 9 HR, 26 RBI, 18 Runs)
---
FINAL STANDINGS
1. H. Auto/RDD/All In/Sprizzi/Easton, Cicero, NY (3-1)
2. Team Racks/Yahhh!, Phoenix, AZ (4-2)
3. T's 13/Monsta/Ductech, Omaha, NE (2-2)
4. WC Monsta, Eastvale, CA (0-2)
5. Comatose/S2N/Monsta, Beloit, WI (0-2)
---