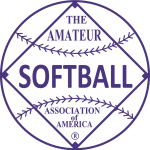 2008 held at Hall of Fame Stadium Complex in Oklahoma City, Oklahoma on September 25-28.
---
Champion – ABS/Easton, Hartley, Delaware
Runner Up – TCP/Easton, Burlington, Iowa
---
ABS Easton of Delaware traveled the furthest for the ASA Class A National Championship. And the trip was worth it. ABS returns to Delaware as the 2008 ASA A National Champ after turning back a determined TCP team 15-10, in the if game at the ASA Hall of Fame Stadium. The loss ended a tremendous run for TCP, who finished 6-2, which was led by pitcher Losson White who was named the tournament's MVP and clearly deserved it as he did everything he could to propel his team to victory. In fact, if it wasn't for White, TCP might not have advanced to the if game. It was White's two-run scorching liner off in the bottom of the seventh that scored the winning and tying runs in a 20-19 win in the first championship game to force the if game. The 29-year-old White batted .677 and drove in 12 runs. The front of White's jersey was evident how hard he worked to get TCP to the championship. It was covered with the Oklahoma red clay as he time and time again dove for balls and stopped them to make the play, some of them spectacular. Brett Helmer, one of the pick-ups for ABS, drove in three runs and finished with a 3-for-4 performance and shared the HR trophy with two other players. The tournament leading hitter was Brian Wegman of ABS, the other ABS pick-up, who batted .900 (18-20, with 7 HR and 18 RBI). Winning pitcher Bill Honeycutt and Shaun Ballard also had 3 hits each for ABS, which won its first ASA Class A title.
---
MVP – Losson White, TCP/Easton (21-31, .677, 1 HR, 12 RBI, Pitcher)
HR Leaders – Brett Helmer, ABS/Easton (17-20, .850, 22 RBI) – 8 HR
HR Leaders – Chaun Demars, Theraldson's (12-18, .667, 18 RBI) – 8 HR
HR Leaders – Andrew Schlitz, TCP/Easton (12-16, .750, 18 RBI) – 8 HR
Batting Leader – Brian Wegman, ABS/Easton (18-20, 7 HR, 18 RBI)- .800
---
2008 FIRST TEAM ALL AMERICANS
P – Losson White, TCP/Easton (21-31, .677, 1 HR, 12 RBI, 11 Runs)
C – Chaun DeMars, Tharaldson Enterprises (12-18, .667, 8 HR, 18 RBI, 11 Runs)
IF – Brett Helmer, ABS/Easton (17-20, .850, 8 HR, 22 RBI, 15 Runs)
IF – Andy Shiltz, TCP/Easton (16-24, .667, 8 HR, 18 RBI, 14 Runs)
IF – Rusty Bumgardner, Team Combat/Pytch Blakk (12-17, .706, 7 HR, 21 RBI, 15 Runs)
IF – Brett McCollum, Long Haul Trucking/Phonemaster/Miken
OF – Brian Wegman, ABS/Easton (18-20, .900, 7 HR, 18 RBI, 18 Runs)
OF – Reggie Schulte, Tharaldson Enterprises (8-13, .615, 4 HR, 8 RBI, 8 Runs)
OF – Dexter Avery, Armed Forces (12-18, .667, 7 HR, 14 RBI, 13 Runs)
OF – Rhodney Donaldson, ABS/Easton (9-15, .600, 4 RBI, 7 Runs)
UTIL – Denny Crine, Long Haul Trucking/Phonemaster/Miken (8-9, .889, 2 HR, 9 RBI, 9 Runs)
UTIL – Kyle Decker, Team Combat/Pytch Blakk (14-19, .737, 6 RBI, 9 Runs)
UTIL – Nate Staats, TCP/Easton (11-23, .478, 3 HR, 12 RBI, 11 Runs)
UTIL – Todd Joerling, Jean Shoppe/Team Easton (13-15, .867, 6 HR, 14 RBI, 12 Runs)
UTIL – Eric Thompson, Jean Shoppe/Team Easton (11-14, .786, 4 RBI, 12 Runs)
2008 SECOND TEAM ALL AMERICANS
P – Bill Honeycutt, ABS/Easton (15-19, .789, 7 RBI, 8 Runs)
C – John Watts, Armed Forces (13-19, .684, 4 HR, 13 RBI, 9 Runs)
IF – Brian Barnett, TCP/Easton (18-28, .643, 3 HR, 11 RBI, 14 Runs)
IF – Jeff McGavin, Team Combat/Pytch Blakk (13-18, .722, 9 RBI, 13 Runs)
IF – Jamie Nelson, Jean Shoppe/Team Easton (10-12, .833, 2 HR, 7 RBI, 9 Runs)
IF – Shaun Beutner, TCP/Easton (11-20, .550, 4 RBI, 10 Runs)
OF – Ryan Robbins, Long Haul Trucking/Phonemaster/Miken (10-13, .769, 4 HR, 12 RBI, 10 Runs)
OF – Mike Irvine, TCP/Easton (14-24, .583, 3 HR, 8 RBI, 10 Runs)
OF – Robert Blackburn, Jean Shoppe/Team Easton (11-14, .786, 3 HR, 13 RBI, 10 Runs)
OF – Brad Blankenship, Team Combat/Pytch Blakk (7-12, .583, 3 HR, 5 RBI, 10 Runs)
UTIL – Michael Kerr, TCP/Easton (10-19, .526, 3 HR, 5 RBI, 8 Runs)
UTIL – Scott Roen, TCP/Easton (13-23, .565, 3 HR, 12 RBI, 13 Runs)
UTIL – Shaun Ballard, ABS/Easton (14-22, .636, 3 HR, 9 RBI, 10 Runs)
UTIL – Mike Dill, ABS/Easton (13-20, .650, 2 HR, 9 RBI, 15 Runs)
UTIL – Jamie Gordon, Jean Shoppe/Team Easton (9-14, .643, 3 HR, 14 RBI, 9 Runs)
---
OTHER PLAYERS
Brett McCollum, Long Haul Trucking (11-11, 1.000, 3 HR, 9 RBI, 10 Runs)
Brian Higginbotham, Team Combat/Pytch Blaak (11-15, .733, 5 HR, 15 RBI, 9 Runs)
Jason Kendrick, Team Combat/Pytch Blaak (12-19, .632, 1 HR, 9 RBI, 12 Runs)
---
FINAL STANDINGS
1. ABS/Easton, Hartley, DE (5-1)
2. TCP/Easton, Burlington, IA (6-2)
3. Team Combat/Pytch Blakk, Kent, WA (3-2)
4. Long Haul Trucking/Phonemaster/Miken, Albertville, MN (3-2)
5t. Armed Forces, Washington, DC (4-2)
5t. Jean Shoppe/Team Easton, Florence, KS (3-2)
7t. All Star Plumbing, Lawton, OK (2-2)
7t. Tharaldson Enterprises, Fargo, ND (3-2)
9t. Westoak, Norman., OK (1-2)
9t. Community Access, Ardmore, OK (1-2)
9t. P-Town Boyz, Stillwater, OK (1-2)
9t. Abbey Printing/Spurs, Austin, TX (1-2)
13t. CSI/JSA, Oklahoma City., OK (0-2)
13t. Walker Plumbing, El Reno, OK (0-2)
13t. Paynes Sports Legends, Hugo, OK (0-2)
13t. SCB/Denelex, Lake Grove, NY (0-2)
17t. Astros, Dothan, AL (0-2)