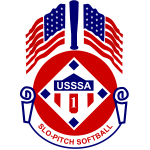 2002 held at West Columbia, South Carolina.
---
Champion – Kinder Sharks, Cincinnati, Ohio
Runner Up – Shooters/Worth, Orlando, Florida
---
Kinder Sharks defeated Shooters/Worth 18-3 in the final. Shooters lost their second game and came back and won six straight, including a 22-21 win over Kinder Sharks in the first final, thus forcing the deciding game.
---
MVP – Mary Jane Ranz, Kinder Sharks
Batting Leader – Kim King, Shooters/Worth – .760
HR Leader – N/A
Defensive MVP – Theresa Shephard, Kinder Sharks
Offensive MVP – Tonja Russell, Shooters/Worth (.740)
---
2002 ALL WORLD TEAM
Marie Pesch, Kinder Sharks
Lisa Sanchez, Kinder Sharks
Shannon Ellingsworth, Kinder Sharks
Andy Wadsworth, Kinder Sharks (.650)
Theresa Hirschauer, Kinder Sharks
Kim King, Shooters/Worth (.760)
Lisa Lines, Shooters/Worth
Tina Brannon, Shooters/Worth
Michellee Vance, Shooters/Worth
Tonja Russell, Shooters/Worth
Ronnie Daniel, Yard Dawgs
Michele Jackson, Supersonics
Beatrice Anderson, Supersonics
Buffy Arms, Diamond Queens
---
FINAL STANDINGS
1. Kinder Sharks, Cincinnati, OH (6-1)
2. Shooters/Worth, Orlando, FL (7-2)
3. Sports North West Express, WA (3-2)
4. Supersonics, Warner Robins, GA (4-2)
5t. Yard Dawgs, Calhoun, GA (3-2)
5t. Diamond Queens, Nashville, TN (2-2)
7t. Deja Vu, PA (3-2)
7t. Armstrong Ceilings Lady Rebels, Murfreesboro, TN (3-2)
9t. Da Mob, Dallas, TX (3-2)
9t. Close Encounters, MI (2-2)
9t. Team Karphone, Carson, CA (2-2)
9t. Texas Heat, TX (2-2)
13t. C&C Racing, NC (1-2)
13t. MN Ice, Brooklyn Park, MN (1-2)
13t. Lady Zapp, Atlanta, GA (1-2)
13t. All Pro Sporting Goods, FL (1-2)
17t. Varsity Graphics, MI (1-2)
17t. Miami's Best/Diamonds, Miami, FL (0-2)
17t. Hot Shots, FL (0-2)
17t. NTL, Bakersfield, CA (0-2)
17t. Chata, Sylmar, CA (0-2)
17t. Atlanta's Quiet Storm, Atlanta, GA (0-2)
17t. The T.E.A.M., VA (0-2)