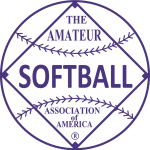 2002 held at St. Joseph, Missouri on July 31-August 4.
---
Champion – Frontier Players Casino, St. Joseph, Missouri
Runner Up – Farm Tavern, Madison, Wisconsin
---
For the third year in a row, the St. Joseph Casino Players captured the ASA men's crown. As the Los Angeles Lakers can tell you, "three-peat" is no easy feat. Behind the great pitching of Michael White, the Frontier Players Casino sent The Farm Tavern to the loser's bracket, 6-3 Saturday afternoon. It was not long, however, before the Farm eliminated third place Fedlock Falcons, 8-0, and returned to the championship game.
With that momentum, the Farm staked their pitchers to a 4-0 lead. St. Joseph's fought back to tie the game 4-4 in the 7th, on an RBI single by tournament MVP Mike Dryer. Kerry Shaw then delivered the big blow, a 2 run, game winning homer for all the marbles. Paul Alger was the losing pitcher for the Farm.
Frontier Players Casino was known as Meierhoffer's in 2000.
---
MVP – Mike Dryer, Frontier Players Casino
Batting Leader – Terry Boetsma, Midland Explorers – .500
Batting Leader – Mike Dryer, Frontier – .500
Batting Leader – Blake Miller, Farm Tavern – .500
HR Leader – Robert Bush, Farm Tavern (7 RBI) – 4
Herb Dudley Pitching Award – Jody Hennigar, Fedlock Falcons
---
FIRST TEAM ALL-AMERICANS
P – Doug Gillis, Explorers (4-2, 42 IP, 1 shutout)
P – Michael White, Frontier Players Casino (3-0)
P – Paul Algar, Farm Tavern (4-2, 2 shutouts)
C – Terry Boetsma, Midland Explorers (9-18)
1B – Mike Dryer, Frontier Players Casino (8-16, .500, 1 HR)
2B – Ken Coles, Fedlock Falcons
3B – Todd Budke, Farm Tavern
SS – Kerry Shaw, Frontier Players Casino
OF – Bob Blakley, Harold's Supermarket
OF – Matt Darling, Lafayette Pub
OF – Charles "Ace" Sauer, Fedlock Falcons
OF – Boomer Brush, Farm Tavern
OF – Gareth Cook, Fedlock Falcons
UTIL – Blake Miller, Farm Tavern (9-18)
UTIL – Doug Middleton, Frontier Players Casino (2-0)
UTIL – Jody Hennigar, Fedlock Falcons (6-0, 37 IP, 48 K, 2 Shutouts)
SECOND TEAM ALL-AMERICANS
P – Chris Bigelow, Davenport Heat/Cool
P – Terry Luster, Lafayette Pub
P – Karl Gollan, Fred's Interiors
C – Curt Martin, Frontier Players Casino
1B – David Stokes, Fedlock Falcons
2B – Steve Horning, Midland Explorers
3B – Frankie Perez, Smokers
SS – Steve Spalt, Fedlock Falcons
OF – Paul Lynch, Farm Tavern
OF – Joe McCall, Davenport Heat/Cool
OF – Nick Needham, Fred's Interiors
OF – Steve Schucker, Farm Tavern
UTIL – Steve Roberts, Midland Explorers
UTIL – Pete Volk, Midland Explorers
UTIL – Rusty Weaver, Plangger's Furniture
---
FINAL STANDINGS
1. Frontier Players Casino, St. Joseph, MO (5-0)
2. Farm Tavern, Madison, WI (4-2)
3. Fedlock Falcons, Arlington, VA (6-2)
4. Midland Explorers, Midland, MI (5-2)
5t. Lafayette Pub, St. Louis, MO (2-2)
5t. Davenport Heat/Cool, Kansas City, MO (2-2)
7t. Fred's Interiors, Dubuque, IA (2-2)
7t. Smokers, Tampa, FL (2-2)
9t. National Investors, Albany, MO (1-2)
9t. Harold's Supermarket, Lexington, MO (2-2)
9t. Plangger's Furniture, Benton Harbor, MI (2-2)
9t. Circle Tap, Denmark, WI (1-2)
13t. Dolan & Murphy, Aurora, IL (1-2)
13t. Winterset A's, Winterset, IA (1-2)
13t. KC Classics, Kansas City, KS (1-2)
13t. Brandt's Pl. Plains, Springfield, IL (1-2)
17t. Bandits, Pueblo, CO (0-2)
17t. HIS Construction, Houston, TX (0-2)
17t. 51 Classics, Portage, WI (0-2)
17t. Herzog, St. Joseph, MO (0-2)