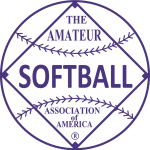 2002 held in Broken Arrow, Oklahoma on August 5-11.
---
Champion – O.C. Batbusters, Santa Ana, California
Runner Up – Smoke, Fullerton, California
---
In a matchup of Goliaths, it was the unnoticed pitcher who drew the most interest at Arrowhead Park on Sunday.
Lisa Dodd outdueled Alicia Hollowell, the 2002 Gatorade National Player of the Year, in the championship of the ASA 18-and-under Gold Nationals, leading the Anaheim (Calif.) O.C. Batbusters to a 2-0 win over the Fullerton Smoke.
Dodd, a high school senior to be, came within a seventh-inning bunt single of a perfect game to best Fullerton and Hollowell, an ASA All-American last year who will pitch at Arizona next spring.
Candice Baker tripled home Ashley Herrera, who was running for Dodd, with the go-ahead run in the second and scored on Jaisa Ceps' single one pitch later for all the runs Dodd needed.
The final four teams were all from California. Fullerton won the first Gold title in 1994 as Gordon's Panthers, and added titles in '96 and '98.
---
FIRST TEAM ALL AMERICANS
P – Summer Tobias, California Cruisers
P – Alicia Hollowell, Smoke
P – Kasi Carroll, Southern Force
C – Haley Woods, California Cruisers
1B – Desiree Williams, Paradise Valley Premier
2B – Anna Beardman, Smoke
3B – Andrea Duran, O.C. Batbusters
SS – Stephanie Churchwell, O.C. Batbusters
OF – Lauren Castle, Louisiana Gold
OF – Megan Cotton, High Intensity
OF – Kristin Vesley, Paradise Valley Premier
OF – Autumn Champion, Smoke
UTIL – Mallorie Lenn, Smoke
UTIL – Lisa Dodd, O.C. Batbusters
UTIL – Lindsey Gerheim, East Cobb Bullets
SECOND TEAM ALL AMERICANS
P – Brooke Mitchell, Louisiana Gold
P – Janet Kearns, East Cobb Bullets
P – Marjorie Johnson, Eagles Gold
C – Leigh Ann Danos, Katy Cruisers
1B – Jackie Rinehart, California Cruisers
2B – Taylr Hollis, Louisiana Gold
3B – Jamie Fox, Louisiana Gold
SS – Lisa Gorzycki, Texas Impact Gold
OF – Adrienne Alo, Smoke
OF – Tara Lindsey, Texas Impact Gold
OF – Lashaun Davis, East Cobb Bullets
OF – Amanda Williams, East Cobb Bullets
UTIL – Melissa Wood, Atlanta Vipers Gold
UTIL – Brittany Vanderink, Mad Dogs
UTIL – Vanessa Iapala, Smoke
---
FINAL STANDINGS
1. O.C. Batbusters, Santa Ana, CA (7-0)
2. Smoke, Fullerton, CA (7-2)
3. California Cruisers, La Palma, CA (6-2)
4. Fresno Force Gold, Fresno, CA (6-2)
5t. Atlanta Vipers Gold, Conyers, GA (4-2)
5t. Paradise Valley Premier, Scottsdale, AZ (6-2)
7t. Glacier NW Gold, Vancouver, WA (4-2)
7t. Strike Zone, Hayward, CA (4-2)
9t. High Intensity, Niceville, FL (3-2)
9t. Anaheim Batbusters, Garden Grove, CA (4-2)
9t. East Cobb Bullets, Marietta, GA (6-2)
9t. Louisiana Gold, Lafayette, LA (5-2)
13t. Southern Force, Johnston City, IL (4-2)
13t. Texas Impact Gold, Houston, TX (4-2)
13t. American Pastime Gold, Upland, CA (3-2)
13t. Fear This Softball, Grand Prairie, TX (3-2)
17t. Blazing Angels, Holland, PA (3-2)
17t. Eagles Gold, Tulsa, OK (3-2)
17t. Mad Dogs, Alliance, OH (3-2)
17t. So Cal Athletics, Montclair, CA (3-2)
17t. Gainesville Gold Stevens, Gainesville, FL (2-2)
17t. Katy Cruisers, Katy, TX (2-2)
17t. Lil Saints Gold, Peoria, AZ (2-2)
17t. Plantation Gold, Plantation, FL (2-2)
25t. Amie Stewart's CA Rebels, Bellflower, CA (2-2)
25t. So Cal Spoilers, Santa Clarita, CA (2-2)
25t. Fighting Irish, Kennesaw, GA (2-2)
25t. Katy Express Gold, Katy, TX (2-2)
25t. KC Shockwaves, Kansas City, MO (2-2)
25t. Mystixx, So. Houston, TX (2-2)
25t. Phoenix Storm Swan, Phoenix, AZ (2-2)
25t. Texas Eclipse Gold, Magnolia, TX (2-2)
33t. Arizona Alleycats, Tucson, AZ (1-2)
33t. Irvine Sting, Irvine, CA (2-2)
33t. Arizona Sun Cats Gold, Mesa, AZ (1-2)
33t. California Choppers, Valencia, CA (1-2)
33t. Gold Jitterbugs, Oklahoma City, OK (1-2)
33t. Impact Gold, Houston, TX (1-2)
33t. Kansas City Peppers, Olathe, KS (1-2)
33t. Lady Gators Gold, West Palm Beach, FL (1-2)
33t. Louisiana Reflection, Lafayette, LA (1-2)
33t. Oklahoma Twisters, Norman, OK (1-2)
33t. Oregon Panthers Gold, Salem, OR (1-2)
33t. Salinas Storm Gold, Salinas, CA (1-2)
33t. San Diego Co Breakers, Cardiff, CA (1-2)
33t. San Diego Renegades, San Diego, CA (1-2)
33t. Wichita Katz Lemaster, Wichita, KS (1-2)
33t. Wildcats, Salinas, CA (1-2)
49t. California Lite, Rialto, CA (1-2)
49t. Colorado Comets Gold, Broomfield, CO (1-2)
49t. Colorado Legend Gold, Parker, CO (0-2)
49t. Echoes Gold, Omaha, NE (0-2)
49t. Flyers, Louisville, KY (0-2)
49t. Frost Falcons, Chattanooga, TN (0-2)
49t. Hot Stuff, Yorba Linda, CA (0-2)
49t. Houston Power Glowacz, Katy, TX (0-2)
49t. Georgia Elite Gold, Douglasville, GA (0-2)
49t. NJ Pride, Newark, NJ (0-2)
49t. NW Buzz, Sammamish, WA (0-2)
49t. Oklahoma Illusion, Broken Arrow, OK (0-2)
49t. TN Outlaws, Columbia, TN (0-2)
49t. Texas High Voltage Gold, Deer Park, TX (0-2)
49t. Washington Ladyhawks Gold, Auburn, WA (0-2)
49t. Worth Firecrackers, San Diego, CA (0-2)
65t. Shamrocks, Vienna, VA (0-2)
65t. Sure Fire, Glendora, CA (0-2)