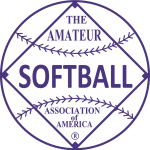 2001 held at Decatur, Illinois on August 3-7.
---
Champion – Frontier Players Casino, St. Joseph, Missouri (50-17)
Runner Up – Decatur Pride, Decatur, Illinois
---
MVP – Kerry Shaw, Frontier Players Casino
Batting Leader – Trent Rubley, The Farm – .471
HR Leader – Steve Hovell, 51 Dukes – 3
Herb Dudley Pitching Award – Rob O'Brien, Frontier Players Saloon
---
Frontier Players Casino won their first 3 games before running into Darren Zack and the Decatur Pride and Zack silenced them in the 5-0 winners bracket win.
In the losers bracket, The Farm eliminated the NY Smokers 6-0 to advance to the losers bracket final against Frontier Saloon, only to be defeated 5-2. Frontier then had to defeat the Decatur Pride twice to claim the title. Well, they did so, 1-0 and 3-1 to win the championship. Rob O'Brien hurled a 1-0 no hitter in the first final. Then he bounced right back with a stellar effort, limiting the Pride to just 4 hits in the 3-1 victory, including a Boomer Brush home run.
Including the 5 innings he pitched in the losers bracket final, he hurled 19 innings on the day, allowing just 1 run. O'Brien was at his best in the 6th inning of the final championship game, as the Pride trailed 3-1. Ehren Earleywine led off the inning with a single, then O'Brien struck out the next 3 batters. In the first final, Kerry Shaw hit a hard line drive off Darren Zach to plate the winning run in the 1-0 thriller. Shaw was 3 for 3 in the game.
Doug Middleton (1-1, shutout, save) and Terry Luster (1-0) also pitched for Frontier.
Mike White (1-1) pitched for the Pride.
---
FIRST TEAM ALL-AMERICANS
P – Korrey Gareau, New York Smokers (3-0, 19 IP, 31 K)
P – Rob O'Brien, Frontier Players Casino (4-0, 19 IP, 34 K, 3 shutouts, no-hitter; won final 3 games, including the 1-0 no-hitter and 3-1 clincher, pitched 19 innings in the final day)
P – Darin Zack, Decatur Pride (3-1, 29 IP, 46 Ks, shutout)
C – Curt Martin, Larry Miller Toyota
1B – Trent Rubley, The Farm (8-17)
2B – Darren Derricks, Circle Tap
3B – Chad Boom, Larry Miller Toyota
SS – Kerry Shaw, Frontier Players Casino (7 for 8 on the final day; 3 for 3 in the losers bracket final and then 4 for 5 in two championship games and played a tremendous shortstop)
OF – Chris Hammack, Capital City Chaos
OF – Steve Hovell, 51 Dukes
OF – Paul Lynch, Decatur Pride
OF – Colin Abbott, The Farm
DP – Boomer Brush, Decatur Pride
UTIL – David Boys, New York Smokers
UTIL – Ross Dey, Frontier Players Casino
SECOND TEAM ALL-AMERICANS
P – Ryan Brand, New York Smokers (2-2), 34 IP, 51 K)
P – Kris Kiefel, Circle Tap
P – Todd Martin, The Farm (3-1, 2 Shutouts, 23 IP, 41 K)
C – Todd Garcia, New York Smokers
1B – Mike Dryer, Frontier Players Casino
2B – Chris Miljavac, Frontier Players Casino
3B – Steve Scott, River City Rage
SS – Jess Ellestad, 51 Dukes
OF – Steve King, The Farm
OF – Vic Johns, Decatur Pride
OF – Tony Wilson, Capital City Chaos
OF – Fabian Barlow, Larry Miller Toyota
UTIL – Mike Roberts, 51 Dukes
UTIL – Fred Gegen, Decatur Pride
UTIL – Boyd Dallman, The Farm
---
FINAL STANDINGS
1. Frontier Players Casino, St. Joseph, MO (6-1)
2. Decatur Pride, Decatur, IL (4-2)
3. The Farm, Madison, WI (4-2)
4. New York Smokers, Middletown., NY (5-2)
5t. 51 Dukes, Denmark, WI (3-2)
5t. Larry Miller Toyota, Salt Lake City., UT (2-2)
7t. Capital City Chaos, Springfield., IL (3-2)
7t. River City Rage, Peoria, IL (2-2)
9t. Explorers, Midland, MI (1-2)
9t. All Season Patriots, Allentown., PA (1-2)
9t. Circle Tap, Denmark, WI (2-2)
9t. Dolan & Murphy Shamrocks, Aurora., IL (1-2)
13t. Lafayette Pub, St. Louis., MO (1-2)
13t. A's, Winterset, IA (0-2)
13t. Bandits, Pueblo, CO (0-2)
13t. Archie's Bar, Terre Haute., IN (0-2)
17t. All American Cleaning, Boston, MA (0-2)
17t. Planggers, Mishawaka, IN (0-2)