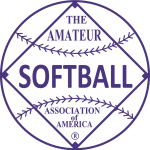 2000 held at Sanford Memorial Stadium in Sanford, Florida on September 15-17.
---
Champion – Team TPS, Louisville, Kentucky (79-15)
Runner Up – Bell Corp/Easton, Tampa, Florida (59-27)
---
The Championship went to the "if" game as Team TPS had to double dip Bell Corp. and they did; Team TPS 39-13 and 41-21.
On Sunday afternoon at approximately 5:30 Eastern time Team TPS finally shook the monkey off of it's back to win one of the most coveted events in slow pitch softball. They won the ASA Men's Super Division crown. Team TPS who has just announced that it will not sponsor a super softball tTeam in 2001 finally won one of the big ones.
The last two years the national championships have eluded them and now they have finally won and get to take one of the biggest prizes in softball back to Louisville. I am very happy for the players and management from Team TPS. There is nothing harder than winning when you are supposed to win. Team TPS has never quit trying to achieve a goal that they sat out to achieve two years ago. Winning a national title.
The story is already out about them not sponsoring a team next year but do people understand the reasoning behind it? I think Hank Garris has finally showed the softball world why he has been one of if not the leader in almost every TPS Power Ratings category the last couple of years. He put on quite a display of power this weekend as he helped lead the Team TPS ball club to the ASA Men's Super World Series Crown.
Team TPS came charging out of the losers bracket and defeated Bell Corp/Easton twice to take the coveted award. They won 39-18 in the first game and then ran up a 28-5 lead after 2 innings to secure them the championship title in the second game 41-21. Hank walked away with all of the awards as he led the tournament in home runs and on base percentage. He was also tabbed with the MVP award to top off a tremendous weekend.
Team TPS got up on Sunday morning and it was liked someone had switched the light back on. They scored over 100 runs in the 3 games they played on Sunday. Hank was leading the way on Sunday and Jeff Wallace, Rusty Bumgardner, Randall Boone and the rest of the boys just followed suit.
I got to speak with Hank Bassett last night briefly and this is what he had to say about the boys from Louisville. "I know how awesome our offensive attack looked yesterday but I want people to know just how great our defense was also. The outfield played like I don't know what. I have been around softball for quite some time now but I do not believe I have ever seen a better display of defense from an outfield as I saw this past weekend from the Trio from Team TPS."
Between the 3 of them there had to be at least 10 to 15 diving catches made by them and Higgy had 7 or 8 of those. The outfield really took charge this weekend. They were challenging the players instead of letting them have that extra base. By doing that they kept the hitters on first and this was giving us a chance for some double play balls."
Team TPS trying to make sure that they win picked up Paul Drilling from Long haul and brought in veteran Rick Weiterman to help with some of the leadership. Paulie did a great job pitching and Rick's presence was felt immediately.
It has been a long wait for Team TPS but I am sure it was worth it.
---
MVP – Hank Garris, Team TPS
HR Leader – Hank Garris, Team TPS – 16
Batting Leader – Hank Garris, Team TPS – .900
---
FIRST TEAM ALL-AMERICANS
P – Paul Drilling, Team TPS (.565, 2 HR, 8 RBI)
C – Hank Garris, Team TPS (.900, 16 HR, 37 RBI)
1B – Jeff Wallace, Team TPS (.667, 13 HR, 27 RBI)
2B – Brett Helmer, Bell Corp./Easton (.714, 6 HR, 15 RBI)
3B – Mike Shenk, Team TPS (.720, 7 HR, 26 RBI)
SS – Todd Martin, Team TPS (.667, 10 HR, 19 RBI)
OF – Jason Kendrick, Team TPS (.667, 2 HR, 8 RBI)
OF – Brad Stiles, Team TPS (.731, 2 HR, 15 RBI)
OF – Mark Creson, Dan Smith/Blackman (.733, 2 HR, 7 RBI)
UTIL – Curtis Williams, Sunbelt (.813, 6 HR)
UTIL – Rusty Bumgardner, Team TPS (.667, 10 HR, 20 RBI)
UTIL – Keith Brockman, Bell Corp./Easton (.833, 8 HR, 11 RBI)
UTIL – Tim Cocco, Bell Corp./Easton (.647, 1 HR, 9 RBI)
UTIL – Randall Boone, Team TPS (.773, 9 HR, 19 RBI)
SECOND TEAM ALL-AMERICANS
P – Robbie Ergle, Dan Smith/Blackman (.667, 3 HR, 8 RBI)
C – Jeff Smith, Budweiser Softball (.875, 7 HR, 15 RBI)
1B – Tot Powers, Sunbelt (.714, 5 HR, 8 RBI)
2B – Todd Weigand, Budweiser Softball Club (.643, 3 HR)
3B – Dewayne Nevitt, Bell Corp./Easton (.682, 6 HR, 14 RBI)
SS – Dennis Mendoza, Sunbelt (.684, 6 HRs, 8 RBI)
OF – Doug Kissane, Dan Smith/Blackman (.529, 6 HR, 7 RBI)
OF – Scott King, Bell Corp./Easton (.643, 1 HR, 4 RBI)
OF – Dewayne Frizzell, Sunbelt (.700, 5 HRs, 15 RBI)
OF – John McCraw, Sunbelt (.600, 3 HRs, 8 RBI)
UTIL – Jeff Hall, Dan Smith/Blackman (.647, 4 HR, 9 RBI)
UTIL – Tom White, Hague/Resmondo/TPS (.667, 3 HR, 4 RBI)
UTIL – Shane DuBose, Bell Corp./Easton (.684, 1 HR)
UTIL – Steve Craven, Sunbelt (.737, 9 HRs, 14 RBI)
UTIL – Wendall Rickard, Dan Smith/Blackman (.647, 6 HR, 11 RBI)
---
OTHERS
Britt Hightower, Sunbelt (.700, 3 HR, 5 RBI)
Paul Brannon, Hague/Resmondo (.647, 4 HR, 6 RBI)
Rob Schleede, Bell Corp (.633, 5 HR, 13 RBI)
Randy Kortokrax, Bell Corp (.615, 5 HR, 8 RBI)
Lonnie Fox, Dan Smith (.571, 2 HR, 5 RBI)
Dale Walters, Budweiser Softball (.600, 6 HR, 10 RBI)
Dan Schuck, Bell Corp (.600, 3 HR, 6 RBI)
John McCraw, Sunbelt (.600, 3 HR, 8 RBI)
Dale Sensineg, Hague/Resmondo (.600, 2 HR, 7 RBI)
Jerold Smith, Budweiser Softball (.600, 4 HR, 10 RBI)
Derrick Williams, Budweiser Softball (.571, 3 HR, 14 RBI)
Tim Linson, Hague/Resmondo (.571, 3 HR, 6 RBI)
Ron Parnell, Hague/Resmondo (.563, 2 HR, 3 RBI)
Larry Carter, Budweiser Softball (.556, 5 HR, 13 RBI)
Albert Davis, Dan Smith (.538, 1 HR, 5 RBI)
Dal Beggs, Dan Smith (.538, 2 HR, 9 RBI)
Carl Rose, Dan Smith (.529, 6 HR, 11 RBI)
Doug Roberson, Hague/Resmondo (.529, 3 HR, 5 RBI)
Jimmy Powers, Sunbelt (.524, 8 HR, 17 RBI)
Todd Joerling, Bell Corp (.500, 3 HR, 7 RBI)
Ricky Huggins, Sunbelt (.500, 4 HR, 8 RBI)
John Mello, Team TPS (.455, 3 HR, 6 RBI)
Scott Striebel, Dan Smith (.417, 1 HR, 7 RBI)
Larry Fredieu, Sunbelt (.412, 5 HRS, 11 RBI)
Howie Krause, Hague/Resmondo (.333, 2 HR, 5 RBI)
---
FINAL STANDINGS
1. Team TPS, Louisville, KY (6-1)
2. Bell Corp./Easton, Tampa, FL (3-2)
3. Dan Smith/Backman/Menosse, Cincinnati, OH (2-2)
4. Sunbelt Plastics, Centerville, GA (2-2)
5t. Budweiser Softball Club, College Station, TX (3-2)
5t. Hague/Resmondo/TPS, Winchester, OH (3-2)
7t. Roosters/A+/Astros/Easton, Reynoldsburg, OH (1-2)
7t. Red's/J&J/Fairweather/Worth, Kent, WA (1-2)
9t. Southern Tag, Mountain Home, AR (1-2)
9t. TPS Northwest, Everatt, WA (0-2)
9t. Watanabe Softball/TPS, Cincinnati, OH (1-2)
9t. Craig's Hitmen/Nike, Wadley, AL (0-2)