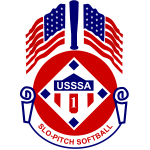 1999 held at Lexington, South Carolina.
---
Champion – Santa Monica Yankees, Poway, California
Runner Up – Orlando Shooters, Orlando, Florida
---
The roller coaster season for the Santa Monica Yankees ends with a 10-7 victory over the Orlando Shooters to capture the 1999 USSSA Women's Class A World Series. The Yankees, based out of Southern California, with long time coach Jerry Cohen have played in all but two, USSSA Women's World Series.
The Yankee's third game put them against the number one ranked team Diamond Queens. In the third inning, down by one Diamond Queen's Sue Koziol started the way for her team to score 5 runs. The 5 runs were not as costly to the Yankees as losing to injury third base Connie Tutaj. Top of the sixth, third base replacement, Robin Berkowitz, hits a 2 run triple igniting the Yankees to score 6 runs, to go ahead by 1. Diamond Queens were held in the sixth and seventh giving the Yankees a 12-10 victory.
In the winners final the Yankees went through the batting order scoring 6 runs in the fourth and again in the sixth to advance to the championship game over the Orlando Shooters 21-6.
Orlando Shooters were able to hold off a 5 run seventh inning run by third place finishers Supersonics Shooters, Tiffany Daniel's 3 run double in the third was huge for their 6-5 victory.
In the championship game, Orlando Shooters' Lisa Lines scores in the first to start the Shooters to a 7-1 victory forcing the "if" game.
The final game was definitely an exciting one. The Yankees came out swinging with Mel Reinard and Brandy Brandes scoring in the first inning. Yankees' Brandy Brandes hit a 2 run triple in the second inning. Orlando Shooters answered back scoring 5 runs with 2 outs in the fourth. Shooters' Kim King hit a 2 run double. Going into the seventh the scored was tied at 7. Yankees' Aimee Reinard, Terri Sopko, and MVP Mary Hoff all scored giving them a 3 run cushion. With bases loaded Yankees' Chris Wellendorf caught a long fly ball to end the game.
Orlando Shooters manager Gayle Burkhart, said they had a second place jinx all year. Meanwhile Yankees first year manager/coach Sean Melvin was in tears over their victory.
---
MVP – Mary Hoff, Santa Monica Yankees
Batting Leader – N/A
HR Leader – N/A
Defensive MVP – N/A
Offensive MVP – N/A
---
1999 ALL WORLD TEAM
Mary Hoff – Santa Monica Yankees
Manager – Sean Melvin, Santa Monica Yankees
The rest of the information is missing.
---
FINAL STANDINGS
1. Santa Monica Yankees, Poway, CA (5-1)
2. Orlando Shooters, Orlando, FL (5-2)
3. Super Sonics, Forsyth, GA (5-2)
4. Diamond Queens, Nashville, TN (3-2)
5t. Carolina Girls, Cary, NC (3-2)
5t. S&S/LeBlue/Lawrence Painting, Belews Creek, NC (3-2)
7t. Daddy's Girls, Shelby, NB (2-2)
7t. Lithuanian Club, Rockford, IL (2-2)
9t. Lady Zapp, Atlanta, GA (1-2)
9t. McGlaughlin Oil, Columbus, OH (1-2)
9t. Taylor's, Annapolis, MD (1-2)
9t. Michigan Elite, Inkster, MI (1-2)
13t. BAJB Texas Heat, Austin, TX (0-2)
13t. MN Magic, Minneapolis, MN (0-2)
13t. Close Encounters, Southfield, MI (0-2)
13t. Sunbelt Blaze, Cochran, GA (0-2)