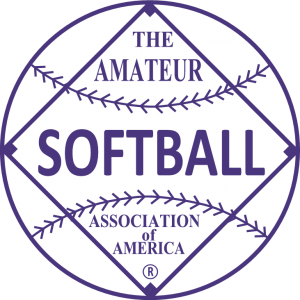 1999 held at Montgomery, Alabama on September 23-26.
---
Champion – Caraway Steel, Eufaula, Alabama
Runner Up – Miller/McGaffer, Forest Park, Illinois
---
Caraway Steel of Alabama and Miller/McGaffer of Illinois met three times in the ASA Class B national tournament at Lagoon Park in Montgomery, Ala. Caraway won two, and claimed the national title. A grand slam home run by MVP to be Paul Judah gave Caraway a 21-18 win in the semifinal round of the winners bracket. Miller McGaffer, which won a game late Saturday night and three on Sunday, forced an extra game in the championship round with a 31-12 romp as Scott Becker hit two home runs and Jim Walsh, Jim Lynch and Jeff Sahazian and John Doss one each. Walsh and Dave Shaff each had 4 hits. Lynch had a single and 2-run HR in a 10-run top of the first. Miller McGaffer built a 17-12 lead going into the bottom of the fourth of the deciding game. Caraway broke loose for 8 runs, with the big blow being a grand slam home run by Keith Eldridge. Caraway won 32-27 as Eldridge went on to total 9 RBI in the game. He had a 3-runner in a 12-run bottom of the fifth, and 3 homers in the game. He had 8 for the tournament. Becker was the tourney leader with 10. Other Caraway homers in the 12-run inning included a 2-runner by Andrew Judah and a 3-runner by Paul Judah. For the game, Eldridge was 4-for-5, Paul Judah 4-for-6. Jeff and Bill Sahagian each had 2 HRs for Miller. Key plays for Caraway in the infield in the last inning were made by second baseman Craig English, middle infielder Sandy Jones and pitcher J.R. Phillips.
(Note: D&K/Worth of Los Angeles, one of the favorites, won six games in the losers bracket before being eliminated by the Bulls of S.C. (22-13). D&K was knocked into the losers bracket by Shadowfax of Pa. (15-14). Jean Shoppe of McKenzie, Tenn., was another favorite, advancing all the way to the winners bracket finals before losing to Caraway 34-31. It was 10-9 after one and 20-9 after two innings. Caraway had back to back 11-run innings to build up a 34-23 command. Eldridge, Jerry Goodson and Sammy Moore had triples. Paul Judah had 3 hits. Ron Roland had a homer and another hit. Craig English had a homer. Big Barry Shirley had a grand slam in the first and another homer for Jean Shoppe, while Ricky Bryant had 2 HRs. Big plays on defense for Caraway were turned in by Terry Goodson at short, Sammy Moore in right field and pitcher J.R. Phillips. Eldridge was a steady performer in left field all weekend.)
---
MVP – Paul Judah, Caraway
Batting Champion – Kevin Gillott of Jean Shoppe (.867)
Home Run Champion – Scott Becker of Miller/McGaffer (10)
---
1999 ASA B ALL AMERICANS FIRST TEAM
Steve Rayburn, Caraway
Paul Judah, Caraway
Keith Eldridge, Caraway
Randy Jones, Caraway
Sammy Moore, Caraway
Ronnie Roland, Caraway
Ed Stapinski, Miller/McGaffer
Nick Latore, Miller/McGaffer
Brad Reynard, Miller/McGaffer
Jim Lynch, Miller/McGaffer
Dave Shaff, Miller/McGaffer
Jim Walsh, Miller/McGaffer
Art Reboletti, Miller/McGaffer
Kevin Gillott, Jean Shoppe
Barry Shirley, Jean Shoppe
1999 ASA B ALL AMERICANS SECOND TEAM
J.R. Phillips, Caraway
Terry Goodson, Caraway
Andrew Judah, Caraway
Sandy Jones, Caraway
Chris Crittendon, Caraway
Scott Becker, Miller/McGaffer
Jeff Sahagian, Miller/McGaffer
Ronnie Talbert, Jean Shoppe
Heath Morris, Jean Shoppe
Craig Harris, Jean Shoppe
Buddy Majors, Jean Shoppe
Keith Vienneman, St. Louis
Scott Tierney, Popko's
Dave Dudzinski, Popko's
Ronnie Euther, Bulls
1999 ASA B ALL AMERICANS THIRD TEAM
Tim Hopkins, Bulls
Tommy Lark, Bulls
Brian Batson, Bulls
Don Bruns, St. Louis
Jarrett Roserique, St. Louis
Gene Nebbitt, St. Louis
Nick Pizotto, Popko's
Steve Lane, Popko's
Javier Guana, Popko's
Darren Stevens, Popko's
Mike Aspray, D&K/Worth
Rob Wolkons, D&K/Worth
Dan Schnider, D&K/Worth
Rob Martinez, D&K/Worth
Tom Grudielanek, Newport
---
FINAL RESULTS
1. Caraway Steel, Eufaula, AL (7-1)
2. Miller/Mcgaffer, Forest Park, IL (8-2)
3. Jean Shoppe, McKenzie, TN (5-2)
4. Popko's, Crete, IL (5-2)
5t. Bulls/Proline, North Charleston, SC (5-2)
5t. St. Louis, St. Louis, MO (6-2)
7t. Newport Softball, Milwaukee, WI (4-2)
7t. Worth/D&K/Franklin, Los Angeles, CA (7-2)
9t. Shadowfax, York, PA (4-2)
9t. Pick's Place/Worth Sports, Hagerstown, MD (6-2)
9t. Coyne Sports/Nike, Brook Park, OH (3-2)
9t. American Sportswear, Brooklyn Center, MN (3-2)
13t. Select Specialty, Charlottesville, VA (4-2)
13t. Gilmo's 4th Turn, Enterprise, AL (3-2)
13t. Buster Shiver Construction, Enterprise, AL (4-2)
13t. Sports Center Hitmen, Nashville, TN (3-2)
17t. Cen-Tex Spurs, Austin, TX (4-2)
17t. Vessel Elizabethtown, KY (2-2)
17t. Q-T Sports/Miken, West Babylon, NY (3-2)
17t. Sporting Wood, Sugarland., TX (3-2)
17t. Minnesota Merchants/Mizuno, Minneapolis, MN (3-2)
17t. Randy Sports Brookhaven, MS (2-2)
17t. Sprint Premiere Management, Lititz, PA (2-2)
17t. De Angelo's, Hazelton, PA (4-2)
25t. D.W. Landscaping, Norwalk, CT (3-2)
25t. Cattle Dawgz, North St. Paul, MN (2-2)
25t. Spikes/Gillen, Faribault, MN (3-2)
25t. Giant Glass, Haverhill, MA (2-2)
25t. B&C Softball, Edmonton, KY (2-2)
25t. Royal Tee Zers, Pensacola, FL (3-2)
25t. Capital City Construction, Bismarck, ND (3-2)
25t. Engine Room, Bloomington, MN (2-2)
33t. Deluxe Bakery, Bellmawr, NJ (2-2)
33t. Silva's, Albuquerque, NM (2-2)
33t. Johnny Ray's BBQ, Birmingham, AL (3-2)
33t. Bar-1 East, Hartford, CT (1-2)
33t. San Antonio Boomers, San Antonio, TX (1-2)
33t. Central Ave. Saloon, Rochester, NH (1-2)
33t. VFW Post 1431, Crawfordsville, IN (1-2)
33t. H.Y. Pressure, Reading, PA (1-2)
33t. Frawgs, Killeen, TX (2-2)
33t. OA Softball, Beavercreek, OH (1-2)
33t. Associated Steel Products Moultrie, GA (1-2)
33t. Wynnfield-Argo Phenix City, AL (1-2)
33t. Ultimate Milwaukee, WI (2-2)
33t. Duston's Market, Dover, NH (1-2)
33t. Taco Bell, Sioux Falls, SD (2-2)
33t. Houston Merchants, Houston, TX (2-2)
49t. Champion Athletics, West Point, IA (0-2)
49t. Rumpleminze, Barnum, IA (0-2)
49t. All American, Bryant, AR (0-2)
49t. Subway, Durant, OK (0-2)
49t. Telequip Storm, Hickory Creek, TX (0-2)
49t. Fresh Pak, Spokane, WA (1-2)
49t. Ohio Sealants, Cleveland, OH (0-2)
49t. Black Crows, Montgomery, AL (1-2)
49t. Portland Plastic Pipe, Portland, ME (1-2)
49t. I.B. Moore, Cynthiana, IN (1-2)
49t. World Color, Corinth, MS (0-2)
49t. Mission Mizuno, New Richmond, WI (0-2)
49t. A-Bobs Geneseo, IL (0-2)
49t. Memphis Bulldogs, Memphis, TN (0-2)
49t. S&S Landscape Ashaway, RI (1-2)
49t. Huebner Softball, Evansville, IN (1-2)
65t. National Gold, Warwick, RI (0-2)
65t. Bryant Chiropractic Bonecrushers, Monticello, AR (0-2)
65t. Schnadig Belmont, MS (0-2)
65t. Shorty's, Altus, OK (0-2)
65t. Good Life, Sylvester, GA(0-2)
65t. Daniel Catering/Elite Greenfield, WI (0-2)
65t. RSH/Worth, Jackson, MS (0-2)
65t. Petro/Woody's, Fargo, ND (0-2)
65t. Fame Awards, Owatonna, MN (0-2)
65t. Team Easton, Simpsonville, SC (0-2)
65t. Kroner Paint/Timpe Insurance, Quincy, IL (1-2)
65t. Southeast Mavericks Corbin, KY (0-2)
65t. Tithof Construction Saginaw, MI (0-2)