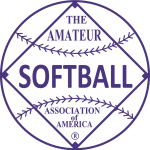 1998 held at Aurora, Colorado.
---
Champion: Lakerettes, Conneaut Lake, Pennsylvania
Runner Up: Armed Forces, Williamsburg, Virginia
---
Lakerettes went 5-0 to capture the National Title. They defeated The Armed Forces 15-6 in the championship game. They won all five games easily. GAF/Blaze (25-1), Fraley's Wildcats (6-2), Wakefield Bar & Grill of Mass. (14-2), Orthopedic Institute of Dayton, OH (20-8). The total run differential was 80-19. The Lakerettes defense was a big factor in the championship.
This tournament was set up in a different format combining the (2) Major teams with the (18) Class A teams and then had a separate All-America team just for the Major Players and then had a First and Second All America team for the combined Major and Class A players. They also had combined standings and then separate standings for Major and Class A.
---
MVP – Sue Bupp Ilyes, Lakerettes (Major)
Batting Leader – Michelle Harper, Personal Mgmt (Class A) (9-12) – .750
Home Run Leader – Wanda Graham, Armed Forces (Major) – 5
Home Run Leader – Mandy Van Dyke, Orthopedic Institute (Class A) – 5
Defensive MVP – Sue Bupp Ilyes, Lakerettes (Major)
NOTE – MVP and Batting Leaders Combined From Major Class and Class A Nationals
---
ASA MAJOR WOMEN'S SLOW PITCH ALL AMERICANS FIRST TEAM (Major Players)
P – Jennifer Sis Woods, Lakerettes
C – Sue Warner, Lakerettes
1B – Sheri Nidiffer, Lakerettes
2B – Sue Bupp Ilyes, Lakerettes
3B – Pamela Smith, Armed Forces
SS – Carol Perroz, Lakerettes
OF – Jody Trimmer, Lakerettes
OF – Vivian Colbert, Armed Forces
OF – Bonnie Rodgers, Lakerettes
OF – Stephanie Minix, Armed Forces
DH – Carmela Williams, Armed Forces
UTIL – Barb Balestrino, Lakerettes
UTIL – Marie Schafer, Lakerettes
UTIL – Marcie May, Armed Forces
UTIL – Teri Andrew, Armed Forces
ASA MAJOR WOMEN'S SLOW PITCH ALL AMERICANS FIRST TEAM (Major & A Players Combined)
P – Melissa Marion, Armed Forces (Major)
C – Sue Warner, Lakerettes (Major)
1B – Trish Luiken, Armed Forces (Major)
2B – Sue Bupp Ilyes, Lakerettes (Major)
3B – Pamela Smith, Armed Forces (Major)
SS – Carol Perroz, Lakerettes (Major)
OF – Bonnie Rodgers, Lakerettes (Major)
OF – Wanda Grahem, Armed Forces (Major)
OF – Sonia Pez, Lakerettes (Major)
OF – Mary Holland, Orthopedic Institute (A)
UTIL – Mandy Van Dyke, Orthopedic Institute (A)
UTIL – Deanna Darrell, Fraley's Wildcats (A)
UTIL – Chery Trapnell, Armed Forces (Major)
UTIL – Anna DunaHoo, Fraley's Wildcats (A)
UTIL – Jennifer "Sis" Woods, Lakerettes (Major)
ASA MAJOR WOMEN'S SLOW PITCH ALL AMERICANS SECOND TEAM (Major & A Players Combined)
P – Lynda Hart, Orthopedic Institute (A)
C – Carla Scher, Orthopedic Institute (A)
1B – Jody Eickemeyer, Orthopedic Institute (A)
2B – Donna McLamb, Armed Forces (Major)
3B – Kelli Edwards, Fraley's Wildcats (A)
SS – Jodell Bendickson, Mr. Pizza (A)
OF – Diane Bowling, Fraley's Wildcats (A)
OF – Marie Shaffer, Fraley's Wildcats (A)
OF – Sharon Oxley, BK Bar & Grill (A)
OF – Cindy Hovet, Mr. Pizza (A)
EH – Donna Mills, BK Bar & Grill (A)
UTIL – Amy May, Fraley's Wildcats (A)
UTIL – Kim Hahner, Lakerettes (Major)
UTIL – Michelle Harper, Personnel Management (A)
UTIL – Melinda Fink, Grim's Glass (A)
ASA MAJOR WOMEN'S SLOW PITCH ALL AMERICANS THIRD TEAM (Major & A Players Combined)
P – Tami Smith, Fraley's Wildcats (A)
C – Barbara Frampton, BK Bar & Grill (A)
1B – Theresa Williams, Grim's Glass (A)
2B – Jackie Orban, Personnel Management (A)
3B – Michelle Gladfelter, Grim's Glass (A)
SS – Tracy Duest, Orthopedic Institute (A)
OF – Vicki Jo Thiesse, Mr. Pizza (A)
OF – Angie Gallmeyer, Personnel Management (A)
OF – Cindy Gorski, BK Bar & Grill (A)
UTIL – Kelli Eberhand, Personnel Management (A)
UTIL – Angel Floyd, MRC's Shiva (A)
UTIL – Libby Parish, Total Package (A)
UTIL – Lynda Spinazola, BK Bar & Grill (A)
UTIL – Maureen Vokaty, Mr. Pizza (A)
---
FINAL STANDINGS MAJOR
1. Lakerettes, Conneaut Lake, PA (5-0)
2. Armed Forces, Williamsburg, VA (7-2)
---
FINAL STANDINGS A
1. Orthopedic Institute of Dayton, Dayton, OH (3-2)
2. Fraley's Wildcats, Lexington, KY (5-2)
3. BK Bar & Grill, Wakefield, MA (2-2)
4. Mr. Pizza, Rochester, MN (2-2)
5t. Grim's Glass, York, PA (2-2)
5t. Personnel Management, Inc., Lagrange, IN (3-2)
7t. Al's Bar & Grill, Evansville, IN (1-2)
7t. MRC's Shiva, San Francisco, CA (2-2)
9t. Total Package, Albany, GA (1-2)
9t. Don't Go There, Aurora, CO (2-2)
9t. Crowbar Aces, Sioux Falls, SD (1-2)
9t. Lady Streamline/Easton, Bloomington, MN (1-2)
13t. Miscellaneous, Danville, IL (0-2)
13t. Reamstown AA, Reamstown, PA (0-2)
13t. Jan-Maid Service, Decatur, IL (1-2)
13t. Macken Plumbing/Budweiser, Rochester, MN (0-2)
17t. AME Group, Elk River, MN (0-2)
17t. GAF/Blaze, Bloomington, MN (0-2)