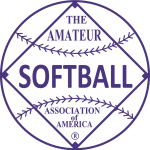 1996 held at Decatur, Illinois on August 31-September 7.
---
Champion – Green Bay All Car, Green Bay, Wisconsin (66-21)
Runner Up – Tampa Smokers, Tampa, Florida (61-14)
---
The Tampa Bay Smokers made it hard as Todd Martin hurled a 2-1 victory over the Green Bay squad in the first final to send the tournament to the final championship game. Boomer Brush delivered the winning run with a double in the 5th inning. All Car of Green Bay won their first ASA title by defeating the Tampa Bay Smokers 2-1 in the Final. Mike Piechnik pitched through several jams and struck out 15 batters to claim the victory. The final out came as Piechnik struck out Tournament MVP Steve Schott. The winning run was produced when Roy Atkinson doubled to center field to score Todd Twatchman, giving the champs the 2-1 lead.
---
MVP – Steve Schott, Tampa Smokers
Batting Leader – Steve Schott, Tampa Bay Smokers – .546
HR Leader – Todd Garcia, Smokers – 2
HR Leader – Shawn Rychick, All Car – 2
Herb Dudley Pitching Award – Mike Piechnik, All Car Roadrunners
---
FIRST TEAM ALL-AMERICANS
P – Peter Meredith, Salt Lake City Page Brake (3-0, 36 IP, 62 K, 2 no-hitters, won his 46th career ASA National Tournament game, tying Ty Stofflet for all time most)
P – Mike Piechnik, Green Bay All Car (4-0, 49 K, 25 IP, 0.56 ERA, won final game 2-1)
P – Jody Hennigar, The Farm Tavern (5-1, 36 IP, 47 Ks, 4 Shutouts)
C – Todd Garcia, Tampa Smokers
1B – Steve Schott, Tampa Smokers (12-22, .546, HR – despite going 0-4 in the final game.)
2B – Tim Hilldebrandt, The Farm Tavern
3B – Kyle Beane, Midland Explorers
SS – Mark McKinnon, Boston Matarazzo
OF – Bob Jones, Bloomington Hearts
OF – Gary Franson, Midland Explorers
OF – Michael Mink, Tampa Smokers
OF – Shawn Rychick, Green Bay All Car
DP – James Cowdrey, Allentown Coors Light Sunners
UTIL – Tod Stevenson, Green Bay All Car
UTIL – Doug Middleton, St. Joe Travelers
SECOND TEAM ALL-AMERICANS
P – Doug Sleep, Midland Explorers (4-1, 3 Shutouts, no-hitter)
P – Shane Doherty, Bloomington Hearts (3-2, 33 IP, 49 K)
P – Jarrod Martin, Tampa Smokers
C – Brian Neveau, The Farm Tavern
1B – Trent Rubley, Green Bay All Car
2B – Ehren Earleywine, St. Joe Travelers
3B – Brian Martie, The Farm Tavern
SS – Ray Atkinson, Green Bay All Car
OF – Scott Adamson, Bloomington Hearts
OF – Barry Kahler, Tampa Smokers
OF – Mitch Munthe, Salt Lake City Page Brake
OF – Steve King, Bloomington Hearts
DP – Peter Turner, Salt Lake City Page Brake
UTIL – Vic Johns, Decatur Pride
UTIL – Jason Hanson, Tampa Smokers
THIRD TEAM ALL-AMERICANS
P – Reno Lato, Allentown Coors Light Sunners
P – Derek Coleman, Seattle Seafirst
P – Michael White, Green Bay All Car
C – Todd Twachtman, Green Bay All Car
1B – Greg Melchert, Midland Explorers
2B – Steve Horning, Midland Explorers
3B – Wayne Virgil, Clearwater Bombers
SS – David Boys, Tampa Smokers
OF – Mike Larabee, Seattle Seafirst
OF – Keith Tate, St. Joe Travelers
OF – Jesse Delorit, Green Bay All Car
OF – Scott Deuel, Salt Lake City Page Brake
DP – Allen Dowd, Denmark Dukes
UTIL – Dean Waltier, Seattle Seafirst
UTIL – Dennis Gray, Savannah Meierhoffer/Ed's
---
OTHERS
Todd Martin, Smokers (5-1, 35 IP, 56 K, no-hitter)
Chubb Tagnarora, Pride (1-0, 17 IP, 34 Ks, before hurting his arm and had to stop playing)
---
FINAL STANDINGS
1. Green Bay All Car, Green Bay, WI (6-1)
2. Tampa Smokers, Tampa Bay, FL (5-2)
3. The Farm Tavern, Madison, WI (6-2)
4. Salt Lake City Larry Miller Toyota, Salt Lake City, UT (4-2)
5t. Bloomington Hearts, Bloomington, IL (3-2)
5t. Midland Explorers, Midland, MI (4-2)
7t. St. Joe Travelers, St. Joseph, MO (3-2)
7t. Decatur Pride, Decatur, IL (2-2)
9t. Boston Matarazzo, Boston, MA (2-2)
9t. Allentown Coors Light Sunners, Allentown, PA (2-2)
9t. West Milford Gators, West Milford, NJ (1-2)
9t. Seattle Seafirst, Seattle, WA (2-2)
13t. Denmark Dukes, Denmark, WI (1-2)
13t. Savannah Meierhoffer/Ed's, Savannah, MO (1-2)
13t. Marshalltown Central Express, Marshalltown, IA (1-2)
13t. Clearwater Bombers, Clearwater, FL (1-2)
17t. Peoria River City Rage, Peoria, IL (0-2)
17t. Champaign Urbana Chiefs, Champaign, IL (0-2)
17t. Effingham-Strasburg Bonutt's, Effingham, IL (0-2)
17t. Nashville Christ Church, Nashville, TN (0-2)
17t. Ashland Ess, Ashland, OH (0-2)
17t. Salt Lake City Page Brake, Salt Lake City, UT (0-2)
17t. Aurora Dolan & Murphy, Aurora, IL (1-2)
17t. Findlay Jac & Do's, Findlay, OH (0-2)