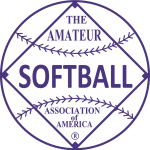 1995 held at Waterloo, Iowa.
---
Champion – Lighthouse/Worth, Stone Mountain, Georgia (56-25)
Runner Up – Ritch's-Superior/TPS, Windsor Locks, Connecticut (72-14)
---
Lighthouse did not have an easy task ahead of them. They just had to beat the top two ranked teams in the country to capture the ASA Super Nationals. They accomplished that feat as they defeated Bell Corp in the winner's bracket semi-final. They then routed Ritch's-Superior 31-9 in the winner's bracket final. After Ritch's defeated defending ASA champion, Bell Corp 29-19 in loser's bracket final, Lighthouse was matched up against Ritch's once again. The R-S Express beat Lighthouse 26-22 in the first final, setting up the "if" game. In the sixth inning, they hit four home runs to clinch the 25-18 championship victory over Ritch's-Superior. Wendell Rickard, Derek Jones, Steve Craven and Mike Shenk were the four players that came through with the big bombs. Shenk had 3 home runs in the game.
---
MVP – Wendell Rickard, Lighthouse/Worth
HR Leaders – Wendell Rickard, Lighthouse – 6
HR Leaders – Parrish Barwick, Back Porch – 6
Batting Leader – Mike Jackson, Riverside/RAM – .842
---
FIRST TEAM ALL-AMERICANS
P – Greg Cannedy, Bell Corp./Easton (15-18, 833, 7 RBI, 11 Runs)
C – Wendall Rickard, Lighthouse/Worth (15-26, .577, 6 HR, 19 RBI)
1B – Hank Garris, Bell Corp./Easton (19-25, .760, 2 HR, 16 RBI)
2B – Dirk Androff, Ritch's-Superior/TPS (18-24, .750, 1 HR, 10 RBI)
3B – Kerry Everett, Lighthouse/Worth (12-23, .522, 7 RBI)
SS – Larry Sauceman, Lighthouse/Worth (15-23, .652, 1 HR, 16 RBI)
OF – Steve Craven, Lighthouse/Worth (17-25, .680, 2 HR, 10 RBI)
OF – Britt Hightower, Ritch's-Superior/TPS (16-29, 552, 4 HR, 20 RBI)
OF – Doug Roberson, Ritch's-Superior/TPS (16-29, .552. 1 HR, 12 RBI)
OF – Brad Stiles, Lighthouse/Worth (16-21, .762, 2 HR, 10 RBI)
EP – Curtis Williams, Williams/Dudley (17-24, .708, 2 RBI, 10 Runs)
UTIL – Ron Parnell, Ritch's-Superior/TPS (21-28, .750, 11 RBI)
UTIL – Mike Macenko, Ritch's-Superior/TPS (15-23, .652, 3 HR, 15 RBI)
UTIL – Rusty Bumgardner, Shen Valley/TPS (12-15, .800, 2 HR, 10 RBI)
UTIL – Mike Shenk, Lighthouse/Worth (16-22, .727, 3 HR, 13 RBI)
SECOND TEAM ALL-AMERICANS
P – Ricky Huggins, Lighthouse/Worth (16-28, .571, 1 HR, 15 RBI)
C – Bill Blake Williams/Dudley (14-24, .583, 12 RBI)
1B – Parrish Barwick, Back Porch (10-12, 6 HRs, .833, 6 HR, 14 RBI)
2B – Tommy Smith, Riverside/RAM (14-17, 824, 6 RBI)
3B – Dewayne Nevitt, Shen Valley/TPS (10-16, .625, 3 HR, 7 RBI)
SS – Todd Joerling, Bell Corp./Easton (19-27, .704, 5 HR, 20 RBI)
OF – Kenny Carver, Lighthouse/Worth (13-24, .542, 1 HR, 7 RBI)
OF – Bobby Gilbert, Ritch's-Superior/TPS 914-25, .560, 9 RBI)
OF – Jeff Hall, Bell Corp./Easton (13-22, .591, 2 HR, 7 RBI)
OF – Kipp West, Back Porch (9-15, .600, 1 RBI)
EP – Robbie Ergle, Superior/Southland (11-13, 846, 6 RBI)
UTIL – Mike Jackson, Riverside/RAM (16-19, .842, 4 RBI)
UTIL – Kim Seaman, Bell Corp./Easton (13-20, .650, 8 RBI)
UTIL – John Mello, Riverside/RAM (10-16, .625, 6 RBI)
UTIL – Ralph Roberts, Williams/Dudley (7-13, .538)
---
OTHERS
Carl Rose, Lighthouse (14-21, 667, 1 HR, 9 RBI, 13 Runs)
Darrell Beeler, Ritch's-Superior (18-28 .643, 9 RBI)
Paul Drilling, Ritch's-Superior (10-16, .625, 6 RBI)
Rick Weiterman, Ritch's-Superior (14-23, .609, 9 RBI)
Todd Martin, Shen Valley (9-15, .600, 1 HR, 2 RBI)
Jeff Hall, Bell/Sunbelt (13-22, .591, 2 HR, 7 RBI)
Greg Harding, Bell Corp (14-24, .583, 1 HR, 10 RBI)
Ricky Huggins, Lighthouse (16-28, .552, 1 HR, 15 RBI, 12 Runs)
Dave Steffen, Bell/Sunbelt (12-22, .545, 1 HR, 6 RBI)
JC Phelps, Shen Valley (7-14, .500, 2 HR, 4 RBI)
Charles Wright, Ritch's-Superior (3-7, .429, 1 RBI)
Craig Elliott, Steele's Hitmen (3-8, .375, 2 RBI)
---
FINAL STANDINGS
1. Lighthouse/Worth, Stone Mountain, GA (5-1)
2. Ritch's-Superior/TPS, Windsor Locks, CT (5-2)
3. Bell/Sunbelt/Easton, Tampa, FL (4-2)
4. Williams/Dudley, Spring, TX (4-2)
5t. Riverside/RAM/Taylor/TPS, Louisville, KY (3-2)
5t. Shen Valley/TPS, Bridgewater, VA (2-2)
7t. Back Porch/Moulton Furniture/TPS, Destin, FL (2-2)
7t. Superior/Southland, Gainesville, GA (2-2)
9t. D&D Thoroughbreds/Demarini, Portland, OR (1-2)
9t. Harrison's/Power Flite, Portsmouth, VA (1-2)
9t. Rainier/TPS, Seattle, WA (1-2)
9t. Tri-Gems/Easton, Cedar Brook, NJ (1-2)
13t. Belcher, Manteno, IL (0-2)
13t. Deery Brothers/Easton, Cedar Falls, IA (0-2)
13t. Steele's Hitmen, Brook Park, OH (0-2)
13t. Vinnie's Astros/TPS, Newport, KY (0-2)