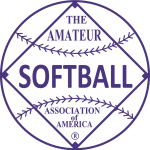 1993 held at Albany, Georgia.
---
Champion: UPI, Cookeville, Tennessee
Runner Up: Ruth Paving Company, Morehead, Kentucky
---
UPI came from the losers bracket defeating the Lakerettes from Pennsylvania in the semi-final, then had to defeat undefeated Ruth Paving from Kentucky twice. The first final game was close until UPI pulled ahead 6-5 in the third and then scored seven runs in the 6th inning to put the game away. The big blows that inning are MVP Sandy Edwards and Charlottes Cates hitting back to back homers. In the Final game, UPI erupted for seven first inning runs. Sandra Edwards had a grand slam for UPI in that inning.
---
MVP– Sandy Edwards, UPI
Batting Leader – N/A
Home Run Leader – Charlotte Cates, UPI
---
ASA MAJOR WOMEN'S SLOW PITCH ALL AMERICANS FIRST TEAM
P – Charlotte Cates, UPI
C – Jen Harp Oliver, UPI
1B – Dabney Kovac, Jacksonville/Worth
2B – Brenda Smith Foster, UPI
3B – Marie Chadineri, Lakerettes
SS – Sandy Edwards, UPI
OF – Jeane Hart, Lakerettes
OF – Karen Baker, Caravan
OF – Charlotte Rigney, UPI
OF – Teresa Ruby, UPI
UT – Beth Thompson, Ruth Paving
UT – Carla Polk, Raiders
UT – Sue Bupp, York Pacers
UT – Hollie Stone, Ruth Paving
EP – Ann Gust, York Pacers
ASA MAJOR WOMEN'S SLOW PITCH ALL AMERICANS FIRST TEAM
P – Debbie Dever, Ruth Paving
C – Solbhan, Halmos, Cardinals
1B – Barb Balestrino, Lakerettes
2B – Stacy Teate, Caravan
3B – Gina Green, UPI
SS – Maria Shaffer, Ruth Paving
OF – Lisa Patterson, Raiders
OF – Nancy Mark, Raiders
OF – Robin Nixon, Caravan
OF – Kathy Good, York Pacers
UT – Branda Pena, UPI
UT – Kim Padgett, Challengers
UT – Charlene Sans, Bennie's
UT – Kim Hawkins, Caravan
EP – Carolyn Fiero, UPI
---
FINAL STANDINGS (Incomplete)
1. UPI, Cookeville, TN
2. Ruth Paving Company, Morehead, KY