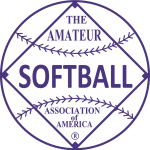 1993 tournament site unknown.
---
Champion – Sikorsky Aircraft, Shelton, Connecticut
Runner Up – Sports Belle, Clinton, Tennessee
---
Sikorsky won its 8th Industrial championship as Tom DeBernardo earned his second straight MVP award. John Danas, Mike Homkovics, Mark Tremblay and Ed Muzyka homered and Chris Dunne had three hits as Sikorsky defeated Sports Belle of Clinton, Tenn., 10-3 in the title game. Earlier, the champs knocked off Sports Belle 16-11 in the winner's bracket final as Tremblay collected four hits, DeBernardo three and John Bike a three-run homer. Sports Belle defeated Sikorsky 22-21 in the first final to force the extra game, despite four hits from Pete Gribben and Van Alystyne and three from Tremblay.
---
MVP – Tom DeBarnardo, Sikorsky Aircraft (12 RBI)
HR Leader – no info
Batting Leader – Mark Berrito, Sikorsky Aircraft – .625
---
ASA INDUSTRIAL MAJOR ALL AMERICANS FIRST TEAM
1B – Doug Matthews, Country Fed Meats
2B – Micahel Homkovics, Sikorsky Aircraft
3B – Don Dixon, Country Fed Meats
SS – Scott Jones, Dow Pirates
OF – Jeff Poplin, Keith's
OF – John Myers,  Keith's
OF – Thomas Debernado, Sikorsky
OF – Corey Cooper, West Point
C – Robert Tomazello, Delta Tango
P – Chuck Jones, Sports Belle
UT – Mark McCoy, Keith's
UT – Jerry Quam, Hooters/Northwest Airlines
UT – Tracy Burton, Dow Pirates
UT – Mike Riggs, Action A's
EP – Gary Mueller, Della Tango
ASA INDUSTRIAL MAJOR ALL AMERICANS SECOND TEAM
1B – Ronnie Turner, Keith's
2B – Jeff Harrelson, Russell Athletics
3B – Tim Gillespie, Saltillo Cardinals
SS – Emory McCoy Jr., Keith's
OF – Rock Hurst, Russell Athletics
OF – Ronald Oiler, Amoco
OF – Todd Gramlich, Hooters
OF – Charlie Grant, Country Fed Meats
C – Russell Tyes, Action A's
P – Billy Brown, Action A's
UT – Ronnie Orsak, Dow Pirates
UT – Robert Kownacki, Sikorsky Aircraft
UT – Dana McBrien, Honda Wings
UT – Johnnie Bailey, APCO
EP – Terry VanBargen, Champion CEAA
ASA INDUSTRIAL MAJOR ALL AMERICANS THIRD TEAM
1B – Ed Muzyka, Sikorsky Aircraft
2B – Kenny Dean, Champion Red
3B –  Stan Morris, Keith's
SS – Brian Lemaster, Honda Wings
OF – Larky Russell, Sports Belle
OF- Arnold Frazier, SWSFL-Navy
OF – Wally Blanchette, Champion Red
OF – Brian Nation, SWSFL-Navy
C – Peter Gribben, Sikorsky Aircraft
P – Rick Colegrove, Armco Steel
UT – Anthony Garland, Sports Belle
UT – Phillip Ledbetter, APCO
UT – Dwight Treadwell, Sports Belle
UT – Jeff Poppe, Honda Wings
EP – Donald Payne, Dow Pirates
---
FINAL STANDINGS
1. Sikorsky Aircraft, Shelton, CT (8-1)
2. Sports Belle, Clinton, TN (8-2)
3. Dow Pirates, Lake Jackson, TX (6-2)
4. CPS Livewire San Antonio, TX (6-2)
5t. Keith's/IAFF/Dudley, Virginia Beach, VA (5-2)
5t. Russell Althletics, Alexander City. AL (5-2)
7t. Country Fed Meats Fayetteville, GA (4-2)
7t. Delta Tango, Riverdale, GA (4-2)
9t. Rig Ed's/Martin Marietta, Oliver Springs, TN (4-2)
9t. Honda Wings West Mansfield, OH (4-2)
9t. Amoco Oilers Larnarque, TX (3-2)
9t. APCO Birmingham, AL (3-2)
13t. Champion Red, Cantonment, FL (3-2)
13t. Comm-Scope, Catawba, NC (2-2)
13t. Hooters/Northwest Airlines, Apple Valley, MN (2-2)
13t. Saltillo Cardinals, Tupelo, MS (2-2)
17t. Pontiac Correctional Center, Pontiac, IL (1-2)
17t. Armco Steele, Ashland, KY, (2-2)
17t. Champion CEAA, Hamilton, OH (2-2)
17t. Action A's, Tupelo, MS (2-2)
17t. Grumman Aerospace, Bethpage, NY (1-2)
17t. West Point Pepperell, Valley, AL (2-2)
17t. SFWSL-Navy, Jacksonville, FL (2-2)
17t. Tombigbee Electric, Tupelo, MS (2-2)
25t. Ashland Oil, Huntington, WV (1-2)
25t. Federal/Hoffman, Elk River, MN (1-2)
25t. Island One, Inc., Orlando, FL (1-2)
25t. Pepsi Cola, Birmingham, AL (1-2)
25t. Stolle Corp, Sidney, OH (1-2)
25t. Delco Classics, Dayton, OH (1-2)
25t. Scott Paper, Mobile, AL (1-2)
25t. Whirlpool, Evansville, IN (0-2)
33t. Howard Industries, Laurel, MS (0-2)
33t. NAS Meridian, Meridian, MS (0-2)
33t. Southern Farm Bureau, Jackson, MS (0-2)
33t. Fort Campbell Eagles, Fort Campbell, KY (0-2)
33t. Bridgeport Corrections, Bridgeport, CT (0-2)
33t. MW Windows, Tupelo, MS (0-2)
33t. Airstream, Waynesfield, OH (0-2)
33t. Hobart, Bradford, OH (0-2)
33t. Dow Knights, Richwood, TX
33t. Panola Mills, Batesville, MS (0-2)
No shows
Avery Dennison #1, Meridian, MS
Granite City, Granite City, IL
Square D, Lascassas, TN