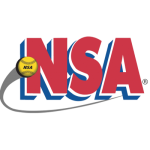 1992 held at Greensboro, North Carolina.
---
Champion – Ritch's-Superior/TPS, Windsor Locks, Connecticut
Runner Up – Starpath, Monticello, Kentucky
---
Missing Charles Wright for the first two games and Jim Fuller for the entire tournament as he was injured with a pinched nerve in his hand. R-S still managed to win the NSA World Series. They played in a baseball stadium and the R-S Express only hit 13 HR in 4 games. Three were inside the park homers. Dirk Androff had the most HR for R-S with 4.  In the entire tournament, there
were only 49 total home runs over the fence, plus 17 inside the park home runs. There were also 39 triples. Ritch's beat Starpath in a come from behind 16-13 victory in the winners bracket final. Then after Starpath eliminated DJ's, R-S beat them again in the Championship game 20-8.
---
MVP – Paul Drilling, Ritch's-Superior (8-12, .667)

HR Leader – Dirk Androff, Ritch's-Superior – 4

Batting Leader – Paul Drilling, Ritch's-Superior (8-12) –  .667

Batting Leader – Dirk Androff, Ritch's-Superior (12-18) –  .667

Batting Leader – Doug Roberson, Ritch's-Superior (12-18)  .667

Batting Leader – Rick Weiterman, Ritch's-Superior (10-15) – .667
---
1992 NSA ALL WORLD TEAM (incomplete)
Paul Drilling, Ritch's-Superior (8-12, .667)
Doug Roberson, Ritch's-Superior (12-18, .667
Rick Weiterman, Ritch's-Superior (10-15, .667)
Dirk Androff, Ritch's-Superior (12-18, .667, 4 HRs)
Britt Hightower, Ritch's-Superior (9-14, .643)
Cecil Whitehead, Ritch's-Superior (9-14, .643)
*No info available on remainder of all-tournament team  (Starpath, DJs and Williams Players)
---
FINAL STANDINGS
1. Ritch's-Superior, Windsor Locks, CT (4-0)
2. Starpath, Monticello, KY (4-2)
3. DJ's/Easton, Atchison, KS (4-2)
4. Williams/Worth, Houston, TX (3-2)
5t. Bell Corp., Tampa, FL (1-2)
5t. New Construction, Shelbyville, IN (2-2)
7t. Steele's/Sunbelt, Brook Park, OH (1-2)
7t. Converters Unlimited, Kinston, NC (1-2)
9t. AJD, Richmond, VA (0-2)
9t. Datum-Argus, Lebanon, TN (0-2)
9t. Moulton Furniture, Moulton, AL (0-2)
9t. Nanney's, Spartanburg, SC (0-2)