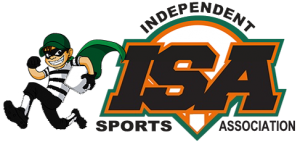 1992 held at Gainesville, Georgia.
---
Champion – Ritch's-Superior/TPS, Windsor Locks, Connecticut
Runner Up – Steeles's Hit Men/Sunbelt, Brook Park, Ohio
---
The R-S Express won the first leg of the grand slam softball event. They beat Steele's Hit Men twice; 30-25 in winners bracket final and then again 31-9 in the Championship to win the ISA World Series. They hit 17 HR in the Championship Game.. Charles Wright earned his MVP award as he blasted home runs in his first three at bats in the final game. R-S scored 147 runs in 5 games, almost 30 runs per game. They were 190-272 for a .699 team average. They hit 70 HR total. Steele's/Sunbelt hit 85 total HR. Pitcher Paul Drilling held their opponents to less then 10 runs in three of the five games.
---
MVP – Charles Wright, Ritch's-Superior (17-27, .630, 11 HR)
Defensive MVP – Kerry Everett, Steele's
HR Leader –Kenny Carver, Williams/Worth (21-31, .677, 27 RBI) – 16
Batting Leader – Kim Seamon, Bell Corp. (20-24, 10 HR, 12 RBI) – .833
---
ISA ALL WORLD TEAM
Charles Wright, Ritch's-Superior (17-27, .630, 11 HR)
Dirk Androff, Ritch's-Superior (19-27, .704, 12 HR)
Jim Fuller, Ritch's-Superior (15-21, .714, 2 HR)
Dave Steffen, Ritch's-Superior (18-24, .750, 5 HR)
Cecil Whitehead, Ritch's-Superior (16-24, .667, 7 HR)
Britt Hightower, Ritch's-Superior/TPS (16-25, .640, 5 HR)
Paul Drilling, Ritch's-Superior (11-21, .524, 1 HR)
Steve Craven, Steeles's Hit Men/Sunbelt (20-31, .645, 14 HR)
Jimmy Powers, Steeles's Hit Men/Sunbelt (24-31, .774, 12 HR, 22 RBI)
Mike Macenko, Steeles's Hit Men/Sunbelt (23-31, .724, 10 HR, 16 RBI)
Kerry Everett, Steeles's Hit Men/Sunbelt (15-25, .600, 10 HR, 17 RBI)
Kenny Carver, Williams/Worth (21-31, .677, 16 HR, 27 RBI)
Jeff Arnold, Williams/Worth (24-33, .727, 14 HR, 25 RBI)
John Grissom, Williams/Worth (19-29, .655, 6 HR, 8 RBI)
Freddie Johnson, Williams/Worth (21-20, .700, 9 HR, 20 RBI)
Kim Seaman, Bell Corp. (20-24, .833, 10 HR, 12 RBI)
Dan Schuck, Bell Corp. (18-25, .720, 12 HR, 27 RBI)
Ricky Roberts, Nanney's (19-26, .731, 13 HR, 26 RBI)
---
OTHERS
Kenny Pruit, Nanney's (22-27, .815, 5 RBI)
Dewayne Nevitt, Starpath (11-14, .786, 5 HR, 10 RBI)
Larry Fredieu, Bell Corp (17-22, .773, 9 HR, 16 RBI)
Rich Plante, Starpath (11-15, .733, 6 HR, 14 RBI)
Curtis Williams, Vernons (13-17, .765, 2 RBI)
Jason Kendrick, Datom-Argus (19-26, .760, 5 HR, 23 RBI)
Sylvin Little, Nanney's (22-29, .759, 7 HR, 20 RBI)
Wendell Rickard, Datom-Argus (18-24, .750, 8 HR, 20 RBI)
Ricky Huggins, Vernons (14-19, .737, 6 HR, 14 RBI)
Bill Blake, Bell Corp (17-24, .708, 9 HR, 14 RBI)
Dewayne Frizell, Vernons (12-17, .706, 7 HR, 15 RBI)
Mark Martin, Bell Corp (18-28, .692, 7 HR, 15 RBI)
Todd Joerling, Bell Corp (18-27, .667, 11 HR, 14 RBI)
Mike Bolen, Datom-Argus (16-24, .667, 6 HR, 14 RBI)
Shawn Keane, Steele's/Sunbelt (14-21, .667, 8 HR, 9 RBI)
Greg Schults, WIlliams/Worth (19-29, .655, 10 HR, 19 RBI)
Carl Rose, Williams/Worth (21-33, .636, 11 HR, 21 RBI)
Ron Parnell, Ritch's-Superior (15-24, .625, 6 HR)
Dennis Graser, Ritch's-Superior (15-24, .625, 5 HR)
Doug Roberson, Ritch's-Superior (15-24, .625, 5 HR)
Ron Ford, Vernons (10-17, .588, 1 HR, 2 RBI)
Monty Tucker, Steele's/Sunbelt (12-21, .571, 5 HR, 10 RBI)
Darrell Beeler, Ritch's-Superior (13-24, .542, 11 HR)
Tot Powers, Steele's/Sunbelt (15-29, .517, 6 HR, 11 RBI)
Jacques Miller, Steele's/Sunbelt (13-26, .500, 7 HR, 12 RBI)
Bruce Meade, Starpath (6-16, .375, 3 HR, 7 RBI)
---
FINAL STANDINGS
1. Ritch's-Superior/TPS, Windsor Locks CT (5-0)
2. Steeles's Hit Men/Sunbelt, Brook Park OH (4-2)
3. Williams/Worth, Houston, TX (4-2)
4. Bell Corp., Tampa, FL (3-2)
5t. Datom-Argus, Lebanon, TN (3-2)
5t. Nanney's, Spartanburg, SC (3-2)
7t. Starpath, Monticello, KY (2-2)
7t. Vernon's, Jacksonville, FL (2-2)
9t. Bunca/Worth, Kalamazoo, MI (1-2)
9t. Johnson Builders, Hilton Head, SC (1-2)
9t. Moulton Furniture, Moulton, AL (1-2)
9t. New Construction, Shelbyville, IN (1-2)
13t. Alford's/Worth, Stone Mountain, GA (0-2)
13t. Southland Sox, Gainesville, GA (0-2)
13t. Stottler Stagg/Easton, Cocoa, FL (0-2)
13t. Timeout Sports/Worth, Jackson, MS (0-2)