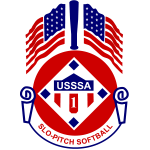 1991 held at Daytona Beach, Florida.
---
Champion – Ritch's-Superior/TPS, Windsor Locks, Connecticut
Runner Up – Starpath/LeAlCo, Monticello, Kentucky
---
Starpath, the second ranked team, most of the season put Ritch's-Superior in the losers bracket with a 29-24 win in which they hits 21 Homers. Starpath then beat Sunbelt 28-17 in the winner's bracket finals. Ritch's won games in the losers bracket by scores of 6-5 and 13-11. Then in the loser's bracket finals, their bats came alive as they defeated Sunbelt 24-3. The R-S Express then defeated undefeated Starpath twice to win the Championship. The scores were 29-6 and 18-8. In the final victory, Jim Fuller was 4-5 with 3 RBI. Dirk Androff, Britt Hightower, Dave Steffen and pitcher Paul Drilling all had 3 hits. Bruce Meade was 3-3 with 3 homers for Starpath. Big Dirk Androff, the regular First Basemen, had to play in the outfield when Cecil Whitehead went down with an injury, he was named the MVP for his play in the field and also for his clutch hitting as he went 23-34 (.696) with 13 HR and 27 RBI.
The Stottler Stagg team met for its morning meeting to talk softball and swill coffee.
But neither words nor caffeine could awaken the team. "I kept telling them that the fire and intensity weren't there," manager Dick Landress said. "I saw it in the first game [a 10-9 loss]. For some reason, we didn't come here wanting to win badly enough. "I told them we lacked spirit [Thursday night]. I talked to them about it over our team meeting this morning, and they agreed. If we didn't turn it around, we knew this game could be our last." This game was Stottler Stagg's last. The team, based in Cocoa, was eliminated from the United. States Slowpitch Softball Association Men's Major World Series, 16-13, by Murfs (Colo.) before an estimated crowd of 600 Friday morning. Other scores from the second day of the tournament: Coors/Atkins (Kan.) beat Sports Hero's (Minn.). 11-6; Neuse Sand and Gravel (N.C.) defeated AJD/Russell (Va.) 18-3; and Gooslin Construction (Ohio) topped Spectrum (Minn.), 12-5.
The only team from Florida left in the series is Bell Corp. of Tampa. Today's games of the double-elimination tournament begin with the losers' bracket pairings at 3:30 and 5:30 p.m. The winners' bracket games are scheduled for 6:30 and 8 p.m. Stottler Stagg, ranked ninth by Softball USA, wasn't expected to win, but Landress said his team should have done better. Three players had hit 50 home runs or more during the season. And the team had chances but failed to capitalize. Stottler Stagg was beaten by Bunca in extra innings in its opening game. Then Muris scored five runs in the top of the seventh (last) inning to score a comeback victory in its last. "We didn't play half as well as we could have," said Landress, whose Stottler Stagg team has competed in three consecutive USSSA World Series. "We have six months apart in the off-season. "I'd like to have these same guys next year. They've been too good for too long not to come back and try again."
---
MVP – Dirk Androff, Ritch's-Superior (23-34, .676, 13 HR, 27 RBI, 19 Runs)
Home Run Leader – Bruce Meade, Starpath (18-23, .783, 23 RBI, 18 Runs) – 16
Batting Leader (15 ABs) – Gary Adams, Dan Smith (13-15, 7 RBI, 6 Runs) – .867
Defensive MVP – Larry Fredieu, Starpath/Le-Al-Co
---
USSSA MAJOR WORLD SERIES ALL WORLD TEAM
P – Andy Cook – Starpath (11-22, .500, 1 HR, 8 RBI, 6 Runs)
P – Paul Drilling – Ritch's/Superior (13-28, .464, 3 RBI, 7 Runs)
C – Bruce Meade – Starpath (18-23, .783, 16 HR, 23 RBI, 18 Runs)
1B – Rich Plante – Wlliams/Finke (14-21, .667, 7 HR, 17 RBI, 14 Runs)
2B – Darrell Beeler – Ritch's/Superior (15-29, .517, 10 HR, 15 RBI, 16 Runs)
2B – Dan Schuck – Larry's Used Cars (14-20, .700, 11 HR, 20 RBI, 14 Runs)
3B – Charles Wright – Ritch's/Superior (14-25, .560, 9 HR, 15 RBI, 21 Runs)
3B – Carl Rose – Sunbelt Plastics (15-20, .750, 7 HR, 14 RBI, 14 Runs)
SS – Greg Whitlock – Starpath (11-20, .550, 1 HR, 8 RBI, 6 Runs)
OF – Gary Jones – Starpath (12-17, .706, 2 HR, 7 RBI, 9 Runs)
OF – Larry Fredieu – Starpath (14-23, .609, 11 HR, 12 RBI, 13 Runs)
OF – Dirk Androff – Ritch's/Superior (23-34, .676, 13 HR, 27 RBI, 19 Runs)
OF – Greg Schulte – Sunbelt Plastics (13-21, .619, 6 HR, 13 RBI,11 Runs)
OF – Jeff Peterson – Dan Smith (14-21, .667, 4 HR, 18 RBI, 14 Runs)
OF – Wes Lord – Dan Smith (14-19, .737, 5 HR, 15 RBI, 8 Runs)
OF – Sylvin Little – Sunbelt Plastics (12-21, .545, 4 HR, 7 RBI, 10 Runs)
UTIL – Jim Fuller – Ritch's/Superior (22-33, .667, 8 HR, 21 RBI, 19 Runs)
MGR – Buddy Slater – Ritch's/Superior
---
OTHERS
Hank Garris, Stottler Stagg (6-6, 1.000, 2 HR, 2 RBI, 5 Runs)
Randy Romagna, Neuse Sand & Gravel (11-14, .786, 1 HR, 10 RBI, 6 Runs)
Mark Heirlmeier, Bell Corp (11-15, .733, 5 HR, 8 RBI, 12 Runs)
Freddie Johnson, Larry's Used Cars (14-20, .700, 4 HR, 11 RBI, 10 Runs)
Mark Baker, Bell Corp (11-16, .688, 3 HR, 7 RBI, 10 Runs)
Bob Louria, Bunca (2-3, .667, 1 Run)
Rick Weiterman, Ritch's/Superior (14-22, .636, 6 RBI, 9 Runs)
Cliff Carpenter, Bell Corp (10-16, .625, 1 HR, 4 RBI, 8 Runs)
Dave Steffen, Ritch's/Superior (17-28, .607, 8 HR, 21 RBI, 14 Runs)
Cecil Whitehead, Ritch's/Superior (7-12, .583, 2 HR, 2 RBI, 3 Runs)
Doug Flynn, Bell Corp (8-14, .571, 2 HR, 7 RBI, 4 Runs)
John Keigley, Williams/Finke (9-16, .563, 5 RBI, 9 Runs)
Steve Craven, Sunbelt (12-22, .545, 7 HR, 13 RBI, 11 Runs)
Jeff Arnold, Williams/Finke (12-22, .545, 9 HR, 14 RBI, 11 Runs)
Chuck Maiorana, Bunca (6-11, .545, 2 RBI, 4 Runs)
Kenny Carver, Sunbelt (10-19, .526, 6 HR, 15 RBI, 11 Runs)
Danny Williams, Sunbelt (11-22, .500, 3 HR, 9 RBI, 9 Runs)
Ernie Montgomery, Larry's Used Cars (10-20, .500, 5 HR, 10 RBI, 12 Runs)
Mike Martin, Bell Corp (7-14, .500, 5 HR, 8 RBI, 8 Runs)
Todd Martin, Neuse Sand & Gravel (4-8, .500, 2 HR, 4 RBI, 3 Runs)
Britt Hightower, Ritch's/Superior (15-33, .484, 9 HR, 15 RBI, 15 Runs)
John Grisson, Williams/Fink (12-25, .480, 6 HR, 7 RBI, 11 Runs)
Bill Blake, Larry's Used Cars (9-19, .474, 6 HR, 13 RBI, 11 Runs)
Doug Roberson, Ritch's/Superior (15-33, .455, 9 HR, 17 RBI, 13 Runs)
Todd Joerling, Sunbelt (9-20, .450, 6 HR, 8 RBI, 11 Runs)
Mike Macenko, Sunbelt (10-23, .435, 2 HR, 4 RBI, 10 Runs)
Ron Parnell, Ritch's/Superior (12-28, .429, 2 HR, 9 RBI, 14 Runs)
Doug Berfeldt, Sports Heros (3-7, .429, 1 RBI, 1 Run)
Clyde Guy, Sunbelt (6-14, .429, 5 HR, 11 RBI, 9 Runs)
Dave Allen, Starpath (8-20, .400, 5 HR, 9 RBI, 9 Runs)
Craig Elliott, Neuse Sand & Gravel (4-10, .400, 3 RBI, 4 Runs)
Rick Wheeler, Starpath (9-24, .375, 4 HR, 11 RBI, 10 Runs)
Doug Brown, Starpath (9-24, .375, 7 HR, 15 RBI, 8 Runs)
Jimmy Powers, Neuse Sand & Gravel (4-11, .364, 3 Runs)
Tot Powers, Neuse Sand & Gravel (4-13, .308, 2 HR, 4 RBI, 4 Runs)
---
FINAL STANDINGS
1. Ritch's/Superior, Windsor Locks, CT (7-1)
2. Starpath/LeAlCo, Monticello, KY (4-2)
3. Sunbelt Plastics/Worth, Stone Mountain, GA (3-2)
4. Dan Smith Plastering, San Jose, CA (3-2)
5. Larry's Used Cars/Capitols, Grand Prairie, TX (3-2)
6. Williams/Finke, Spring, TX (3-2)
7t. Bell Corp., Tampa, FL (2-2)
7t. Neuse Sand & Gravek, La Grange, NC (2-2)
9t. Coors/Atkins, Dodge City, KS (1-2)
9t. Murfs/Sonny's/Worth, Denver, CO (1-2)
9t. Bunca Car Wash, Kalamazoo, MI (1-2)
9t. Gooslin Construction, Columbus, OH (1-2)
13t. Spectrum Screen Print Inc., Crystal, MN (0-2)
13t. AJD/Russell Athletics, Richmond VA (0-2)
13t. Stottler Stagg/Cocoa Express, Cape Canaveral, FL (0-2)
13t. Sports Heros Athletics, Eagan, MN (0-2)