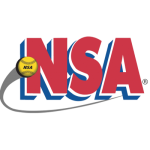 1990 held at Brook Park, Ohio.
---
Champion – Steele's Silver Bullets, Grafton, Ohio
Runner Up – Superior/Apollo, Windsor Locks, Connecticut
---
Steele's beat Superior-Apollo 62-55 in the winner's bracket final and then beat them again in the Championship 27-26. In the 62-55 game, Mike Macenko was 8 for 8 with 8 HRs. Dirk Androff and Todd Joerling each hit 6 HR. Three of Joerling's came in the 5th inning. The Men of Steele hit 39 total HR in the game. In the Championship game with one out in the 7th inning, Macenko,
Monty Tucker and Bill Blake hit back to back to back HR to win the game and the Championship.
---
MVP – Mike Macenko, Steele's (24-29, .828, 16 HR, 23 RBI)

HR Leader – Craig Elliot, Stewart's (24-33, .727) – 18

Batting Leader – Dave Johnson, Starpath (18-19)  – .947
---
1991 NSA ALL WORLD TEAM
Mike Macenko, Steele's Silver Bullets (24-29, .828, 16 HRs, 23 RBIs)
Dirk Androff, Steele's Silver Bullets (15 HRs, .700+)
Scott Virkus, Steele's Silver Bullets (11 HRs, .700+)
Todd Joerling, Steele's Silver Bullets (14 HRs, .700+)
Danny Williams, Steele's Silver Bullets (.700+)
Ernie Montgomery, Steele's Silver Bullets
Cecil Whitehead, Superior/Apollo
Jim Fuller, Superior/Apollo
Rich Plante, Superior/Apollo
Dave Steffen, Superior/Apollo
Craig Elliott, Stewart's Lounge (24-33,18 HRs,  .727)
FA Martin, Stewart's Lounge
Dave Johnson, Starpath (18-19, .947)
Dave Allen, Starpath
---
FINAL STANDINGS
1. Steele's Silver Bullets, Grafton, OH (5-0)
2. Superior/Apollo, Windsor Locks, CT (3-2)
3. Stewart's Lounge, Pittsburgh, PA (5-2)
4. Starpath, Monticello, KY (2-2)
5t. Bell Corp., Tampa, FL (2-2)
5t. Medina Body Shop, Brunswick, OH (2-2)
7t. NOSI, Columbus, OH (2-2)
7t. Laborers #310, Cleveland, OH (1-2)
9t. Premier/Century, Tempe, AZ (0-2)
9t. Sunset, Detroit, MI (0-2)
9t. Wally's, Parma, OH (0-2)
9t. Cuyahoga Dunham Supply, Cleveland, OH (0-2)