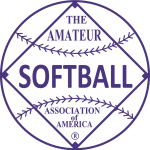 1990 held at Tupelo, Mississippi on August 30-September 1.
---
Champion – Sikorsky Aircraft, Shelton, Connecticut
Runner Up – MCA Blue Pipefitters, Cincinnati, Ohio
---
Sikorsky went 6-0 and to win  the ASA Major Industrial national tournament. Mark Tremblay earned MVP honors for Sikorsky. The last time he won the MVP, he was an outfielder. This time, he was the Pitcher and he was a defensive menace to every team in this tournament. Trembley hurt his arm when he was an outfielder. So he switched to pitching and the move has cemented Sikorsky's infield to one of the best. He is the 5th infielder in there. In the winner's bracket final, with Trembley twirling and the defense playing lights out, they shut out MCA Blue 4-0. After MCA eliminated Rohr of Alabama to get another crack at Sikorsky, it was the same thing. Defense …. Sikorsky won the national title 8-1.
Mark Tremblay has been chosen Most Valuable Player in a national tournament before, but never as a pitcher. Sept. 3 he did just that for Sikorsky Aircraft of Shelton, CT.
Tremblay's hard-nosed play up the middle sparked Sikorsky's defense. giving the team its sixth ASA Men's Major Industrial Slow Pitch National Championship since 1979. Sikorsky beat the MCA Pipefitters of Cincinnati 8-1 in the championship game at the Eastwood Softball Complex in Tupelo. MS.
"I've always prided myself on my defense, especially when I was playing outfield," he said. "We've got one of the best defensive infields around and I just wanted to be a part of it. Defense is what won the game for us."
Sikorsky rode a rough horse into the championship. beating defending champ Delta Re/Max from Fayetteville, GA, 12-10 Sept.2. The Connecticut team shutout MCA 4-0 in the winners bracket finals. Tremblay's defense was a big part of that win.
Sikorsky's 4-0 win dropped MCA to the losers bracket final, where it beat Rohr #1 of Foley, AL. 6-3. In the championship game Tremblay only had three chances, but he earned the out every time.
MCA manager John Henegar said Sikorsky's defense, combined with MCA's lackluster hitting, made the difference in MCA's first tourney appearance since 1981.
"We just didn't hit the ball like were capable of," Henegar said. "They got of down and stayed on top of us."
Temperatures climbed to 100 degrees, but neither coach complained about the heat.
"We kind of like hot weather," Sikorsky's Gene Kwalek said. Every national tournament we've played in for be last five or six years has been in the South or Southwest.
Henegar, whose team draws some players from Kentucky, said: "I really don't think the heat hurt us. We just didn't hit the ball. We went cold."
Sikorsky finished the tourney 6-0. while MCA came in at 6-2. Third-place Rohr was 5-2. while the Dow Pirates of Lake Jackson. TX, were 5-2 in fourth place.
---
MVP – Mark Tremblay, Sikorsky Aircraft (6-0, Winning pitcher in championship game, went 2-3 in championship)
HR Leader – no info
Batting Leader – no info
---
ASA INDUSTRIAL MAJOR ALL AMERICANS FIRST TEAM
1B – Gary Mueller, Delta/Re-Max
2B – Mike Williams, APCO
3B – Gary Bryant, Dow Chemical
SS – Matt Hoey, SNET
UT – Kerry Giese, Dow Chemical
UT – Thomas Smith, APCO
UT – Gary Kern, MCA
UT – Anthony Micalizzi – Sikorsky Aircraft
OF – Dwight Morrison, Rohr 1
OF – Kevin Starlnoha, Dow Chemical
OF – John Baloyga, Sikorsky Aircraft
OF – Greg Biehl, MCA
C – Yogi Hunter, Russell Athletic
P – Mark Tremblay, Sikorsky Aircraft
EP – Bill Graham, Delta/Re-Max
---
FINAL STANDINGS
1. Sikorsky Aircraft, Shelton , CT (6-0)
2. MCA Blue Pipefitters, Cincinnati, OH (6-2)
3. Rohr #1, Foley, AL
4. Dow Pirates, Lake Jackson, TX (5-2)
5t. Delta Re/Max, Atlanta, GA (4-2)
5t. APCO, Birmingham, AL (6-2)
7t. Gilman Paper Company (4-2)
7t. Martin Marietta #2 (4-2)
9t. Russell Athletics, Alexander City, AL (5-2)
9t. SNET Cellular, Inc. (2-2)
9t. Gulfport Fire Department, Gulfport, MS (4-2)
9t. CPS Livewire, (2-2)
13t. Publix, Lakeland, FL (2-2)
13t. Wilsonart, (3-2)
13t. General Electric Plastics, (3-2)
13t. Hamilton Champion/CEAA (3-2)
17t. Kimball Internaional, (3-2)
17t. Honda Wings, (3-2)
17t. Amoco Oilers, (1-2)
17t. Dow Knights, (2-2)
17t. Riegal Rifiles (1-2)
17t. US Postal Service (2-2)
17t. St. Dominic's (1-2)
17t. Meredith/Burda, (2-2)
25t. Krueger Metal (1-2)
25t. LORI (1-2)
25t. ARMCO Steel (1-2)
25t. Electric Boat Division/General Dynamics (1-2)
25t. Babcock & Wilcox (1-2)
25t. Tecumseh Products (0-2)
33t. Action A's (0-2)
33t. The Lane Company (0-2)
33t. Randall Homes (0-2)
33t. DuPont (0-2)
33t. Superior Products (0-2)
33t. Morton International (0-2)
33t. Peoplounger (0-2)
33t. AFSCME-OSCEA (0-2)
33t. Scott Paper Company (0-2)
33t. Ashland Oil/ATRA (0-2)
33t. State Farm Travel/Travel (0-2)
33t. Delco Products (0-2)
33t. Martin Marietta #1 (0-2)
33t. Bridgeport Post Office, Bridgeport, CT (0-2)