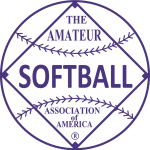 1988 held at Paulson Softball Complex in Savannah, Georgia on September 4-6.
---
Champion – Smith Transport, Roaring Springs, Pennsylvania
Runner Up – Vernon's, Jacksonville, Florida
---
It wasn't a case of too much power. It was just a case of too many hits. In the early morning  hours of Tuesday, September 6, Smith Transport used a 26 hit attack to take a 19-10 win over Vernon's of Jacksonville, FL, in the final game of the ASA Class A  Men's Slow Pitch National Championship at the Paulson Softball Complex. That victory ended a three-day, rain-plagued tournament.
Vern Neil, coach of Smith Transport and the tournament's most vaulable player, said, "This is great. We're the best of friends. I think they ought to take the Most Valuable Player trophy and cut it into 15 pieces."
It was the first time the team had won an ASA national title.
---
MVP – Vernon Neil, Smith Transport (18-24, .750)
Batting Champion – Bud Weathers, Coils Plus  – .882
HR Champion – Ronnie Ford, Vernon's – 7
---
ASA A ALL AMERICANS FIRST TEAM
P – Vernon Neil, Smith Transport (18-24, .750)
C – Mike Wilson, Capital Chevrolet
1B – Donald Bradham, Armed Forces
2B – Gary Ellison, Keith Enterprises
3B – Al Ten, Sonny's
SS – Scott Bortner, Smith Transport (19-24, .792, 6 HR, 24 RBI)
OF – Ronnie Ford, Vernon's
OF – George Schnorr, Vernon's
OF – Bud Weathers, Coils Plus
OF – Richard Smith, Armed Forces
EP – Nick Delucco, Vernon's
UTIL – Lance Peterson, Minneapolis Merchants
UTIL – Randy Holsopple, Smith Transport
UTIL – Todd Green, Arensberg Pharmacy
UTIL – Kerry Burnett, Minneapolis Merchants
ASA A ALL AMERICANS SECOND TEAM
P – Rick Minarcin, Lo-Temp Brazing
C – Jim Hampton, Vernon's
1B – Robbie Groover, Savannah Truck
2B – Gene Beazeu, Pastime Bar
3B – Kenny Clark, Vernon's
SS – Dom Calise, Sonny's
OF – Joe Spuling, Sunbelt Plastics
OF – Barry McLeod, Sonny's
OF – Rich Vaughn, Capital Chevrolet
OF – Keith Disbennett, McDonald's
EP – Caleb Rabenold, Vernon's
UTIL – Mark Janney, Chaney Enterprises
UTIL – Mark Kontak, Pastime Bar
UTIL – Brad Weyant, Smith Transport
ASA A ALL AMERICANS THIRD TEAM
P – Tim Purcell, Pastime Bar
C – Douglas Wilcox, Lo-Temp Brazing
1B – Bucky Ford, Capital Chevrolet
2B – Michael Stevens, Armed Forces
3B – Brian Anderson, Minneapolis Merchants
SS – Robert Feather, Armed Forces
OF – Tim Smith, Pastime Bar
OF – Larry Wilson, Capital Chevrolet
OF – Henry Mays, Thompson's Sporting Goods
OF – Ty Jenny, Savannah Truck
EP – Scott Brown, Arensberg Pharmacy
UTIL – E.M. McCoy Jr., Keith Enterprises
UTIL – Mickey Reynolds, Coils Plus
UTIL – James Moreland, Chaney Enterprises
UTIL – Ron Conyers, Keith Enterprises
---
FINAL STANDINGS
1. Smith Transport, Roaring Springs, PA (7-0)
2. Vernon's, Jacksonville, FL (7-2)
3. Minneapolis Merchants, Minneapolis, MN (6-2)
4. Capital Chevrolet, Nashville, TN (6-2)
5t. Lo-Temp Brazing, Toledo, OH (6-2)
5t. Arensberg Pharmacy, Newark, OH (4-2)
7t. Bender's Plumbing, West haven, TC (4-2)
7t. Keith Enterprsies, Virginia Beach, VA (5-2)
9t. Sonny's, Westport, CT (6-2)
9t. Chaney Enterprises, Lothian, MD (4-2)
9t. Pastime Bar, Toledo, OH (5-2)
9t. Armed Forces, San Diego, CA (5-2)
13t. Savannah Truck, Savannah, GA (4-2)
13t. Health Pac, Savannah, GA (4-2)
13t. Coils Plus, Longview, TX (4-2)
13t. Thompson's Sporting Goods, Savannah, GA (2-2)
17t. Coburg Dairy, Charleston, SC (2-2)
17t. Seguin Softball, Seguin, TX (3-2)
17t. Stockman/Zip, Missoula, MT (3-2)
17t. Sunbelt Plastics, Warner Robins, GA (3-2)
17t. Campbell's Sports, Bloomington, MN (2-2)
17t. Wendy's/Worth, Lansing, MI (2-2)
17t. McDonald's, Chillicothe, OH (2-2)
17t. C&M Sports, Dothan, AL (2-2)
17t. Pete's Mobil Carwash, Poughkeepsie, NY (3-2)
25t. Kansas City Bullets, Kansas City, MO (3-2)
25t. Wally's, Broadview Heights, OH (2-2)
25t. Classic Longballers, Newberry CA (3-2)
25t. Houston Buffs, Houston, TX (3-2)
25t. Conrad/Peterson, Wyoming, MI (3-2)
25t. Bel-Aire Cleaners, Daphne, AL (2-2)
25t. Ruud's Roofing, Bloomington, MN (3-2)
33t. Roof Mechanics, Wichita, KS (1-2)
33t. Dugout Sports, Davenport, IA (1-2)
33t. Marino's Construction, West Peabody, MA (1-2)
33t. Adams Floor Sanding, Richmond, VA (1-2)
33t. Brunswick Ford, Falmouth, ME (1-2)
33t. Godbee Trucking, Savannah, GA (2-2)
33t. Doyle Paint, Eden NC (1-2)
33t. Mayfield Brothers, Richardson, TX (1-2)
33t. Allied Astros, Indianapolis, IN (1-2)
33t. Herald's Trophies, Columbus, OH (1-2)
33t. Bud Lite, Midland, TX (2-2)
33t. Busch Beer, Little Rock, AR (2-2)
33t. Little Caesars, Davidson, MI (1-2)
33t. Las Vegas Aces, Las Vegas, NV (1-2)
33t. Mehringers Plumbing, Jasper, IN (1-2)
33t. Ruth Realty, Renton, VA (1-2)
49t. Holland Construction, Chesapeake, VA (1-2)
49t. Matlin Construction, Cincinnati, OH (1-2)
49t. McDonald's, Ramei, TN (1-2)
49t. Newell Concrete, Eden Prairie, MN (1-2)
49t. Sonny's Lounge, Casper, WY (1-2)
49t. Bodi Sharpe, Harrisville, RI (0-2)
49t. Area Sports Lettering, St. Paul, MN (0-2)
49t. Coffee Cup, St. Paul, MN (1-2)
49t. California Waterbeds, Lexington, KY (1-2)
49t. Lincoln Title, Tampa, FL (1-2)
49t. Jordan Lumber, Biscoe, NC (0-2)
49t. Crader/Huffman, Marble Hill, MO (0-2)
49t. Farrell's Maintenance, Ephrata, PA (1-2)
49t. Massey's, Independence, LA (1-2)
49t. Twohig, Parma, OH (1-2)
65t. Bar "J", Laurel, MS (0-2)
65t. Wilkes Body Shop, Savannah, GA (0-2)
65t. Adleta, Cincinnati, OH (0-2)
65t. Owatonna Eagles, Owatonna, MN (0-2)
65t. Miller Lite, West Fargo, ND (0-2)
65t. Casey Tower Service, Altamonte Springs, FL (0-2)
65t. McGuffy's, Dayton, OH (0-2)
65t. Mahany Construction, Savannah, GA (0-2)
65t. Arkansas Softball, Little Rock, AR (0-2)
65t. Miller Premium Beer, Plover, WI (0-2)