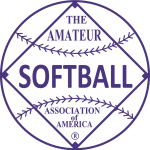 1988 held at Lakeland, Florida.
---
Champion – Publix, Lakeland, Florida
Runner Up – Sikorsky Aircraft, Stratford, Connecticut
---
Publix went through the winners bracket undefeated (6-0), they beat Sikorsky 21-16 in the winner's bracket semi-final on the strength of Jeff Woodward's 3 home runs and 6 RBI. They then defeated General Dynamics of Sterling Heights, MI 6-4 in the winner's bracket final. Then sat back as Sikorsky defeated General Dynamics 21-15 in the losers bracket final in a game called by rain in the 7th inning. The rains continued to the point where the fields were unplayable. They even tried to reschedule it later in the day, but to no avail, so Publix, by virtue of being the only undefeated team was named the National Champion. Sikorsky was the Runner-up and General Dynamics was third. The win was a total team effort for Publix as Dan Roberts, the leading hitter for Publix batted .600. Jody Perryman (.588), Woodward (.583), Clyde Chenault (.583) and shortstop Dave Gartell (.565). These were the only players over .500.
---
MVP – Jeff Woodard, Publix (14-24, .583, 9 HR)
Batting Champion – Bobby Oliver, CPS Livewires – .857
Home Run Champion – Scott Jones, CPS Livewires – 15
---
ASA INDUSTRIAL MAJOR ALL AMERICANS FIRST TEAM
1B – Mike Powers, Publix
2B – Clyde Chenault, Publix
3B – Scott Jones, Dow Pirates
SS – Rick Hawkins, Fleming Foods
OF – John Cologgi, Sikorsky Aircraft
OF – Jeff Woodard, Publix
OF – Daniel Roberts, Public
OF – Bobby Oliver, CPS Livewires
EP – John Baldyga, Sikorsky Aircraft
UT – David Gartrell, Publix
UT – Kelly James, Jacksonville Navy
UT – Chic Stearrett, The Station
UT – Mark Trimbly, Sikorsky Aircraft
C – Peter Gribbon, Sikorsky Aircraft
P – Chris Dunne, Sikorsky Aircraft
ASA INDUSTRIAL MAJOR ALL AMERICANS SECOND TEAM
1B – Bill Agee, Monsanto
2B -Mike Loughmiller, CPS Livewires
3B – Mark Berritto, Sikorsky Aircraft
SS – Rob Baker, Dow Pirates
OF – Dale Aldrich, Dow Pirates
OF – Scott Storey, Russell
OF – Craig Seamon, General Dynamics Michigan
OF – Michael Homkovics, Sikorsky Aircraft
EP – Joey Langley, Russell Athletic
UT – Charlie Johnson, Kroger
UT – Anthony Warner, Kroger
UT – Edward Erickson, Dayton's
UT – Jim Brockman, Pratt-Whitney
C – Donald Payne, Dow Pirates
P – Jerry Sanders, Russell Athletic
ASA INDUSTRIAL MAJOR ALL AMERICANS THIRD TEAM
1B – Bubba Davis, CPS Livewire
2B – Dennis Carroll, Cleveland Fire Department
3B – Roberty Kownacki, Sikorsky Aircraft
SS – Tom Norko, Sikorsky Aircraft
OF – Ed Szegedy, Pratt-Whitney
OF – Pete Corrado, General Dynamics Michigan
OF – Jim Girardeau, lndependent Live
EP – John Krempasky, General Dynamics Ohio
UT –  Daryl Mobley, Russell Athletic
UT – Bryan Rogers, Dow Pirates
UT – Pablo Salas, Jacksonville Navy
UT – Fred West, Kroger
C – Dick Kuyath, FMC
P – Kenny Westfield, Cleveland Fire Department
---
FINAL STANDINGS
1. Publix, Lakeland, FL (6-0)
2. Sikorsky Aircraft, Stratford, CT (7-2)
3. General Dynamics, Sterling Heights, MI (5-2)
4. Russell Athletic, Alexander City, AL (5-2)
5t. Monsanto, Miamisburg, OH (5-2)
5t. Dow Pirates, Lake Jackson, TX (6-2)
7t. Cleveland Fire Department, Cleveland, TN (5-2)
7t. Kroger, East Point, GA (4-2)
9t. Plumbing ?, Johnson City, TN (4-2)
9t. Jacksonville Navy, Jacksonville, FL (4-2)
9t. Dayton's, Minneapolis, MN (3-2)
9t. CPS Livewire, San Antonio, TX (3-2)
13t. Ashland Oil, Huntington, WV (3-2)
13t. The Station, Wilmington, DE (4-2)
13t. Pratt Whitney, Boca Raton, FL (4-2)
13t. Proctor & Gamble, Albany, GA (4-2)
17t. General Dynamics, Lima, OH (3-2)
17t. Delta Airlines, Atlanta, GA (3-2)
17t. Amoco Oilers, Texas City, TX (3-2)
17t. Southern Farm Bureau, Jackson, MS (3-2)
17t. FMC, Fridley, MN (3-2)
17t. Armco Steel, Ashland, KY (3-2)
17t. The Prom, Bryan TX (3-2)
17t. Fehr Painting, Franklin, OH (3-2)
25t. Independent Life Insurance, Jacksonville, FL (2-2)
25t. CIBA-CEIGY, Greensboro, NC (2-2)
25t. ADC Telecommunications, Edina, MN (2-2)
25t. Plumbers & ?, Evansville, IN (2-2)
25t. ? Corporation, Hickory, NC (2-2)
25t. Rush Machinery & Welding, Ellwood City, PA (2-2)
25t. Uniroyal, Opelika, AL (2-2)
25t. Lori, Tulsa, OK (2-2)
33t. Dupont, Fayetteville, NC (2-2)
33t. West Point Peppereill, Valley, AL (1-2)
33t. Federal-Hoffman, Anoka, MN (1-2)
33t. American Cast Iron Pipe Co., Birmingham, AL (1-2)
33t. Honda Wings, ?, OH (1-2)
33t. General Electric Wacos, Louisville, KY (1-2)
33t. Travel-Travel State Farm, Normal, IL (1-2)
33t. Dow Chemical, LaPorto, TX (1-2)
33t. Electric ?, Warwick, RI (1-2)
33t. Keith's ?, Charlotte, NC (1-2)
33t. US Postal Service, Providence, RI (1-2)
33t. ?, Chillicothe, OH (1-2)
33t. CES Wolfgang, Lakeland, MN (1-2)
33t. Bristol Myers, ?, IN (1-2)
33t. General Electric, Mount Vernon, IN (1-2)
33t. Marathon Oil Company, Findlay, OH (1-2)
33t. Northwest Airlines, Burnsville, MN (1-2)
50t. GTE, Lakeland, FL (0-2)
50t. Bridgeport Post Office, Bridgeport, CT (0-2)
50t. South New England Telephone, New Haven, CT (0-2)
50t. Bristol Companies, Bristol, VA (0-2)
50t. General Electic, Leavenworth, KS (0-2)
50t. Columbus ?, Columbus, OH (0-2)
50t. ?, Mobile, AL (0-2)
50t. Naval Air ?, Jacksonville, FL (0-2)
50t. ?, New Haven, CT (0-2)
50t. ? Tulsa, OK (0-2)
50t. ? Mechanicsville, VA (0-2)