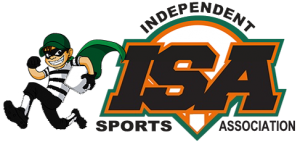 1987 held at Greensboro, North Carolina.

---
Champion – Steele's Sports, Grafton, Ohio
Runner Up – Smythe Sox, Houston, Texas
---
Steele's, put into the losers bracket by Smythe Sox by a 43-36 score, came through the losers bracket and defeated Smythe 44-27 and 36-20 to win the ISA World Series. In the bottom of the seventh inning, Smythe hit 5 straight home runs (Bill Gatti, Mark Heirlmeier, Bruce Meade, Mike Parrot and Rick Wheeler), but to no avail. Ricky Huggins had a big grand slam for Steele's to blow the game open in the 5th inning and give them a 26-17 lead. Nobody matched the power of Steele's as the 6 players along on the All World team collected a combined total of 84 HR.
---
MVP – Mike Macenko, Steele's Sports (27-37, .730, 15 HR, 24 RBI)
Defensive MVP – Doug Roberson, Steele's Sports
HR Leader – Ron Parnell, Steele's (27-35, .771) – 17
Batting Leader – Ron Parnell, Steele's Sports (27-35)  – .771
---
ISA SUPER ALL WORLD TEAM
Mike Macenko, Steele's Sports (27-37, .730, 15 HR, 24 RBI)
Ron Parnell, Steele's Sports (27-35, .771, 17 HR)
Doug Roberson, Steele's Sports (14 HR)
Craig Elliott, Steele's Sports (16 HR)
Jeff Stamps, Steele's Sports (11 HR)
Scott Virkus, Steele's Sports (12 HR)
Bill Blake, Smythe Sox
Bruce Meade, Smythe Sox
Cecil Whitehead, Smythe Sox
Bill Gatti, Smythe Sox
Kelly Stanley, Blanton's/Kirks
Gerg Miller, Blanton's/Kirks
Gary Markland, Blanton's/Kirks
---
OTHERS
Monty Tucker, Steele's Sports (12 HR)
Mike Bolen, Steele's Sports (11 HR)
---
FINAL STANDINGS
1. Steele's Sports, Grafton, OH (5-1)
2. Smythe Sox, Houston, TX (3-2)
3. Blanton's/Kirk's, Fayetteville, NC (3-2)
4. Howard's/Western Steer, Denver, NC (2-2)
5t. Ritch's Salvage, Harrisburg, NC (3-2)
5t. Barry Peagrams BK, Montgomery, AL (3-2)
7t. Non-Ferrous Metals, Cleveland, OH (2-2)
7t. The Handy Pantry, Gastonia, NC (2-2)
9t. Action Awarda, Atlanta, GA (0-2)
9t. Kirkpatricks, Greensboro, NC (0-2)
9t. Cory-Doby Exxon, Greensboro, NC (0-2)
9t. Miller Lite/Jai-Alai, Ocala, FL (0-2)