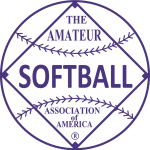 1987 held at Pekin, Illinois.
---
Champion – Orange County Majestics, Orange, California
Runner Up – Hi-Ho Brakettes, Stratford, Connecticut (62-6)
---
The Majestics went undefeated 6-0 to capture the National Championship. They defeated the Hi-Ho Brakettes 4-2 in the Championship game. Denise Correa smashed a 3-run triple in the 4th inning to give the Majestics the 4-2 lead they would never relinquish.
Debbie Doom started the game and went 4 innings for the win.
Michele Granger came in to close it out in the final 3 innings to earn the save.
Barbara Reinalda was the losing pitcher for the Brakettes, who finished 6-2.
In a 27 inning game between California Raiders and Pantera's Classics, Tiffany Boyd struck out 33 and Becky Duffin struck out 32.
---
MVP – Michele Granger, Orange County Majestics
HR Leader – Liz Mizera, Orange Magestics – 2
HR Leader – Kris Peterson, Hi-Ho Brakettes – 2
HR Leader – Jodi Rathbun, Avanti's – 2
Batting Leader – Kari Johnson, Redding Rebels – .476
Bertha Tickey Pitching Award – Michele Granger, Orange County Majestics
Erv Lind Defensive Award – Dot Richardson, Hi-Ho Brakettes
---
FIRST TEAM ALL-AMERICANS
P – Michele Granger, Orange County Majestics (3-0, 23 IP, 33 K, did not allow an earned run)
P – Debbie Doom, Orange County Majestics (3-0, 24 IP, 1 ER, 26 K)
P – Susan LeFebvre, Kirin Invasion
C – LeaAnn Jarvis, Raybestos Brakettes
C – Kristin Glomboske, California Raiders
1B – Debbie Langevain, Kirin Invasion
1B – Liz O'Conner, Raybestos Brakettes
2B – Kari Johnson, Redding Rebels (10-21, .476)
3B – Cindy Mosteller, Lone Star Lady Lights
SS – Liz Mizera, Orange County Majestics (8-18, .444)
OF – Kris Peterson, Raybestos Brakettes (11-26, .423, 9 runs, also had a streak of 9 straight hits)
OF – Karen Walker, Raybestos Brakettes
OF – Kim Nutter, Orange County Majestics
OF – Barbara Jordan, Redding Rebels
DP – Leanne Bonifas, East Peoria Avanti's
UTIL – Pam Newton, Kirin Invasion
SECOND TEAM ALL-AMERICANS
P – Tracy Compton, Raybestos Brakettes
P – Kathy Arendsen, Raybestos Brakettes
P – Barbara Reinalda, Raybestos Brakettes
C – Suzy Brazney, Orange County Majestics
C – Cathy Sondag, East Peoria Avanti's
1B – Pam Casper, East Peoria Avanti's
2B – Jodi Rathbun, East Peoria Avanti's
3B – JoAnn Ferrieri, Los Angeles Diamonds
SS – Dot Richardson, Raybestos Brakettes
OF – Mary Ivy, Pantera's Classic
OF – Kathy Escarcega, Raybestos Brakettes
OF – Yvonne Gutierrez, Los Angeles Diamonds
OF – Chenita Rogers, Los Angeles Diamonds
DP – Gina Vecchione, Raybestos Brakettes
UTIL – Catherine Stedman, California Raiders
THIRD TEAM ALL-AMERICANS
P – Margie Wright, Twin City Jammers
P – Heather Compton, California Raiders
P – Connie Clark, Los Angeles Diamonds
C – Michelle Gromacki, Los Angeles Diamonds
C – Tammy Turner, Phoenix Sunbirds
1B – Sheila Cornell Douty, Los Angeles Diamonds
2B – Julie Smith, Orange County Majestics
3B – Tammy Joslin, Redding Rebels
SS – Charis Monroe, Kirin Invasion
OF – Margaret Seng, Ann Arbor Pacer's
OF – Elise King, Kirin Invasion
OF – Sue Lewis, Los Angeles Diamonds
OF – Natalie King, Phoenix Sunbirds
DP – Vickie Schneider, Twin City Jammers
UTIL – Tiffany Boyd, California Raiders
---
FINAL STANDINGS
1. Orange County Majestics, Orange, CA (6-0)
2. Hi Ho Brackettes, Stratfors, CT (6-2)
3. Los Angeles Diamonds, Los Angeles, CA (4-2)
4. Kirin Invasion, Hacienda Heights, CA (4-2)
5t. Redding Rebels, Redding, CA (4-2)
5t. Raiders, Southern, CA (4-2)
7t. Twin City Jammers, Minneapolis, MN (3-2)
7t. East Peoria Avantis, East Peoria, IL (3-2)
9t. Lone Star Beer Lady Knights, Houston, TX (2-2)
9t. Pantera's Classics, Jefferson City, MO (2-2)
9t. Phoenix Sunbirds, Phoenix, AZ (2-2)
9t. Ann Arbor Pacers, Ann Arbor, MI (2-2)
13t. Budweiser Belles, Parsippany, NJ (1-2)
13t. Topton VIPs, Topton, PA (1-2)
13t. Mount Pleasant Royals, Mount Pleasant, MI (1-2)
13t. Whittier Roadrunners, Whittier, CA (1-2)
17t. Coors Light Silver Bullets, Houston, TX (0-2)
17t. San Antonio Kidz, San Antonio, TX (0-2)
17t. Oklahoma Classics, Oklahoma City, OK (0-2)
17t. West Chester Crickets, Collegeville, PA (0-2)
17t. 58 Bonding Company, Chattanooga, TN (0-2)
17t. Plymouth Blue Wave, Plymouth, MA (0-2)
17t. Metropolitan Poultry, Columbus, MA (0-2)
17t. Celina Suns, Celina, OH (0-2)
---