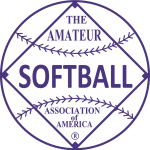 1986 at Burlington, North Carolina.
---
Champion – Steele's Sports, Grafton, Ohio (217-13)
Runner Up – Pepsi-Cola, Danville, Virginia
---
Steele's went undefeated in winning it's second straight Super National Championship. They were 5-0 in Pool Play and then 3-0 in the Elimination round, defeating Pepsi-Cola 28-2 in the championship game. Pepsi had previously eliminated Pantry 28-11 in the semi-finals.  Craig Elliott and Mike Bolen each 3 homers in the title game. Steele's connected for 15 HR during that game and had 94 total home runs in the tournament. Pitcher, Craig Elliott was the MVP for the second straight year as he went 8-0 pitching, and hit a tournament leading 17 HR. He wound up batting .703 and had 28 RBI. Mike Macenko had 14 HR and Charles Wright walloped 12 homers in addition to batting .810. This was Elliott's 6th career National MVP Award, (He won the 1977 Open/Major MVP for Ken Sanders Ford and the past 2 years for Steele's captured his 2 ASA Super National MVPs. He also has earned 2 NSPC National MVP awards: 1982 with York Barbell/Ken Sanders and 1983 with Elite Coatings. Throw in the 1984 USSSA World Series MVP for 6 total, the most all time up to date.
---
MVP – Craig Elliot, Steele's Sports
HR Leader – Craig Elliot, Steele's Sports – 17
Batting Leader – Charles Wright, Steele's Sports – .810
---
FIRST TEAM ALL-AMERICANS
P – Craig Elliott, Steele's Sports (8-0 Pitching, 26-37, .703, 17 HR, 28 RBI)
C – Mike Bolen, Steele's Sports (27-36, .667, 14 HR, 22 RBI)
1B – Dennis Graser, Steele's Sports (25-36, .694, 12 2B)
2B – Mike Macenko, Steele's Sports (27-39, .692, 14 HR, 26 RBI)
UT – Tim White, Howard's/Western Steer
SS – Greg Whitlock, Steele's Sports (19-29, .655)
OF – Dan Schuck, Steele's Sports (20-32, .625, 11 HR, 25 RBI)
OF – Ken Loeri, Steele's Sports (20-35, .571, 8 HR, 20 RBI)
OF – Jay Setliff, Pepsi-Cola
OF – Ray Moore, Pantry
EH – Tim Rhinehart, Howard's/Western Steer (.750)
UTIL – Steve Johnson, Pepsi-Cola
UTIL – Charles Gibson, Pepsi-Cola
UTIL – David Dixon, Pepsi-Cola
UTIL – Wayne Pyrtle, Pantry
SECOND TEAM ALL-AMERICANS
P – Jerry Robinson, Dickie's TV
C – Neal Waltman, Pepsi-Cola
1B – Kenny Reynolds, Pepsi-Cola
2B – Tommy Spoon, Pantry
3B – Charles Wright, Steele's Sports (17-21, .810, 12 HR, 16 RBI, 9 consecutive HR)
SS – Richard Wilborn, Howard's/Western Steer
OF – Joe Young, Steele's Sports
OF – Doug Roberson, Steele's Sports
OF – Wayne Barley, Pepsi-Cola
OF – Ken Broadwell, Pantry
UTIL – Johnny Hagins, Pantry
UTIL – John Baxter, Alamance Merchants
UTIL – Ed McGill, Dickie's TV
UTIL – Doug Vincent, Alamance Merchants
UTIL – Mark Hierlmeir, Howard's/Western Steer
---
FINAL STANDINGS (overall record counting Pool Play games)
1. Steele's Sports, Grafton, OH 3-0 – (8-0)
2. Pepsi-Cola, Danville, VA 4-2 – (5-6)
3. Pantry, Sanford, NC 2-2 – (4-5)
4. Howard's/Western Steer, Denver, NC 1-2 – (4-4)
5t. Alamance Merchants, Burlington, NC 0-2 – (2-5)
5t. Dickie TV, Asheville, NC 0-2 – (2-5)
---
POOL PLAY RESULTS
1. Steele's Sports, Grafton, OH 5-0
2. Howard's/Western Steer, Denver, NC 3-2
3. Pantry, Sanford, NC 2-3
4. Dickie TV, Asheville, NC 2-3
5. Alamance Merchants, Burlington, NC 2-3
6. Pepsi-Cola, Danville, VA 1-4
Winners bracket
Alamance 13 Dickies 9
Steeles 39 Alamance 16
Pantry 14 Pepsi 8
Pantry 13 Howards 8
Steeles 29 Pantry 11
Losers bracket
Pepsi 9 Alamance 8
Howards 8 Dickies 5
Pepsi 15 Howards 12
Pepsi 28 Pantry 11
Final
Steeles 27 Pepsi 2
---