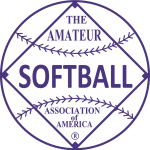 1985 held in Birmingham, Alabama.
---
Champion – Thompson Sports Goods, Savannah, Georgia
Runner Up – Rusty Scupper, Belmont, California
---
Ricky Huggins earned the unique honor of becoming the first player in ASA history to be a member of a national championship team on three different levels of play. Huggins was a member of the Howard's/Western Steer Super Division champion, as well as the Elite Coating Major Division championship before winning this year with Thompson's Sporting Goods.
---
MVP – Ricky Huggins, Thompson's (23-33, .696, 8 HR)
HR Champion – Tim Clemmons, D.E. Huddleston (13)
HR Champion – Ron Bollinger, D.E. Huddleston (13)
Batting Champion – Jeff Arnold, Bel Air Cleaners (.760)
---
ASA A ALL AMERICAN FIRST TEAM
P – Ronnie Andrews, Thompson Sports
C – Jeff Poole, Thompson Sports
1B – Jeff Arnold, Bel Air Cleaners
2B – Ronnie Desmarais, Armed Forces
3B – Ricky Huggins, Thompson Sports
SS – Jim Poe, Jim Magill Chevrolet
OF – Henry Mays, Thompson Sports
OF – Mark Martin, Goldman Brothers
OF – Tim Clemmons, D.E. Huddleston
OF – Tim Walls, Armed Forces
UTIL – Gerald Bradley, Thompson Sports
UTIL – Mark Alioto, Rusty Scupper
UTIL – Rodney Taylor, Jim Magill Chevrolet
UTIL – Steven Worthington, Rusty Scupper
ASA A ALL AMERICAN SECOND TEAM
P – Rene Renard, Rusty Scupper
C – John Kobylinski, Goldman Brothers
1B – Chet Lang, Rusty Scupper
2B – Steve Sims, Thompson Sports
3B – Doug Rhodes, Arensburg Pharmacy
SS – Marc Davis, D.E Huddleston
OF – Dave Thornton, Kirk's Glass
OF – Ron Bailey, Capitol
OF – Steve Grasser, Capitol
OF – Greg Miller, Kirk's Glass
UTIL – John Picklesmier, D.E. Huddleston
UTIL – Perry Chapple, Jim Magill Chevrolet
UTIL – John Worthington, Rusty Scupper
UTIL – Steve Ballard, Wilkerson Diesel
ASA A ALL AMERICAN THIRD TEAM
P – Rick Anderson, Jim Magill Chevrolet
C – Ed Jones, Kirk's Glass
1B – Doug Brown, D E. Huddleston
2B – Glen Keedy, Jim Magill Chevrolet
3B – David Cunningham, Kirk's Glass
SS – Calvin Linglebach, Goldman Brothers
OF – Stan Owings, Capitol
OF – Doug Dyer, Goldman
OF – Steve Hurst, Kirk's Glass
OF – Glynn Braddy, Thompson Sports
UTIL – Jim Worthington, Rusty Scupper
UTIL – Ron Boling, D.E. Huddleston
UTIL – Denny Anila, Rusty Scupper
---
FINAL RESULTS
1. Thompson Sporting Goods, Savannah, GA, (7-0)
2. The Rusty Scupper, Belmont, CA, (8-2)
3. Jim Magill Chevrolet, Birmingham, AL, (5-2)
4. Goldman Brothers Roofing, Orlando, FL, (7-2)
5t. Capitol Industries, Seattle, WA, (4-2)
5t. Arensberg Pharmacy, Newark, OH, (4-2)
7t. DE Huddleston, Chillicothe, OH, (5-2)
7t. Armed Forces, (6-2)
9t. Wilkerson Diesel, Little Rock, AR, (5-2)
9t. Time Out/JoMac Brothers, Yonkers, NY, (3-2)
9t. Kirk's Auto Glass, Tidewater, VA, (3-2)
9t. VMD, Jacksonville, FL, (3-2)
13t. Bel Air Cleaners, Mobile, AL, (2-2)
13t. Gabe's/Coffee Cup, St. Paul, MN, (3-2)
13t. Alert Lear, Miami, FL, (3-2)
13t. Saxon Lodge/Tobes Lounge, Crown Point, IN, (3-2)
17t. Georgia Merchants, Bloomingdale, GA, (2-2)
17t. 4 Star Auto, Jackson, MI, (3-2)
17t. Associated Roofing, Redwood City, CA, (3-2)
17t. CVC Softball Club, Citrus Heights, CA, (3-2)
17t. Newell Concrete, Eden Prairie, MN, (1-2)
17t. Logan's Tap, Providence, RI, (2-2)
17t. Holiday Jacks, Easton, PA, (2-2)
17t. Hall of Fame, York, PA, (1-2)
25t. Long's Electrics, Birmingham, AL, (1-2)
25t. Pete's Mobile Car Wash, Lagrangeville, NY, (1-2)
25t. Taos Speedballs, Taos, NM, (1-2)
25t. Nautalis, Greenbrier, AR, (1-2)
25t. Rocky Mountain Cementers, Casper, WY, (1-2)
25t. Chilson Motors/Mason Shoes, Chippewa Falls, WI, (1-2)
25t. Great South Realty, Atlanta, GA, (2-2)
25t. T's 13, Omaha, NE, (1-2)
33t. Kimo's, Sikeston, MO, (0-2)
33t. Charles County Concrete/JC's, Lothian, MD, (0-2)
33t. Grandaddy's, Ames, IA, (1-2)
33t. OJ's Lounge, Pontiac, MI, (1-2)
33t. Kace Construction, Alvin, TX, (0-2)
33t. Williard American Legion, Willard, OH, (0-2)
33t. Softball With Class, Detroit, MI, (0-2)
33t. Merrells, Corpus Christi, TX, (1-2)
33t. Western LTD, Henderson, KY, (1-2)
33t. Guerra Cannons, San Antonio, TX, (0-2)
33t. Akron Ti-Bert, Akron, OH, (1-2)
33t. Superior Products, Saltilo, MS, (1-2)
33t. Little Six/Ruud's Roofing, Apple Valley, MN (1-2)
33t. Craig's Welding, Mentone, IN, (0-2)
49t. Lighthouse Sporting Goods, Coeur d'Alene, ID, (0-2)
49t. Romeo's Sports, Birmingham, AL, (0-2)
49t. Mary's Restaurant, Ashaway, RI, (0-2)
49t. Kipling's Pub/Park Avenue, Cincinnati, OH, (0-2)