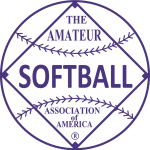 1983 held at Decatur, Illinois.
---
Champion – Franklin Cardinals, West Haven, Connecticut
Runner Up – Decatur ADM, Decatur, Illinois (109-18)
---
Just one year after the Franklin Cardinals were not allowed to compete in the ASA Nationals because of an ASA eligibility issue concerning star pitcher Owen "The Fog" Walford and whether he lived in the states for the legal amount of time. The Cardinals went to court and lost and decided not to attend without Walford. This year, Walford, being eligible, one can see why they decided not to play without him as he won 5 of the 6 games he pitched and led the Cardinals to the Championship.
Vin Caserto hit a 3-run HR to win the winners bracket final over Aurora Home & Savings (4-2). ADM won the first final 1(6-0) behind Darryl Day's 4-6 performance, but Walford settled in and the Cardinals won the final Championship game 4-3 on John Anquillare's sac fly.
55 year old Jimmy Doyle, playing in his 14th National for Ashland ESS Merchants, went (3-2), including his 175th career no hitter.
---
MVP – John Anquillare, Franklin Cardinals
Batting Leader – Jeff Seip, Bank of PA Sunners – .500
Home Run Leader – Brian Rothrock, Decatur ADM – 3
HR Leaders – Jody Koch, Bank of PA Sunners (6-28, .214) – 3
Most Outstanding Pitcher Award  – Dave Scott, ADM
---
FIRST TEAM ALL-AMERICANS
P – Owen "The Fog" Walford, Franklin Cardinals (5-1, 40 IP, 44 K)
P – Dave Scott, Decatur ADM (7-1 record, 59 IP, 73 K, pitched 8 games in 4 days)
P – Ty Stofflet, Reading Sunners (5-1, 2 shutouts, 48 IP, 58 K)
C – Mark Agnew, Home Savings and Loan
C – Robert Quinn, Decatur ADM
1B – Jeff Seip, Sunners (9-18, .500, 1 HR, 3 RBI, 5 Runs, 11 Intentional Walks, OBP .741, Slugging .722)
2B – Don Van Deusen, Reading Sunners (12-29, .414, 3 RBI, 6 Runs)
3B – John Anquillare, Franklin Cardinals (7-17, .412, 6 RBI, 3 Runs, game winning hits in 4 of 5 wins)
SS – Jim Brackin, Reading Sunners (9-27, .333, 6 RBI, 1 Run)
OF – Brian Rothrock, Decatur ADM (11-35, .314, 12 RBIs, 11 Runs)
OF – Scott Peterson, Butt 'r Topp
OF – Bill Stewart, Pay'n Pak
OF – Bob Miller, Pay'n Pak
DH – Vinnie Caserto, Franklin Cardinals
UTIL – Ted Hicks, Decatur ADM (12-35, .343, 1 HR, 6 RBI, 7 Runs)
SECOND TEAM ALL-AMERICANS
P – Jimmy Moore, Pay'n Pak
P – Terry Stapley, Miller Toyota
P – Al Rausch, Butt'r Topp
C – Fred Tucker, Boise Metros
C – Tom Dallas, Guanella Brothers
1B – Darryl Day, Decatur ADM
2B – Doug Kirkhofer, Home Savings and Loan
3B – Dyke Eck, Reading Sunners (8-23, .348, 6 RBI, 4 Runs)
SS – Gary Stahl, Miller Toyota
OF – John Peach, Home Savings and Loan
OF – Scott Peterson, Page Brake
OF – Bob Barron, Home Savings and Loan
OF – Buster Chumbley, Decatur ADM
DH – Jody Koch, Reading Sunners
UTIL – Kevin Knop, Decatur ADM
THIRD TEAM ALL-AMERICANS
P – Vale Cullimore, Page Brake
P – Paul Magan, Ed Smith Welding
P – Larry Bergh, Heineken & Fineran
C – Steve Schmidt, All-American Bar
C – George Papagelis, Raybestos Cardinals
1B – Elston Mitchell, Bloomington Hearts
2B – Ross Caputo, Miller Toyota
3B – Richie King, Ed Smith Welding
SS – Tim Mazza, Ed Smith Welding
OF – Steve Moore, Reading Sunners (6-16, .375, 2 RBI, 1 Run)
OF – Denny Place, Decatur ADM
OF – Rick Popowski, Linden Merchants
OF – Steve Roberts, Kelland's
UTIL – Denny Delorit, Farm Tavern
UTIL – Randy Burnside, Pay'n Pak
---
FINAL STANDINGS
1. Franklin Cardinals, West Haven, CT (5-1)
2. Decatur ADM, Decatur, IL (9-2)
3. Home Savings & Loan, Aurora, IL (4-2)
4. Reading Sunners, Reading, PA (6-2)
5t. Pay'N Pak, Bellevue, WA (3-2)
5t. Boise Metros, Boise, ID (2-2)
7t. Miller Toyota, Salt Lake City, UT (3-2)
7t. Bloomington Hearts, Bloomington, IL (4-2)
9t. Butt'r Top, Clear Lake, IA (2-2)
9t. Guanella Brothers, Santa Rosa, CA (2-2)
9t. Linden Merchants, Linden, NJ (1-2)
9t. ESS Merchants, Ashland, OH (1-2)
13t. The Farm, Madison, WI (2-2)
13t. Advertisers Salisbury, MD (2-2)
13t. Page Break, Salt Lake City, UT (2-2)
13t. Frye Plastering, Bakersfield, CA (2-2)
17t. Parker & Mick, Jacksonville, FL (0-2)
17t. Texas A's, Odessa, TX (0-2)
17t. Faultless Rubber, Ashland, OH (0-2)
17t. Kelland's Warriors, Yuma, AZ (1-2)
17t. All-American Bar, St. Paul, MN (1-2)
17t. Memphis Merchants, Memphis, TN (0-2)
17t. Tyger Tire, Greenville, SC (0-2)
17t. Chameleons, Lancaster, CA (1-2)
25t. Beer Nuts, Bloomington, IL (0-2)
25t. Ed Novak Trucking, Midland, MI (0-2)
25t. Budweiser, San Bernadino, CA (0-2)