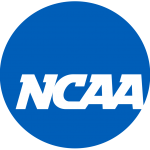 1982 held at Seymour Smith Park in Omaha, Nebraska on May 27-30. 
---
Champion – UCLA Bruins (33-7-2)
Runner Up – Fresno State Bulldogs (43-11)
---
16 Division I college softball teams met in the NCAA tournament's first round at campus sites. After having played their way through the regular season and first round (and for Oklahoma State, a conference tournament, an AIAW regional title and double losses to Texas A&M in the AIAW Women's College World Series final on May 25), the eight advancing teams played in the NCAA Women's College World Series in Omaha, Nebraska.
The championship game went 8 innings with winning pitcher Debbie Doom pitching all eight innings. Doom spread out 2 hits over the eight innings and struck out 12.
Wende Ward of Fresno State went all 8 innings as well giving up 1 earned run and striking out 8.
---
From softball historian Bill Plummer III – With their 77-8 season record, Texas A&M could have been a contender in Omaha − maybe even the top seed − against perennial softball powers like UCLA and Fresno State. The Aggies had been invited to the NCAA's first national tournament, but chose not to go. A&M coach Bob Brock had high respect for the eleven-year-old AIAW, even as the NCAA began to overshadow it. Out of a sense of loyalty to the AIAW, Brock said, his school chose the 1982 Norman championship over the NCAA's first in Omaha.
From the NCAA – The 1982 NCAA Division I Women's College Softball World Series will be held in Omaha May 27-30, officials announced Thursday.
The event will be the first championship softball tournament sponsored by the NCAA and will be held the week before the start of the NCAA College Baseball World Series, which Omaha has hosted the past 33 years.
'The NCAA is happy to be coming to Omaha for our first softball championship tournament,' said Cindy Smith, NCAA assistant director for women's championships. 'There is no better place than Omaha, which has treated softball so well in the past.'
Heading the organization in Omaha will be Mary Higgins, Creighton University women's athletic director; Bob Astelford, city parks and recreation director; and Bob Gibson, city recreational coordinator.
Ms. Higgins also chairs the NCAA softball committee and is the Creighton softball coach.
Gibson said work is under way to renovate the outfield at Seymour Smith Softball Complex, which will be the home of the 1982 series.
'We feel that, without a doubt, this is the finest softball complex in the universe,' he said.
Teams will qualify for the series through regional play, with the eight regional champions advancing to the double-elimination tournament.
The University of Nebraska-Omaha hosted the original College Softball World Series sponsored by the Association for Intercollegiate Athletics for Women. When the AIAW split the top two divisions, the Division I tournament was moved from Omaha. UNO hosted the Division II competition last year.
---
Batting Leader – Diane Van Fossen, Oklahoma State – .400
Batting Leader – Paula Smith, Oklahoma State – .400
RBI Leader – Shawn Ritchey, Arizona State  – 3
Home Run Leader – Shawn Ritchey, Arizona State  – 1
ERA Leader – Debbie Doom, UCLA – 0.17
Strikeout Leader – Debbie Doom, UCLA – 63
---
1982 ALL TOURNAMENT TEAM
Debbie Doom, UCLA
Dot Richardson, UCLA
Barbara Booth, UCLA
Barbara Young, UCLA
Gina Vecchione, UCLA
Janet Lloyd, Cal State-Fullerton
Pam Newton, Cal State-Fullerton
Jan Pierini, Cal State-Fullerton
Kim Muratore, Fresno State
---
SCORES
Arizona State 2 Cal State Fullerton 0 (9 inn.)
Nebraska 3 Creighton 2 (8 inn.)
UCLA 2 Oklahoma State 1 (13 inn.)
Western Michigan 5 Fresno State 0
Arizona State 2 Nebraska 0
UCLA 1 Western Michigan 0
Cal State Fullerton 4 Creighton 1 (8 inn.) – Creighton eliminated
Fresno State 1 Oklahoma State 0  (14 inn.) – Oklahoma State eliminated
Cal State Fullerton 1 Western Michigan 0 (8 inn.) – Western Michigan eliminated
Fresno State 1 Nebraska 0 – Nebraska eliminated
UCLA 1 Cal State Fullerton 0 (10 inn.) – Cal State Fullerton eliminated
Fresno State 4 Arizona State 1 – Arizona State eliminated
UCLA 2 Fresno State 0 (8 inn.) – Fresno State eliminated
---
FINAL STANDINGS
1. UCLA Bruins (3-0)
2. Fresno State Bulldogs (3-2)
3. Arizona State Sun Devils (2-1)
4. Cal State Fullerton Titans (2-2)
5t. Western Michigan Broncos (1-2)
5t. Nebraska Cornhuskers (1-2)
7t. Creighton Blue Jays (0-2)
7t. Oklahoma State Cowboys (0-2)
---
REGIONALS
Northeast Regional
Western Michigan 2 Adelphi 0 (10 inn.)
Adelphi 1 Western Michigan 0
Western Michigan 7 Adelphi 0
Western Michigan qualifies for the WCWS, 2-1.
Atlantic Regional
Cal State Fullerton 4 Bowling Green 1
Cal State Fullerton 11 Bowling Green 0
Cal State Fullerton qualifies for the WCWS, 2-0.
South Regional
Creighton 4 South Carolina 0
Creighton 3 South Carolina 2
Creighton qualifies for the WCWS, 2-0.
Mideast Regional
Nebraska 1 Missouri 0 (11 inn.)
Missouri 1 Nebraska 0
Nebraska 4 Missouri 1
Nebraska qualifies for the WCWS, 2-1.
Midwest Regional
Oklahoma State 1 Cal Poly Pomona 0 (9 inn.)
Oklahoma State 3 Cal Poly Pomona 2 (11 inn.)
Oklahoma State qualifies for the WCWS, 2-0.
Central Regional
UCLA 4 Wyoming 0
UCLA 5 Wyoming 0
UCLA qualifies for the WCWS, 2-0.
West Regional
California 1 Arizona State 0
Arizona State 3 California 1 (8 inn.)
Arizona State 2 California 1
Arizona State qualifies for the WCWS, 2-1.
Northwest Regional
Fresno State 2 Pacific 1 (9 inn.)
Pacific 5 Fresno State 1
Fresno State 4 Pacific 0
Fresno State qualifies for the WCWS, 2-1.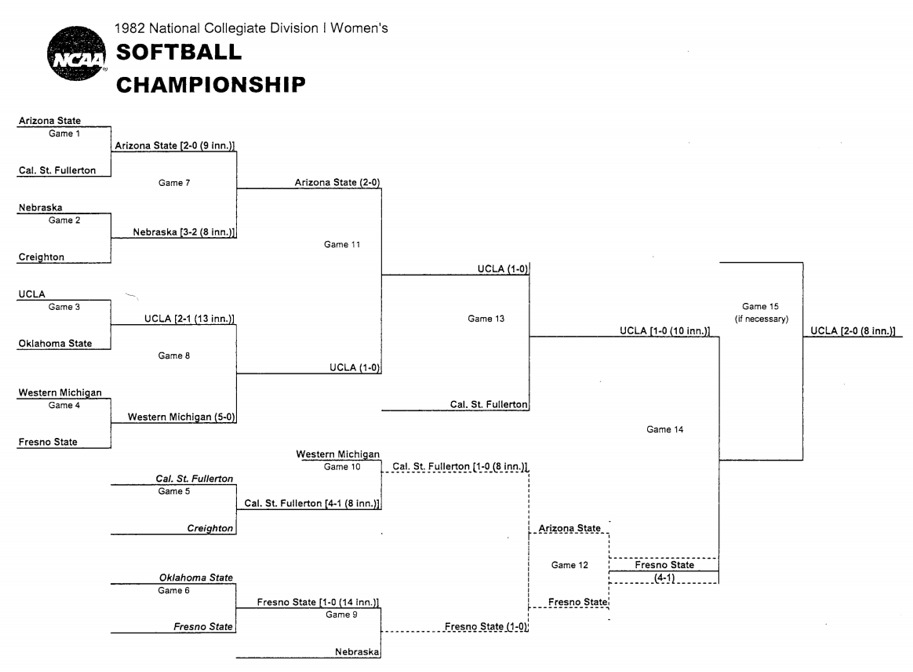 ---
SEASON INFORMATION
Batting Average
| | | | | | |
| --- | --- | --- | --- | --- | --- |
| Player, School | CL | G | AB | HITS | AVG. |
| 1. Cindy Bogucki, Evansville | FR | 26 | 83 | 39 | .470 |
| 2. Faith Holman, Northeast Louisiana | SO | 32 | 96 | 42 | .438 |
| 3. Jackie Gaw, Massachusetts | JR | 25 | 90 | 38 | .422 |
| 4. Marge Brown, Delaware | SO | 25 | 79 | 33 | .418 |
| 5. Jackie Sullivan, Niagara | FR | 19 | 73 | 30 | .411 |
| 6. Vera Bahr, Nevada-Las Vegas | SO | 30 | 100 | 41 | .410 |
| 7. Liz Grimaldi, Niagara | SO | 20 | 77 | 30 | .390 |
| 7. Kim Migliore, Niagara | JR | 20 | 77 | 30 | .390 |
| 9. Eileen Holleran, St. John's | JR | 28 | 103 | 40 | .388 |
| 10. Deb Laux, Canisius | FR | 21 | 71 | 27 | .380 |
| 11. Beth Walsh, Iona | SO | 19 | 72 | 27 | .375 |
| 12. Jay Jackson, New Mexico State | JR | 38 | 115 | 42 | .365 |
| 13. Cindy Lyon, Utah | SO | 56 | 180 | 65 | .361 |
| 14. Kerry Karst, St. John's | SR | 28 | 97 | 35 | .361 |
| 15. Chris Dinoto, Rhode Island | SR | 42 | 137 | 49 | .358 |
| 16. Linda Berndt, Western Michigan | JR | 44 | 136 | 48 | .353 |
| 17. Michele Madrid, New Mexico | FR | 26 | 83 | 29 | .349 |
| 18. Sue Luttrell, Wichita State | JR | 32 | 104 | 36 | .346 |
| 19. Lea Ann Jarvis, Louisiana Tech | FR | 46 | 142 | 49 | .345 |
| 19. Brenda Thaler, Indiana | SO | 45 | 142 | 49 | .345 |
| 21. Gretchen Larson, Minnesota | JR | 30 | 87 | 30 | .345 |
| 21. Cathy Thompson, Evansville | JR | 26 | 87 | 30 | .345 |
| 23. Sandy Wichelecki, Illinois-Chic. Circle | SR | 30 | 93 | 32 | .344 |
| 24. Jennae Lambdin, Pacific | SO | 48 | 137 | 47 | .343 |
| 25. Kelly Hall, Rider | FR | 20 | 70 | 24 | .343 |
| 26. Diane Hatch, Michigan | SR | 44 | 141 | 48 | .340 |
| 27. Sue Koopman, Northwestern | FR | 46 | 106 | 36 | .340 |
| 28. Angie Bodiford, Louisiana Tech | FR | 44 | 148 | 50 | .338 |
| 29. Gina Autobee, Colorado State | JR | 36 | 108 | 36 | .333 |
| 29. Theresa Kugelmann, Delware | JR | 24 | 72 | 24 | .333 |
| 29. Cindy Spradling, Texas-Arlington | SR | 49 | 159 | 53 | .333 |
| 29. Pat Stoffel, Western Illinois | SR | 42 | 141 | 47 | .333 |
RBI
| | | | | |
| --- | --- | --- | --- | --- |
| Player, School | CL | G | RBI | AVG. |
| 1. Sue Lewis, Cal St.-Fullerton | SO | 63 | 50 | 0.79 |
| 2. Chris Dinoto, Rhode-Island | SR | 42 | 38 | 0.90 |
| 3. Liz Grimaldi, Niagara | SO | 20 | 28 | 1.40 |
| 4. Laura Rucinski, Ill.-Chicago Circle | JR | 31 | 27 | 0.87 |
| 4. Sue Luttrell, Wichita State | JR | 32 | 27 | 0.84 |
| 6. Kris Niendorf, Evansville | JR | 26 | 25 | 0.96 |
| 6. Faith Holman, Northeast Louisiana | SO | 32 | 25 | 0.78 |
| 8. Kim Migliore, Niagara | JR | 20 | 23 | 1.15 |
| 9. Jackie Sullivan, Niagara | FR | 19 | 21 | 1.11 |
| 10. Lori Fritsch, Dayton | SR | 19 | 20 | 1.05 |
| 10. Jackie Gaw, Massachusetts | JR | 25 | 20 | 0.80 |
Home Runs
| | | | | |
| --- | --- | --- | --- | --- |
| Player, School | CL | G | NO. | AVG. |
| 1. Sue Lewis, Cal St.-Fullerton | SO | 63 | 9 | 0.14 |
| 2. Faith Holman, Northeast Louisiana | SO | 32 | 7 | 0.22 |
| 2. Sue Hebson, Northwestern | JR | 40 | 7 | 0.18 |
| 2. Cindy Lyon, Utah | SO | 56 | 7 | 0.13 |
| 5. Jackie SulIivan, Niagara | FR | 19 | 6 | 0.32 |
| 5. Liz Grimaldi, Niagara | SO | 20 | 6 | 0.30 |
Triples
| | | | | |
| --- | --- | --- | --- | --- |
| Player, School | CL | G | NO. | AVG. |
| 1. Sue Luttrell, Wichita State | JR | 32 | 9 | 0.28 |
| 2. Linda Ballard, Ill.-Chicago Circle | SO | 20 | 6 | 0.30 |
| 2. Cathy Hill, Dayton | SO | 21 | 6 | 0.29 |
| 2. Karen Stout, Delaware | SR | 24 | 6 | 0.25 |
| 2. Candy Bogucki, Evansville | FR | 26 | 6 | 0.23 |
| 2. Michele Madrid, New Mexico | FR | 26 | 6 | 0.23 |
Doubles
| | | | | |
| --- | --- | --- | --- | --- |
| Player, School | CL | G | NO. | AVG. |
| 1. Lea Ann Jarvis, Louisiana Tech | FR | 46 | 16 | 0.35 |
| 2. Patti Simon, Louisiana Tech | SO | 43 | 13 | 0.30 |
| 3. Jane Wagner, Northern Iowa | SO | 49 | 12 | 0.24 |
| 4. Cynthia. Martin, Texas-Arlington | JR | 50 | 11 | 0.22 |
| 5. Deanne Moore, Michigan State | SO | 38 | 9 | 0.24 |
| 5. Chris Dinoto, Rhode Island | SR | 42 | 9 | 0.21 |
| 7. Sheila Cornell, UCLA | SO | 37 | 8 | 0.22 |
| 7. Kay Piper, Akron | FR | 37 | 8 | 0.22 |
Stolen Bases
| | | | | | |
| --- | --- | --- | --- | --- | --- |
| Player, School | CL | G | SB | SBA | AVG. |
| 1. Lori Sanchez, Cal-Santa Barbara | JR | 56 | 29 | | 0.52 |
| 2. Diane Hatch, Michigan | SR | 44 | 24 | | 0.55 |
| 2. Nancy Kassebaum, Eastern Illinois | JR | 48 | 24 | 28 | 0.50 |
| 4. Lori Turken, San Diego State | FR | 37 | 18 | 22 | 0.49 |
| 5. Vera Bahr, Nevada-Las Vegas | SO | 30 | 17 | | 0.57 |
Earned Run Average
| | | | | | | |
| --- | --- | --- | --- | --- | --- | --- |
| Player, School | CL | G | IP | R | ER | ERA |
| 1. Bonni Kinne, Western Michigan | JR | 19 | 137.1 | 7 | 3 | 0.15 |
| 2. Kathy Van Wyk, Cal St. Fullerton | SR | 39 | 278.0 | 11 | 7 | 0.18 |
| 3. Judy Koens, Central Michigan | SO | 15 | 104.0 | 11 | 3 | 0.20 |
| 4. Nina Calcaterra, Evansville | FR | 18 | 103.0 | 21 | 3 | 0.20 |
| 5. Tracy Compton, UCLA | FR | 14 | 101.2 | 5 | 3 | 0.21 |
| 6. Debbie Doom, UCLA | FR | 15 | 134.1 | 6 | 6 | 0.31 |
| 7. Teresa Wilson, Missouri | JR | r | 249.1 | 25 | 12 | 0.34 |
| 8. Linda Pagett, Central Michigan | SR | 27 | 186.0 | 15 | 9 | 0.34 |
| 9. Jennifer Berger, Northern Iowa | SO | 26 | 159.2 | 24 | 8 | 0.35 |
| 10. Jenny Stallard, U. S. International | FR | 22 | 157.0 | 12 | 8 | 0.36 |
| 11. Kathy Richards, Eastern Illinois | JR | 30 | 194.2 | 21 | 10 | 0.36 |
| 12. Wende Ward, Fresno State | JR | 30 | 248.0 | 32 | 14 | 0.40 |
| 13. Jeanne Wagner, Nebraska | JR | 24 | 187.0 | 16 | 11 | 0.41 |
| 14. Trina Marvin, Oregon State | JR | 18 | 101.2 | 16 | 6 | 0.41 |
| 15. Ellen O'Keefe, Northwestern | JR | 24 | 134.0 | 27 | 8 | 0.42 |
| 16. Andrea Ambrosi, Northwestern | JR | 21 | 115.2 | 30 | 7 | 0.42 |
| 17. Pam Stone, Arizona | SO | 26 | 156.1 | 28 | 10 | 0.45 |
| 18. Pam Boswell, Cal Poly-Pomona | SR | 35 | 249.2 | 24 | 16 | 0.45 |
| 19. Shelley Allemendinger, Pacific | FR | 25 | 139.0 | 17 | 9 | 0.45 |
| 20. Kim Wooden, Western Michigan | SR | 16 | 107.0 | 19 | 8 | 0.52 |
Wins
| | | | | | | |
| --- | --- | --- | --- | --- | --- | --- |
| Player, School | CL | G | IP | W | L | PCT. |
| 1. Kathy Van Wyk, Cal St. -Fullerton | SR | 39 | 278.0 | 35 | 1 | .972 |
| 2. Pam Boswell, Cal Poly-Pomona | SR | 35 | 249.2 | 26 | 8 | .765 |
| 3. Teresa Wilson, Missouri | JR | 37 | 249.1 | 25 | 11 | .694 |
| 4. Kathy Richards, Eastern Illinois | JR | 30 | 194.2 | 24 | 3 | .889 |
| 4. Wende Ward, Fresno State | JR | 30 | 248.0 | 24 | 6 | .800 |
| 6. Rhonda Clarke, Kansas | SO | 38 | 274.2 | 23 | 13 | .639 |
| 7. Linda Pagett, Central Michigan | SR | 27 | 186.0 | 22 | 4 | .846 |
| 8. Tami Cyr, Louisiana Tech | FR | 29 | 208.2 | 21 | 5 | .808 |
| 9. Margaret Sutter, California | SO | 25 | 183.0 | 20 | 4 | .833 |
| 9. Candy Werner, Northern Illinois | SO | 35 | 149.2 | 20 | 7 | .741 |
Strikeouts
| | | | | |
| --- | --- | --- | --- | --- |
| Player, School | CL | IP | SO | AVG |
| 1. Rhonda Clarke, Kansas | SO | 274.2 | 344 | 8.8 |
| 2. Linda Pagett, Central Michigan | SR | 186.0 | 236 | 8.9 |
| 3. Jennifer Berger, Northern Iowa | SO | 159.2 | 216 | 10.1 |
| 4. Laurie Miller, Northern Illinois | FR | 193.1 | 198 | 7.2 |
| 5. Debbie Doom, UCLA | FR | 134.1 | 193 | 10.1 |
| 6. Jeanne Wagner, Nebraska | JR | 187.0 | 191 | 7.1 |
| 7. Bonni Kinne, Western Michigan | JR | 137.1 | 141 | 7.2 |
| 8. Terry Keasling, Cal St. -Fullerton | SR | 123.0 | 135 | 8.7 |