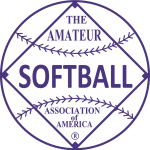 1982 held at Binghamton, New York.
---
Champion – Raybestos Brakettes, Stratford, Connecticut (62-4)
Runner Up – Sun City Saints, Sun City, Arizona (57-15)
---
The Raybestos Brakettes won their 17th ASA National Championship. Kathy Arendsen finished the season with a 32-3 record.
Debbie Doom started the first final and went 4 innings and came out with the score tied 0-0.
Michele Thomas finished the game and was the winning pitcher as the Saints scored a run off losing Pitcher Barbara Reinalda to win 1-0.
Martha Rau was 2-3 in the game.
In the final Championship game, the Saints went with the same pitching plan, start Doom, then bring in Thomas.
Kathy Arendsen started for the Brakettes. She did what she does best, come through in the clutch as she pitched a no hitter and struck out 10 batters to clinch the title for the Brakettes.
The Doom and Thomas duo wasn't as effective this time as each gave up a run in the 2-0 final.
---
MVP – Michelle Thomas, Sun City Saints
HR Leader – Sheila Cornell, Glomati Blazers – 3
Batting Leader – Venus Jennings, NJ Budweiser Belles – .533
Bertha Tickey Pitching Award – Kathy Arendsen, Raybestos Brakettes
Erv Lind Defensive Award – Helen Andrade, Sun City Saints
---
FIRST TEAM ALL-AMERICANS
P – Michelle Thomas, Sun City Saints (6-0, 43 IP, 26 K, 4 Runs, 1 ER)
P – Kathy Arendsen, Raybestos Brakettes (4-0, 28 IP, 42 K, 4 shutouts, 2 no-hitters, 1 a perfect game, the 2-0 final was almost a perfect game as well except for 1 error.)
P – Linda Pagett, Royals
C – Marilyn Rau , Sun City Saints (13-34, .383, 3 2B, 1 3B, 1 HR, 5 RBI, 6 Runs) and
C – Suzy Brazney, California Blazers
1B – Mary Faure, Sun City Saints
2B – Allyson Rioux, Raybestos Brakettes (7-19, .368, 1 RBI, 2 Runs)
3B – Sheila Cornell Douty, California Blazers
SS – Ginny Walsh, Raybestos Brakettes
OF – Suzie Gaw, Sun City Saints (10-34, .294, 2 3B, 1 HR, 3 RBI, 7 Runs)
OF – Barbara Garcia, Sun City Saints
OF – Gina Vecchione , Raybestos Brakettes
OF – Nedra Jerry, California Blazers
DH – Margaret Rebenar, Sun City Saints (7-15, .467 batting and 1-1, with a shutout, pitching)
UTIL – Wendy Hedberg, Macomb Magic
SECOND TEAM ALL-AMERICANS
P – Debbie Doom, Sun City Saints (1-2, 40 IP, 50 Ks) – credited with the loss in the Championship game, going 4 innings and giving up the first run.
P – Clint Lowery, Orlando Rebels
P – Barbara Reinalda , Raybestos Brakettes (2-1, 21 IP, 7 hits, 1 Run)
C – Carol Vanderbunte, Royals
C – Teresa Gumm, Hamilton Bears
1B – Diane Schumacher , Raybestos Brakettes
2B – Karen Fellenz, Sun City Saints
3B – Jill Larson, Hamilton Bears
SS – Kim Miller, Hamilton Bears
OF – Venus Jennings, Budweiser Belles (8-15, .533)
OF – Sue Lewis, Long Beach Renegades
OF – Lindy James, Orlando Rebels
OF – Patty Cutright, Macomb Magic
DH – Cindy Lyon, Utah Bees
UTIL – Carol Sullivan, United Eagles
THIRD TEAM ALL-AMERICANS
P – Lori Stoll, Hamilton Bears
P – Pam Boswell, Glomati Blazers
C – Doreen Denmon, Stratford Brakettes
C – Marcia Newsome, Orlando Rebels
1B – Cathy Troost, Wyoming Royals
2B – Sandy Simpson, Long Beach Renegades
3B – Helen Andrade, Sun City Saints
SS – Donna Whitley, Long Beach Renegades
OF – Pam Edde, Long Beach Renegades
OF – Cindy Krueger, Utah Bees
OF – Kathie Sims, United Eagles
OF – Lucy Innuso, Glomati Blazers
DH – Lori Garrison, Oklahoma Sundowners
UTIL – Missy Mapes, Stratford Brakettes
---
FINAL STANDINGS
1. Raybestos Brakettes, Stratford, CT (6-1)
2. Sun City Saints, Sun City, AZ (7-2)
3. Glomati Blazers, Sepulveda, CA (4-2)
4. Wyoming Royals, Wyoming, MI (3-2)
5t. Orlando Rebels, Orlando, FL (4-2)
5t. Macomb Magic, Macomb, MI (4-2)
7t. Long Beach Renegades, Long Beach, CA (3-2)
7t. Hamilton Bears, Hamilton, MO (2-2)
9t. Oklahoma Sundowners, Stillwater, OK (3-2)
9t. United Eagles, Houston, TX (2-2)
9t. Budweiser Belles, Parsippany, NJ (2-2)
9t. Utah Bees, Salt Lake City, UT (2-2)
13t. Landmark Lettes, Peoria, IL (1-2)
13t. Waterford Mariners, Waterford, CT (1-2)
13t. Ponderosa Playmakers, Tucson, AZ (1-2)
13t. Budweiser Eagles, St. Louis, MO (1-2)
17t. Shimers Architect, Bloomington, MN (0-2)
17t. Allentown Patriettes, Allentown, PA (0-2)
17t. Binghamton Blazers, Binghamton, NY (1-2)
17t. Speedline, Chattanooga, TN (0-2)
17t. Jomac's Sports World, Flint, MI (0-2)
17t. Chico Peppers, Chico, CA (0-2)
17t. Miller Pumpers, Wooster, OH (0-2)
17t. Philadelphia Spirit, Philadelphia, PA (0-2)