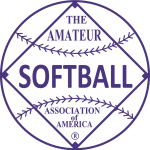 1981 held at Memphis, Tennessee.
---
Champion – Ray Sears & Son, Gambrills, MD (91-14)
Runner Up – U.S. Armed Forces, Oxnard, CA
---
MVP – Mike Norman, Armed Forces
HR Leader – no info available
Batting Leader – Dean Marquardt, Corner Pocket UAF – .714
---
Ray Sears and Son from Gambrills. MD, parlayed superb defense and timely base hits to down the Armed Forces all-stars from Oxnard, CA, 15-12, Sept. 7 at the Rodney Baber complex to win the Amateur Softball Association of America Class A Slow Pitch national championship at Memphis, TN.
It was the first trip to the nationals for Sears, a well-conditioned, speedy outfit that took advantage of its opponents' mistakes to breeze through the tournament undefeated. Sears went 6-0 in the nationals and wound up the year with a 91-14 record. Ironically, the team was the runner-up In the Central Atlantic Regional to gain the berth in the finals.
The Armed Forces team, made up from all-stars picked from the all-military tournament, gained its highest finish ever in a national tournament, but manager Mike Jones was not particularly pleased. "It was a great tournament and I don't want to take a thing away from Sears, they are the national champs, but I feel we were robbed by the umpiring in this game today," he said. "There were a couple of calls that went against us that took our momentum away and I firmly believe we would have gone ahead in the fifth Inning if the calls hadn't gone against us."
Superb fielding by Sears nipped that rally, including a relay play in which an Armed Forces runner was thrown out at third before a run crossed the plate. It appeared that the runner had scored before the man was thrown out at third. Later, an Armed Forces runner was called out at first on a close play that cost another run and the crowd of an estimated 1,400 booed lustily.
Catcher Al Leightner and first basemen Larry Hall had 80 homers each for Sears coming into the national tournament, but the Maryland team relied mostly on team speed and pesky hitting to gain the championship. Sears specialized in winning the close game.
---
ASA A ALL AMERICANS FIRST TEAM
P – Dave Reed, Ride Motors
P – Robert Davis, Armed Forces
C – Al Leightner, Ray Sears & Son
C – Jerome Cross, Lumberman's Mutual Insurance
1B – Larry Hall, Ray Sears & Son
2B – Jeff Kirk, Eastwood Tavern
3B – Leo Weitzel, Ride Motors
SS – Dean Marquardt, Corner Pocket UAF
OF – Fritz Drumm, Danny's Drilling
OF – Mike Norman, Armed Forces
OF – Ronnie Herrin, Lufkin Raiders
OF – Cecil Norris, Lufkin Raiders
UTIL – Gurney Holley, Armed Forces
UTIL – Jack Rule, Western Sizzlin
ASA A ALL AMERICANS SECOND TEAM
P – Jay Newton, Ray Sears & Son
P – Don Cooper, Deep South Trophies
C – Meredith Scruggs, Western Sizzlin
C – Daryl Pitcock, Lufkin Raiders
1B – Tim Rhinehart, Western Sizzlin
2B – Jon Van Orden, Ray Sears & Son
3B – Dennis Worley, Goodman Redbirds
SS – Mack Green, Western Sizzlin
OF – Rick Wheeler, Goodman Redbirds
OF – Al Vincent Jr., East Homes
OF – Pete Mercer, Deep South Technologies
OF – Ed Tisdel, Lufkin Raiders
UTIL – Bob Morency, Ride Motors
UTIL – Bud Weathers, Lufkin Raiders
FINAL STANDINGS (incomplete – 39 teams)
1. Ray Sears & Son, Gambrills, MD (6-0)
2. U.S. Armed Forces, Oxnard, CA (5-2)
3. Western Sizzlin, Gastonia, NC (5-2)
4. Lufkin Raiders, Lufkin, TX (7-2)
5t. Goodman Redbirds, Los Angeles, CA (3-2)
5t. Ride Motors, Miami Shore, FL (6-2)
7t. Eastwood Tavern, Kalamazoo, MI (4-2)
7t. Danny's Drilling, Newark, OH (5-2)
9t. Corner Pocket UAF, Missoula, MT(3-2)
9t. Ascor Steel Building, Willmar, MN (2-2)
9t. Brothers, Yonkers, NY (3-2)
9t. Pace Electronics, Fairport, NY (3-2)
13t. RT Hughes, Modesto, CA (2-2)
13t. Lumberman's Mutual, Bellevue, OH (3-2)
13t. East Homes, Omaha, NE (3-2)
13t. Deep South Trophies, Bastrop, LA (2-2)
17t. George's Mobil, Davis, CA (2-2)
17t. KC's Pub, Minneapolis, MN (1-2)
17t. Houston Wreckers, Houston, TX (1-2)
17t. Sherrod Vans, Jacksonville, FL (1-2)
17t. Solcum Construction, Alexandria, LA (1-2)
17t. Independence Merchants, Independence, MO (1-2)
17t. Stark Pizza, Portland, OR (1-2)
17t. Brass Tomball, Spring TX (1-2)
25t. Williams Paint & Remodeling, Vinton, VA(1-2)
25t. Linn Corriher, Landis, NC (1-2)
25t. Conti Brothers, Johnston, RI (1-2)
25t. Straufler Realty, Warren, OH (1-2)
25t. Teresa Builders, Cleveland, OH (0-2)
25t. Grand Rapids Alloys, Wyoming, MI (0-2)
25t. Clark & Son, Rumford, RI (0-2)
25t. Chinook Resources, Douglas, WY (0-2)
33t. Monogram Industries, Seymour, IN (0-2)
33t. Nick Rack's Sport Shack, Cincinnati, OH (0-2)
33t. Annex Lounge, Warren, MI (0-2)
33t. Nick's H&H Cafe, Cincinnati, OH (0-2)
33t. Coca Cola Clubbers, Memphis, TX (0-2)
33t. Engle Printing, Gap, PA (0-2)
33t. Pat Clark/Chet's Best Food, Las Vegas, NV (0-2)